This post is also available in: हिन्दी
This post may contain affiliate links which won't change your price but will share some commission.
A veg grilled sandwich is a simple, filling snack. That is made with bread, butter, vegetables, chutney, spices and cheese.
This version of the sandwich is very delicious and easy to make at home. The grilled sandwich has many versions in different countries and regions.
This grilled sandwich is one of the most popular types of sandwiches in Mumbai and Madhya Pradesh.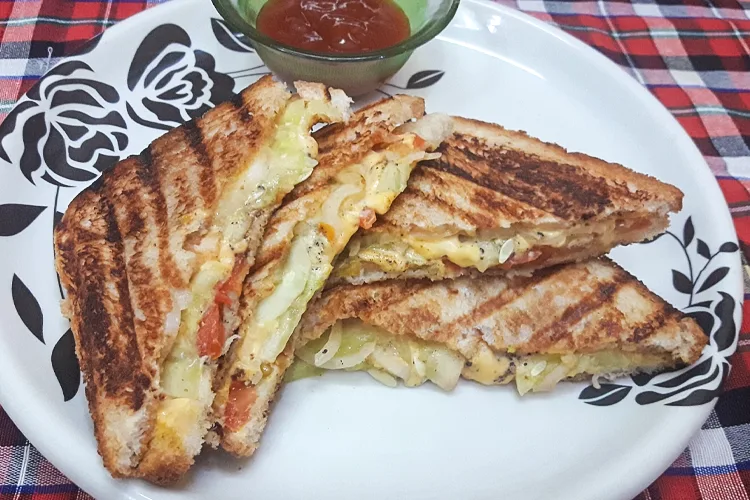 About Sandwich
A sandwich is an easy-to-prepare snack with bread and other ingredients.
Basically steps to make a sandwich are almost the same but the ingredients change as per the recipe.
Sandwiches and other snacks in Mumbai are very popular. They love to have different snacks, chaat etc.
In this recipe, we will spread tomato ketchup on the bread slice. We will place vegetables and then sprinkle all the spices. Then on top of that, we will place a cheese slice.
then we will put the bread on top of that after applying butter on the inner side.
Now we need to grill the sandwich for a few minutes. The veg grilled sandwich is ready for serving.
Isn't this a simple recipe?
I have used very few vegetables in it. And did not use the coriander chutney because at that time I did not have it.
But in the Mumbai version of grilled sandwiches, they apply butter first on the bread slice.
then they apply coriander chutney on it. They also use boiled potatoes, capsicum apart from cucumber, onion and tomatoes.
Then they sprinkle chaat masala and other spices. And some vendors make their own spices mix.
Then they add the greater cheese on top of it. And cover it with another bread slice after applying the butter.
Then they put in the griller for grilling for a few minutes. Generally, 2-5 minutes is sufficient for this.
You further read my other snack recipes.
Bread Pizza
Cheese Garlic Bread
Palak Patta Chaat
Veg Momos
White Sauce Pasta
Veg Spring Roll
Chowmein roll
Some other chaat which is very famous in Mumbai and other parts of India.
Aloo Tikki
Samosa
Paneer Bread Pakora
Moong Dal Cheela
Grill sandwich Recipe Video
Grill Sandwich | Veg Grilled Sandwich Recipe
Ingredients
4

Bread slices

2

Cheese slices

1

Cucumber

1

big

Onion

1

Tomato

Green chilli sauce

Tomato ketchup

Black pepper powder

Salt

Chaat masala

Butter
Instructions 
Apply tomato ketchup to the two bread slices.

Then, apply green chilli sauce to these two slices.

Place the round cut onions on the bread slices.

Then place round cut cucumber above the onions.

Sprinkle the black pepper powder on the vegetables.

After that, sprinkle salt and chaat masala on top of it.

Place cheese slices on both of the bread slices.

Place round cut tomatoes on top of the cheese slice.

Sprinkle all the spices on top of it.

Take the other 2 slices of bread and apply butter to them.

Place the butter applied bread slices on the top of the previously made slices.

Apply some butter on the top of the bread.

Now, the sandwich is ready to grill

Preheat the griller for 1-2 minutes.

Grease the griller with the butter.

Put both the sandwiches on the griller for grilling.

Grill sandwich for 1-2 minutes

Cut it in your desired shape and serve a delicious grilled sandwich with tomato ketchup and mint chutney.
Notes
You can take mint and coriander chutney in place of green chilli sauce.
You can add capsicum slices and boiled potatoes to the sandwich.
For adding more vegetables to your sandwich, you can use finely chopped cabbage and beetroot to it.
Serve it with plain potato chips for crunch.