This post is also available in: हिन्दी
This post may contain affiliate links which won't change your price but will share some commission.
If you want to have veg momos in this lockdown period, then you can have this at your home.
Today we will learn the veg momos recipe. It is not a difficult recipe, but it takes little more time to prepare.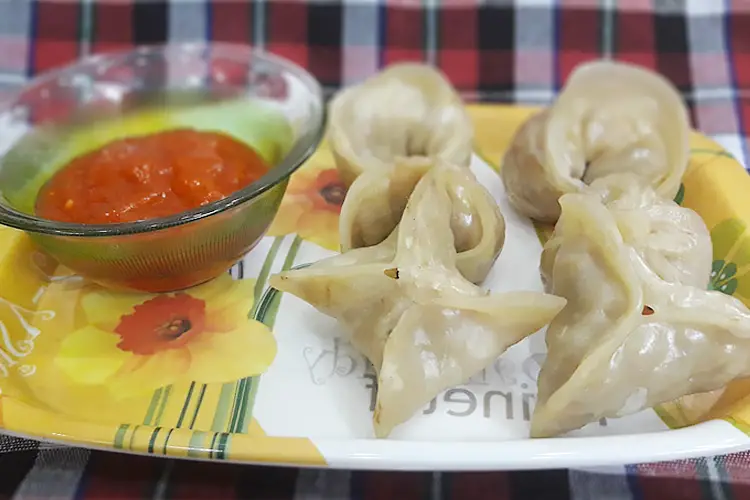 You know that veg momos are very much liked in India these days. Whether they are children or older, everyone likes momos.
Momos nowadays are found on every street corner shop. This recipe is from Tibet. But it is very famous all over the world.
Momos are of many ways such as fried momos, afghani momos, tandoori momos, cheese momos etc. But today we are going to make veg momos which we will steam.
Stuffing does not have any special spices and flavor in the momos sold in the market.
In addition to the cabbage. I have also added carrots, onions, green chillies, ginger into the stuffing of momos. If you want, you can add any other vegetables like peas etc. This will create a new flavour.
Apart from vegetables, some spices and soy sauce have also been used. All the spices will be generally available at your home. If you do not have soy sauce, you can make it without it.
How to make momos without steamer?
If you do not have a steamer too, there is nothing to worry about. You can still make momos without a steamer. For this, you will need a pot, steel sieve and a plate. All these utensils are available at home.
I do not even have a steamer. I made momos without a steamer. See the video of the recipe to know how to make momos without a steamer.
How much time does it take to steam momos?
Generally 12 to 15 minutes is sufficient time for cooking the momos.
How do you know when momos are cooked?
Remove the lid or plate and touch the momos with your finger. If it is sticky then they are not cooked. It needs to be steam for few more minutes. If they are not stickey, it means they are cooked.
Stainless Steel Steamer for Modak/Momo
Made from strong and sturdy stainless steel

You can make momos, khandvi, modaks, dhokla etc from it. You can steam vegetables in it also.

It is compatible for gas stove and induction as well
Veg Momos Recipe
It tastes better than momos available in the market.
Ingredients
Ingredients for making momos flour
1

cup

Salt

according to taste

2

tablespoons

oil

Water to knead the dough
Ingredients for Momos stuffing
1

small

cabbage

grated

1

teaspoon

ginger

finely chopped

1

teaspoon

green chillies

finely chopped

2

small

carrot

grated

oil for tadka

2

medium sized

onions finely chopped

Salt

according to taste

black pepper powder

pinch of

Asafoetida

1

tablespoon

soy sauce

1

tablespoon

vinegar
Instructions 
Kneading dough for momos
To make Momos flour, first of all add the flour to the vessel and then add half a teaspoon of salt and a spoon of oil to it.

Mix them all with hands.

Now add a little water in the flour and knead the flour. And keep in mind that the dough has to be kneaded soft.

After kneading the dough, apply a little oil and keep it covered for 30 minutes.
Method of making stuffing of momos
Heat a cooking pan and add oil.

Then add asafoetida, green chillies, and ginger and fry a little.

Then add the onion and soften it slightly. Do not cook them too much.

Then add carrot and cabbage to it and soften it slightly. You can also add capsicum to it. Mix them all well.

Then turn off the gas.

Add black pepper powder, soy sauce, and vinegar to it and mix them well.

When the mixture cools down, add salt to it. The salt is added later so that the vegetable does not release water after adding salt.
Method for preparing wrapping for momos
First kneed the dough for few seconds. Now we will roll the dough very thin by placing it on slab or rolling board. You can also use a little dry flour to roll out the dough.

Now with the help of a bowl, you can cut small round balls out of it. Repeat the same process. And take out all the rounds in a separate plate.
Filling stuffing and give shapes to momos
Giving Momos the right shape is not a difficult task. You will learn how to make it in 2–3 times.

Now pour the stuffing into the momos wrapping with the spoon.

Then wet the edges with water and mix them all together like you do when you make Bharma Paratha. For this you can also see my video in which I have made momos in different sizes.
Method of Steaming Momos
If you do not have a steamer, then heat the water in the pot.

Put a steel sieve in it and apply some oil on top of it.

Put momos in a sieve and cover with a plate and allow it to steam on low heat for 12 to 15 minutes.

After 15 minutes, grab them and remove them with tongs.
Veg Momos Recipe Video

If you want to ask anything related to this recipe or give any suggestion. Then you can tell us in a comment section. We would love to hear from you. And please give a star rating below.
If you like this post, then please consider retweeting it or sharing it on Facebook or Pinterest.