How to make samosa | Samosa Recipe | How to prepare samosa
This post is also available in: हिन्दी
This post may contain affiliate links which won't change your price but will share some commission.
Samosa is made with potatoes stuffed in refined flour(maida) which is deep-fried in the oil. Today, I am sharing the Punjabi samosa recipe with step by step photos and video.
It is a very famous snack in India as well as other Asian countries and the Middle East. It is even loved in America and European countries as well. Its lovers are found in the whole world.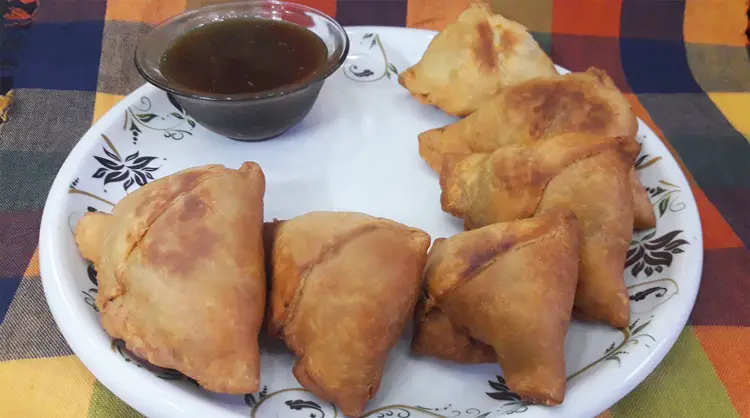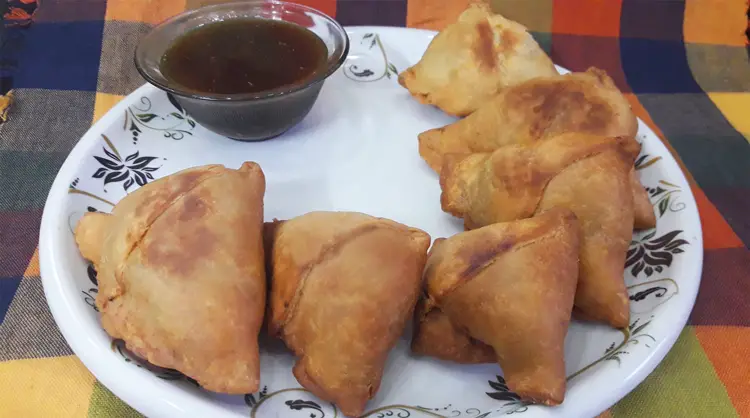 It is commonly sold in the whole of India especially in North India but it is easily available in other parts of the countries as well.
Samosa is centuries old dish. Its recipe is found in the 10th – 13th-century cooking books of Arab. The samosa was brought to the Indian subcontinental in 13th or 14th centuries. At that time different versions of samosa were prepared. Source from wikipedia
Samosa tastes very good in the rainy and winter season. But in other seasons its demand does not reduce. Its demand in winter and rainy season increased too much.
It is a favourite snack of all ages people. It is easily found in every tea stall, sweets shop, school canteens, college canteens, office canteens, eatables selling shop on railway and metro train stations, roadside vendors and even found in the small and big restaurant menu. In India, it is available at almost all places.
Different variations of samosa
Samosa is available in various different varieties you couldn't imagine. I am going to list some of them which I remember.
Aloo samosa: Read its recipe in this post
Paneer samosa: Stuffing of samosa is made with paneer and spices.
aloo and matar (peas) samosa: Peas and potatoes used in the stuffing.
White sauce pasta samosa: White sauce pasta is used as a stuffing for it
Red sauce pasta samosa: Red sauce pasta is used in it as a stuffing.
Onion and potato samosa: Onion is used along with potatoes in this.
Dry fruits samosa: Whole samosa is filled with different dry fruits.
Aloo with dry fuits like cashew and kishmish samosa: Dry fruits has been added in the stuffing along with aloo.
Mix vegetables samosa: Stuffing is prepared with different vegetables.
Cauliflower samosa: It is generally made in west bangal. Cauliflower is used for making samosa stuffing.
Carrot samosa: Only carrot is used for making stuffing of it.
Chowmein samosa: Chowmein is used in the stuffing on the samosa.
Cheese samosa: Cheese is used for making samosa. So, it becomes cheesy samosa.
Chocolate samosa: Chocolate is filled inside the samosa. One of the very creative samosa variation.
Khoya samosa: It is sweet in taste. Khoya is used  as a stuffing to make it.
fried rice samosa: Left over fried rice used in making the samosa.
Matar (Peas) and soyabean samosa: Peas and soyabean is used in stuffing to make it.
Dry samosa: It a little sweet and sour kind of samosa. All the stuffing is made with spices only.
There are non-veg varieties of samosa also found like chicken samosa, keema samosa, egg samosa, fish samosa etc. But we are not going to say about it as this blog is all related to vegetarian recipes. I mentioned this because it is one of the different varieties.
It can be made with countless variations. But the vegetarian one is very famous in India.
Samosa Recipe step by step
how to make samosa is easily explained in below steps with pictures and video. 
Servings
6
People (12 Samosas)
Ingredients
for making samosa pastry
150

grams

all purpose flour or 1.5 cup

(maida)

1/2

teaspoon

salt

(namak)

1/2

teaspoon

ajwaiyan

(Carom Seeds)

5-6

tablespoons

cooking oil
for samosa stuffing
6-7

medium size boiled potatoes 

mash it roughly but not to finally mashed

1.5 to 2

tablespoons

cooking oil

finally chopped green chilies

chopped  ginger

raisin or dry grapes

kishmish

cumin seeds

jeera

roasted cumin seeds powder

bhuna hua jeera

1/2

teaspoon

red chilies powder

2

tablespoon

Coriander powder

dhaniya powder

1

teaspoon

garam masala powder

chaat masala powder

Dried mango powder

amachur

Oil for deep frying
Instructions 
Preparing dough for samosa pastry
take all purpose flour  in a big bowl

add 1/2 teaspoon of salt and ajwaiyan on all purpose flour

add 3-4 tablespoon of cooking oil in the all-purpose flour (maida)

mix all with  the help of hand

Add little bit of water in the mixture and knead them

after kneading it properly cover it with plate and rest it  for 10-15 minutes
steps for making samosa stuffing
heat the pan (kadai )on stove

add 2-3 tablespoon of oil in  pan (kadai) and heat it up

add cumin seeds (jeera) and fry it until its color changes to golden brown.

add chopped green chilies and chopped ginger and cook until its raw flavors goes away

Add 2 tablespoons of coriander powder

Add 1/2 teaspoon of red chili powder

Add 1 teaspoon of garam masala powder.

Mix it all and cook it until its raw flavour goes away

Add roughly mashed potatoes in it. Do not mash it in very small pieces

Mix it well

Add 1 teaspoon chaat masala powder

Add 2 teaspoon dry mango powder(amchur)

Add roasted crushed cumin seeds

Add raisins (kishmish or dry grapes) in the mixture (completely optional)

Add salt on top of it and mix it well

Turn off the gas stove and keep the filling aside to cool
Steps for shaping and preparing samosa for frying
After keeping the dough for aside for few minutes. Knead the dough lightly again

Divide dough in six equal parts

Take one piece of dough and roll in your hands to make the round smooth ball of it.

Roll the dough ball with a rolling pin. And make sure the thickness is not too thin or thick

Cut the samosa pastry through the centre with the help of knife or pizza cutter

Apply some water with the your fingers on the straight edge and join them. Press the edge so that it get sealed well. Now cone shape of samosa is ready.

Put the samosa stuffing into it

Again apply some water with your finger on the open ends of the pastry.

Press both the edges and seal it well. Be sure that there are no openings in it.

Repeat these steps and prepare all the samosa.

And make sure cover it with a moist kitchen napkin. So that they don't get dry from the top
Steps for frying of samosa
Take oil in kadai or pan and heat it.

We need to check the oil temperature before putting samosa in it. For testing oil temperature, put a tiny dough piece in it. If it comes steadily and gradually on top, then oil is medium hot and it is ready for frying samosas.

Gently slide the prepared samosa in the kadai or pan. Keep the gas flame to lower medium or medium

Turn over these time by time and make sure it cooks evenly from both sides. Fry samosa till they become golden brown.

Take out samosas on paper towel to remove excess oil

Put only few samosas in your kadai according to your kadai size. And fry them in batches.
Notes
Take sufficient oil for frying don't take less oil. Otherwise, they will touch to the bottom of kadai or pan and their color will change from that. I took less oil that's why my samosas are more golden brown from both sides as they are touching the bottom of the pan.
Samosa Recipe Video
Things you can have with samosa
You can enjoy samosa with tea, green chutney of mint and coriander (dhania and pudina chutney),  jaggery and tamarind chutney (the red one which comes with samosas), and chole or chickpea side dish.
steps for making a mint and coriander chutney (dhaniya pudina chutney)
Some vendors are especially famous for selling samosa with chole (chickpea) side dishes. It tastes great with it. Just imagine the taste of samosa and with chole.
Some people put dhaniya pudina chutney and a little bit of yoghurt on top of crushed samosa and have it. You can try this one also.
Some put chole and a little bit of curd and dhaniya and pudina chutney on top of crushed samosa and enjoy it. This is how some people like it.
Can I bake these samosas
A samosa can be baked. But the texture of samosa will be different if you bake it. If you are health conscious then you can bake it.
Otherwise, it tastes good when it is fried.  Preheat the oven to 180 degrees Celsius. then, bake it for 30 to 40 minutes in preheated oven.
Can we use whole wheat flour(atta)?
Yes, we can use whole wheat flour (atta) for making samosa. But remember that we need to add more water at the time of kneading as whole wheat flour absorbs more water than all-purpose flour (maida).
Or you can combine in equal parts of all-purpose flour (maida) with whole wheat flour.
For how many days we can store samosa
It is advisable to have it when it is hot. Otherwise, you can store it few hours at room temperature.
If you want to store it for a few more hours then don't fry them. Put them in an airtight container and store them in the fridge. When you want to have it. First, bring down its temperature to room temperature level. Then deep fry it.
But it is not advisable to store it for more than 12 hours. As you the outer layer becomes dry and it will spoil the look of it.
Can onions be added in samosa filling?
Generally, onions and garlic are not added to the Punjabi samosa. But you have full freedom to do experiments and make your own variations of it.
There are certain parts of the country where they add onion to samosa stuffing. You can make your own version of samosa by using only onion and garlic with spices and removing aloo (potatoes) or adding onion with potatoes.
Two ways to fry samosa
There are two methods to fry it which will give your crispy golden brown samosa. You can use any of the techniques.
1 . Double frying samosa method
In this method, we will fry samosa two times. The first time we will fry it for very little time. The outer skin of the samosa become opaque. This samosa will not be allowed to become golden brown. The second, time we will fry it again on the lower flame until it becomes golden brown.
2. Frying samosa at the low-temperature method
In this method, you need to put samosa in the kadai or pan when the temperature of the oil is high, and immediately lower the gas stove flame so that they can fry it at a low temperature.
If we directly put samosa in low temperature and fry it at low temperature. Then it will absorb too much oil. If samosa absorbed too much oil then it will not taste good.
But if we fry it at a high temperature then an air bubble will form on it. And it will cook from the outside but from inside it will not cook. So, avoid frying it in high-temperature oil.
How to make samosa in an air fryer
You can make samosa in the air fryer also. It is very easy to make samosa in it.  First, you need to preheat the air fryer at 180 degrees Celsius for 10 minutes. Then apply some oil with the brush on top of it. Put it on the air fryer at 180 degrees Celsius until it becomes golden brown.
There are certain benefits of making it in the air fryer. Its texture is very good as compared to baked samosa. It will absorb less oil as compared to frying. So, if you have an air fryer then use it for making samosa instead of frying it.
You can try punjabi aloo paratha recipe also
Aloo Samosa Web Stories
If you want to ask about this recipe or give suggestions. Then you can tell us in a comment section. We would love to hear from you. And please give a star rating below.
If you like this post, then please consider retweeting it or sharing it on Facebook or Pinterest.