Pizza Recipe Without Oven Without Yeast
This post may contain affiliate links which won't change your price but will share some commission.
Let's make a pizza recipe without oven without yeast. You do not require yeast and oven to make the perfect pizza.
I will show you the steps for making tasty pizza which will taste just like it is made in oven.
I have shown the exact step-by-step method of making pizza without the oven.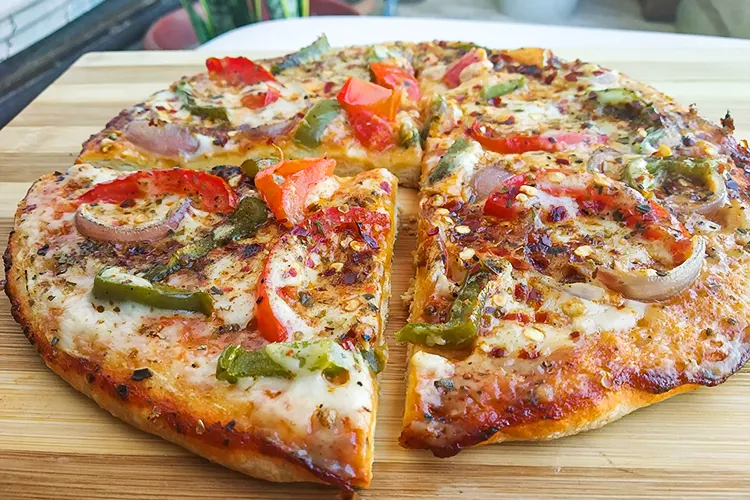 Pizza is a very famous dish across the globe. And in India, it is also loved by us.
But in most Indian homes we do not have the microwave oven. So, how to make pizza at home without an oven?
No problem, We will make the pizza in the kadhai. We will also not use yeast for the fermentation of the dough.
It is an easy recipe. You can use this kadhai method for making bread and cake also.
You can add or remove toppings as per your preference. I had these things available at the time of making pizza that's why I entered these only.
I request you to read my other recipes like
Bread Pizza on Tawa
Cheese Garlic Bread on Tawa
White Sauce Pasta
Grilled Sandwich
Vegetable Macaroni Recipe
Pizza Recipe Without Oven Without Yeast Recipe Video
How to make pizza without oven recipe
Learn how to make delicious pizza at home without an oven. I haven't used the yeast in this.
Ingredients
For pizza base:
½

cup

+ 2 tablespoons all-purpose flour

maida

½

tsp

sugar

½

tsp

salt

¼

tsp

baking powder

¼

tsp

baking soda

1

tsp

ghee/oil

3

tbsp

yoghurt

1

tbsp

butter

1-2

tbsp

All-purpose flour

Maida
Other Ingredients for Pizza
Pizza sauce

½

Chopped Onion

½

Chopped tomato

½

Chopped capsicum

½

Pizza seasoning & chilli flakes

Salt

Cooking oil
Instructions 
In a bowl, take ½ cup + 2 tablespoons all-purpose flour

Now add ½ teaspoon of sugar, ½ teaspoon salt, ¼ teaspoon baking powder, ¼ teaspoon baking soda, 1 teaspoon ghee and 3 tablespoons of yoghurt to it.

Mix all the ingredients with your hand.

Add a little water if required and make a dough out of it.

Knead the dough for 5-7 minutes to make it soft.

Cover the bowl with a wet cloth and let it rest for 1 hour.

Meanwhile, heat 1 tablespoon butter in a pan on low flame

Add 1 tablespoon of all-purpose flour to it. Give it a nice mix for 2-3 minutes.

Now slowly add ½ cup milk and keep stirring.

Add 1 tablespoon of water and a pinch of salt. Mix it well

Then take out the white sauce in a bowl.

Heat a kadhai (wok) and add 1½ cup salt and spread it evenly.

Keep a utensil stand in it.

Cover it with a lid or a utensil in a way that it covers up the kadhai.

Let it heat for about 10-12 minutes.

Grease an oven plate or a normal food plate with oil.

Uncover the dough and knead it.

Now roll it, it should neither be very thick nor very thin.

Put the rolled dough on the greased plate and with the help of your fingers expand it.

Grease the sides of the dough with oil as well.

Apply red pizza sauce or tomato sauce on the base of the pizza.

Now layer it up with white sauce.

Sprinkle your favourite veggies like tomatoes, capsicum, onion, corn etc.

Now again spread a little white sauce on it.

Finally, sprinkle pizza seasoning and chilli flakes on it.

Now remove the lid of the kadhai and keep the plate having pizza on the stand. Cover it and bake for about 20-25 minutes on a low flame.

Your homemade pizza without cheese and oven is ready to serve.