Paneer Bread Pakora Recipe
This post is also available in: हिन्दी
Bread pakora is a very famous tea time snack in North India. But, you can have it any time.
Bread pakora is basically a snack that is coated with besan batter and inside the potato, stuffing is filled.
We can make bread pakora in three different ways like plain bread pakora (without any stuffing), bread pakora stuffed with potatoes and paneer bread pakora.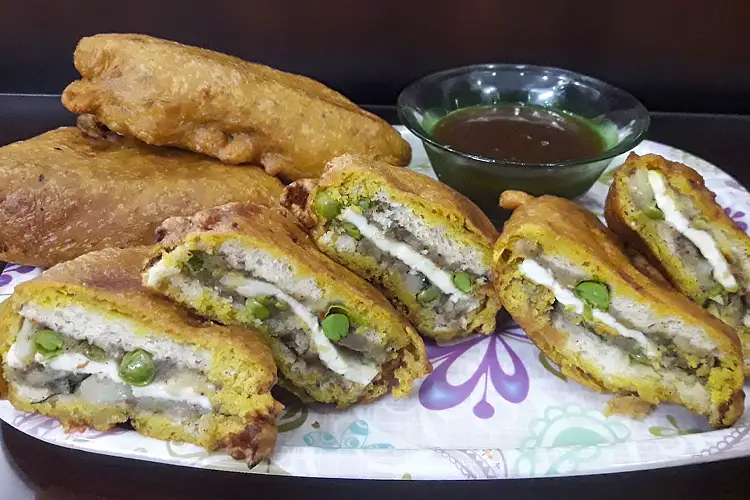 It is so popular that it is easily available in small shops in the streets and small restaurants. Many shops sell only bread pakora, samosa, tea only.
Bread pakora, samosa and pakora taste very good in the rainy season and winters. But in India, we eat it the whole year.
The recipe for bread pakora is not difficult. Anyone can make bread pakora. Instead of having market bread pakora try homemade bread pakora. You will love it.
Paneer bread pakora has paneer inside the bread apart from the potato stuffing. It tastes very good.
Its best companion is dhaniya pudina chutney, sweet red chutney, tomato ketchup, and a cup of tea.
It is a perfect tea time snack. In-office generally people have tea with samosa or bread pakora.
I have made a video of the paneer bread pakora recipe. The recipe of plain bread pakora and bread pakora (stuffed with only potato stuffing) is very similar to this recipe. The recipe of the batter is the same, the difference is only in the stuffing of the pakora.
Some people add raisins (kishmish) and cashew in it to give a more rich flavour. If you want you can also add this to your potato mixture.
You can check out my street food recipe collection in which I have shown recipes of various street food which are mentioned below.
Samosa recipe, aloo chaat recipe, momos , momos chutney recipe, chowmein roll recipe, spring roll recipe, pav bhaji, white sauce pasta, Aloo tikki, veg spring roll, moong dal cheela.
Paneer Bread Pakora Recipe
Bread slices are stuffed with potatoes and paneer stuffing which is coated with besan batter and deep fried. One of the tastiest street food in North India.
Ingredients
2

cup

besan

1

pinch

baking soda

ajwain

turmeric powder

salt

red chili powder

chaat masala powder

water
Ingredients for stuffing
6

Bread slices

200

gm

Panner

5-6

medium-size

boiled potatoes

1

bowl

boiled peas

3

finely chopped green chilies

chopped coriander

1

inch

ginger finely chopped

1

teaspoon

roasted cumin seeds powder

black pepper powder

coriander seeds little grinded

cumin seeds

chaat masala

salt

red chili powder

garam masala powder

amchur powder

1

pinch

asafoetida

hing
Instructions
Take besan in a bowl.

Add salt, red chili powder, chaat masala, ajwain, and turmeric powder and mix it well

Now add water in the bowl and make a batter. There should be no lumps in the batter.

In the last add the baking soda and mix it well.

Mash the potatoes by hands or by fork. It should be mashed properly. There should not be any big chunk of potatoe left in it.

Heat the oil in the pan and add asafoetida, cumin seeds, chopped green chlies and ginger. Roast it a little bit.

Now add boiled peas in it. And cook it a little bit.

Add 2 teaspoon salt, 1 teaspoon red chili powder, 1 teaspoon garam masala in the peas. Cook the masala properly.

Now add dry coriander powder, roasted cumin seeds powder, and black pepper powder, chaat masala powder,  dry mango powder (amachur ).

Now add mashed potatoes and chopped coriander in it.

Lower the flame of gas and mix all the ingredients properly.

Stuffing is ready for bread pakora. Take out stuffing in one plate and let it cool.

Take a slice of bread and apply stuffing on it. Do not spread too much stuffing in the bread otherwise, there are chances for breakage of bread.

Apply stuffing on second slice of bread.

Take a square shape panner and put it on bread.

Then cover that slice with other bread. And gently press the bread.

Cut the bread in a triangle shape.

Heat the oil for deep frying of bread pakora

Once again stir the besan batter.

To check the oil is heated enough for frying. Put a few drops of batter in the oil. If the batter starts sizzling and comes on the surface of the oil, it means oil is ready for deep frying. If batter drop is not comes on the surface of the oil means it oil needs to be heated more. If batter comes too quickly on top of oil it means it is too hot for frying.

Dip the prepared stuffed bread in the batter. And coat it on all the sides.

And carefully put the coated bread in the oil for frying.

Fry it on high medium flame.

Once it is golden brown from one side, flip it.

Once it is golden brown from both sides. Remove it on the plate. Put the kitchen tissue on plate first so that the extra oil is absorbed by it.

Sprinkle the chaat masala on it and serve it.
Notes
Important thing to remember : Carefully flip the bread pakora in the oil. Otherwise oil will spill from the kadhai. You may get injured.
Recipe of plain bread pakora
In this you do not have to fill any stuffing in it. Just cut a bread slice in triangle shape. Dip the bread in the batter. And fry it in the oil. When it turns golden brown. Take out in plate. Simple plain bread pakora is ready.
Bread pakora (stuffed with only potato stuffing)
In this you have to fill the potato stuffing inside the breads. Do not add paneer in it. Fry it in oil. If you make bread pakora without paneer then it will called as bread pakora.
This is the only difference in bread pakora and paneer bread pakora.
Paneer Bread Pakora Recipe Video
Pin this image on pinterest, if you like this recipe.
If you want to ask about this recipe or give suggestions. Then you can tell us in a comment section. We would love to hear from you. And please give a star rating below.
If you like this post, then please consider retweeting it or sharing it on Facebook or Pinterest.