Vrat Recipes | Navratri Vrat Recipes
This post is also available in: हिन्दी
This post may contain affiliate links which won't change your price but will share some commission.
In this post, you will find the vrat recipes. These fasting recipes can be made in any vrat like Navratri fasting, Janmashtami vrat, Ekadashi, duadshi, Shivratri, Pradosh etc.
These fasting recipes can be eaten any time during the fasting.
I have made all the recipes which are usually eaten in the vrat. All the ingredients are allowed to have in vrat.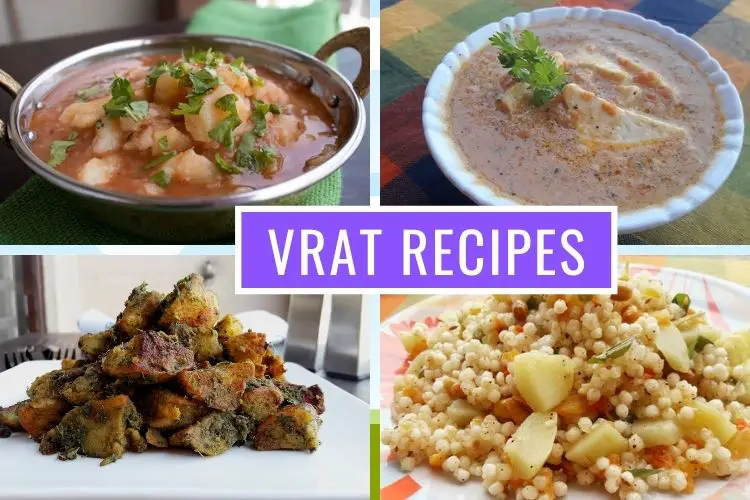 If you do not eat some ingredient in the vrat then remove it from the recipe.
Please alter the recipe according to your taste, preferences and tradition.
These are easy to make and prepare in very less time.
What food is allowed during fasting?
The below items are allowed in the fasting.
Flour: Kuttu ka atta (buckwheat flour), singhade ka atta (water chestnut flour), Sama ke chawal ka atta (barnyard millet flour), vrat ke chawal (barnyard millet), Rajgira ka atta (amaranth flour) and rajgira (amaranth), sabudana (sago or tropical pearls), and arrowroot flour.
You can further read my post on how to make singhara atta.
Spices: Sendha namak, black pepper powder (kali mirch), cumin seeds (jeera), and carom seeds (Ajwain).
Vegetables: Potato, tomato, pumpkin, Sweet potato (shakarkand ), Raw banana, bottle gourd (lauki), lemon, green chilli, ginger and coriander.
Nuts: cashew, pistachio, Raisin(kishmish), almonds, makhana, coconut, and walnut.
Fruits: All fruits are allowed in the fasting.
Dairy products: milk, curd, paneer, khoya, cream, malai, white butter, desi ghee, lassi.
Sweets: Any sweets made with khoya, paneer and nuts are allowed. You can have homemade sweets like potato halwa, sabudana kheer etc.
Which food is not allowed in fasting?
Flour: Wheat flour, maida (refined flour), rice flour, rice, besan (chickpea flour), sooji, cornflour, bajra, bajra flour are not allowed.
Pulses: All types of pulses, rajma(kidney beans), chole, soybeans etc. are not allowed in fasting.
Vegetables: Onion and garlic are prohibited in fasting. The rest of the vegetables mentioned above can behave in fasting.
Spices: salt, garam masala, turmeric, red chilli powder, mustard seeds, hing (Asafetida), and dhaniya powder ( coriander powder) are not allowed.
Egg, non-vegetarian and alcohol are not allowed in fasting.
Vrat Recipes for Navratri
These are the Navratri vrat recipes which are categorized as snacks, lunch or dinner, and sweets.
Further, you can check out sabudana vrat recipes.
Snacks for fasting
These recipes can behave as a snack or for lunch or dinner. These are specially made for having in vrats.
Vrat recipes for lunch or dinner
These recipes are made especially for lunch or dinner. I have shahi paneer recipe specially for vrat. These recipes will make a complete thali for breaking your fasting.
Sweets recipes for vrat
Without sweets, a meal is not complete. So these recipes are made especially for vrat. In this, all the ingredients used which are allowed in vrat. Try this and share your feedback in the comments.
You can read more vrat recipes here.
If you want to ask about this recipe or give suggestions. Then you can tell us in a comment section. We would love to hear from you. And please give a star rating below.
If you like this post, then please consider retweeting it or sharing it on Facebook or Pinterest.