In this post you will find the vrat recipes. These fasting recipes can be made in any vrat like navratri fasting, janmashtmi vrat, ekadshi, duadshi, shivratri, pradosh etc.
These fasting recipes can be have any time during the fasting.
I have made all the recipes which are usually eat in the vrat. All the ingredients are allowed to have in vrat.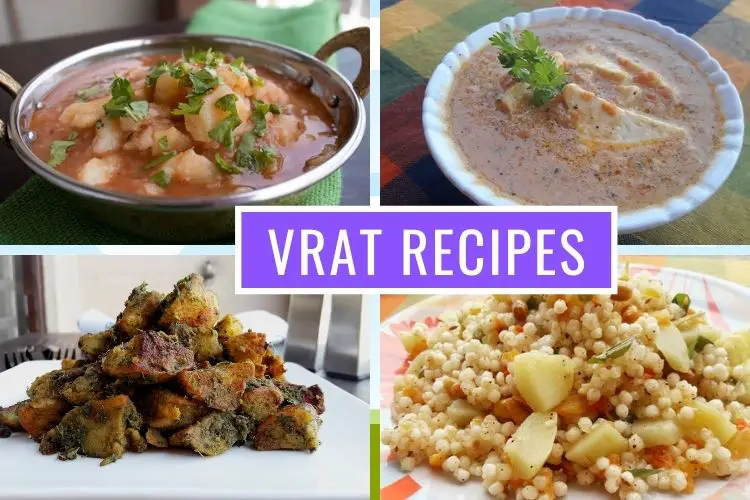 If you do not eat some ingredient in the vrat then remove it from the recipe.
Please alter the recipe according to your taste, preferences and tradition.
These are easy to make and prepare in very less time.
What food is allowed during fasting?
These below items are allowed in the fasting.
Flour: Kuttu ka atta (buckwheat flour), singhade ka atta (water chestnut flour), Sama ke chawal ka atta (barnyard millet flour), vrat ke chawal (barnyard millet), Rajgira ka atta (amaranth flour) and rajgira (amaranth), sabudana (sago or tropical pearls), and arrowroot flour.
Spices: Sendha namak, black pepper powder (kali mirch), cumin seeds (jeera), Carom seeds (Ajwain).
Vegetables: Potato, tomato, pumpkin, Sweet potato (shakarkand ), Raw banana, bottle gourd (lauki), lemon, green chilli, ginger and coriander.
Nuts: cashew, pistachio, Raisin(kishmish), almonds, makhana, coconut, and walnut.
Fruits: All the fruits are allowed in the fasting.
Dariy product: milk, curd, paneer, khoya, cream, malai, white butter, desi ghee, lassi.
Sweets: Any sweet made with khoya, paneer and nuts are allowed. You can have home made sweets like potato halwa, sabudana kheer etc.
Which food is not allowed in fasting?
Flour: Wheat flour, maida (refined flour), rice flour, rice, besan (chikpea flour), sooji, corn flour, bajra, bajra flour are not allowed.
Pulses: All type of pulses, rajma(kidney beans), chole, soy beans etc. are not allowed in fasting.
Vegetables: Onion and garlic are prohibited in fasting. Rest the vegetables mentioned above can be have in fasting.
Spices: salt, garam masala, turmerci, red chilli powder, mustard seeds, hing (Asafetida), dhaniya powder ( coriander powder) are not allowed.
Egg, non-vegetarian and alcohol are not allowed in fasting.
Vrat Recipes for Navratri
These are the navratri vrat recipes which are categorized in snacks, lunch or dinner, sweets.
Snacks for fasting
These recipes can be have as a snack or in lunch or dinner. These are specially made for having in vrats.
Panner Pakora for Vrats/Fasting
These crispy, golden brown paneer pakoda will bring water in your mouth.
Check out this recipe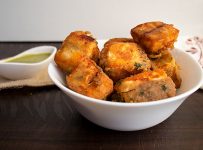 Aloo chaat recipe for vrat
Crispy golden brown potato mixed in fresh coriander chutney and lots of tangy and spicy flavour in it.
Check out this recipe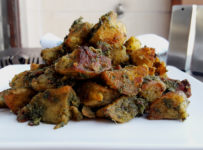 Upwas Dhokla
Upwas dhokla or we can say that dhokla for vrat (vrat ka dhokla). It is one of the easiest and very light food to have in vrats.
Check out this recipe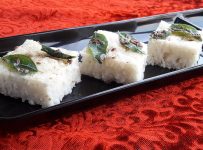 Vrat recipes for lunch or dinner
These recipes are made specially for lunch or dinner. I have shahi paneer recipe specially for vrat. These recipes will make a complete thali for breaking your fasting.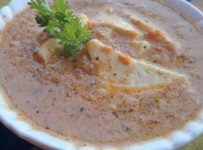 Aloo Tamatar ki Sabji Vrat Wali
Aloo tamatar ki sabji vrat wali which is made with aloo and tamatar mainly. And all the spices which we can use on vrats. 
Check out this recipe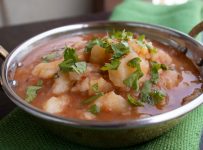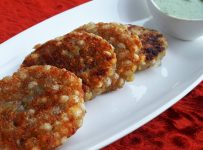 Kuttu Ki Puri Recipe
Learn step by steps for making kuttu ki puri. I am showing step by steps pics of it. And below there is a video demonstration also available.  
Check out this recipe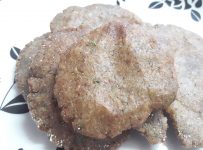 Samak Ke Chawal Recipe
Learn how to make samak ke chawal. Below i have mentioned step by step recipe of it. 
Check out this recipe
Aloo Raita Recipe (Potato Raita Recipe)
Aloo raita for vrats recipe with two methods: 1. Plain and simple method. 2. Raita with tadka 
Check out this recipe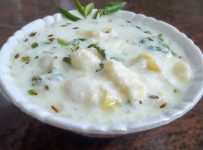 Sabudana Khichi Recipe
Learn the step by steps of making sabudana khichdi with photos and video. 
Check out this recipe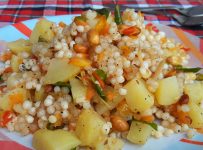 Mint Coriander Chutney for Vrats/Fasting
Make this mint coriander chutney which is full of flavour.
Check out this recipe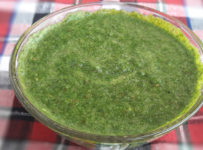 Sweets recipes for vrat
Without sweet a meal is not complete. So these recipes are made specially for vrat. In this all the ingredients used which are allowed in vrat. Try this and share your feedback in comments.
Aloo ka Halwa Recipe
Deliocious aloo ka halwa recipe garnished with pistachiou, almonds and Raisins (kishmish)
Check out this recipe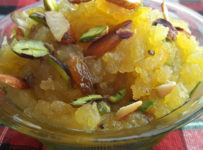 Sabudana Kheer Recipe
Find the ingredients and step by step method of making this sweet dish made with sabudana and milk.
Check out this recipe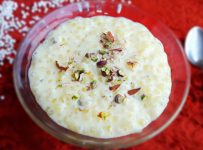 Rasmalai Recipe | Rasmalai Recipe easy
Delicious soft paneer in the delicious milk. With flavour of dry fruit and kesar.
Check out this recipe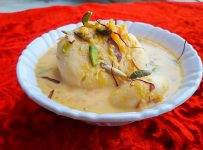 You can read more vrat realated recipes here
If you want to ask anything related to this recipe or give any suggestion. Then you can tell us in a comment section. We would love to hear from you. And please give a star rating below.
If you like this post, then please consider retweeting it or sharing it on Facebook or Pinterest.
Never miss a recipe.
Subscribe to our newsletter and get yummy recipes and kitchen tips to your email inbox.