This post is also available in: हिन्दी
This post may contain affiliate links which won't change your price but will share some commission.
Today I will share sabudana khichi recipe with you. It is a very popular dish in India especially in the vrats like Navratri, Ekadshi, Janmashtami, Shivratri, etc.
It is easy to make if you know the tricks to make it. I will share with you the complete steps of making it in the video as well as pictures format.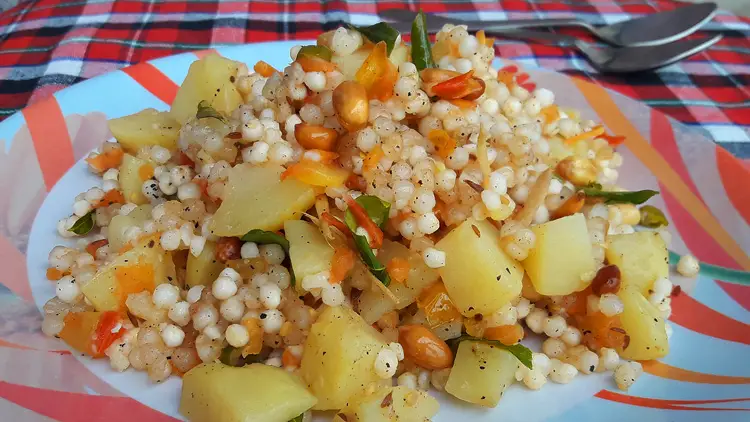 My family members love this sabudana khichdi. This is one of the favourite dishes which is made during the fasting season.
I used to add peanuts, chillies, tomatoes, potatoes, and coriander leaves to it. Some people do not eat tomatoes in the vrats(upvaas), so they can avoid tomatoes in it. They can add little lemon juice on top of it to add some more taste.
You can add paneer to it to add taste and increase the nutritional value.
Earlier I did not like the sabudana khichdi because whenever I make sabudana khichdi it becomes sticky. Due to that, I did not prefer it. But after learning the correct way to make it, now I also like it.
It is prepared in the many states of India like Maharashtra, Karnataka, Uttar Pradesh, Madhya Pradesh, Rajasthan, Delhi, and Gujarat. But in some towns of India like Mumbai, Pune, Indore, Bhopal, Jaipur, and Nagpur, it is available as street food. Source from Wikipedia.
There are a few more sabudana recipes that you can make during fasting (vrat/upvaas)
What is sabudana khichdi called in English
Sabudana is called tapioca pearls in the English language. Sago is another name for it in India. But the word khichdi is no English translation. It is a dish made in India.
What to serve with sabudana khichdi
There are various things you can serve with it. You can serve it with plain curd, aloo raita, aloo kheera raita (potato cucumber raita),  mint and coriander chutney, I also prefer it with aloo tamatar ki sabzi (potato and tomato side dish) etc.
How to make sabudana khichdi without soaking
Sabudana khichdi cannot be made without soaking it. You have to soak them till they are soft. There is no way to make it without soaking. As it is one of the initial steps for making it.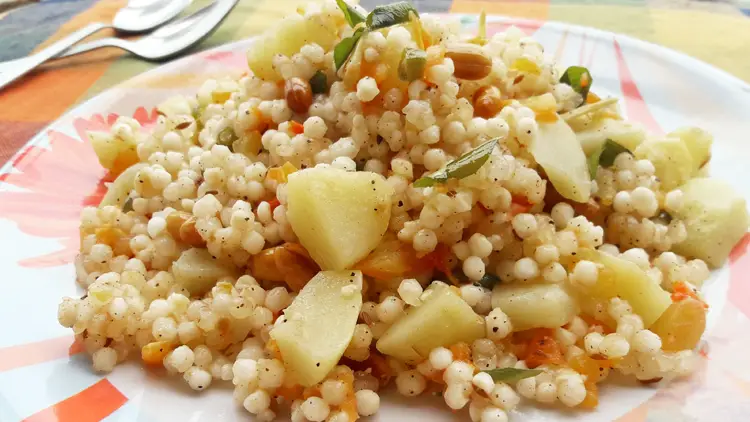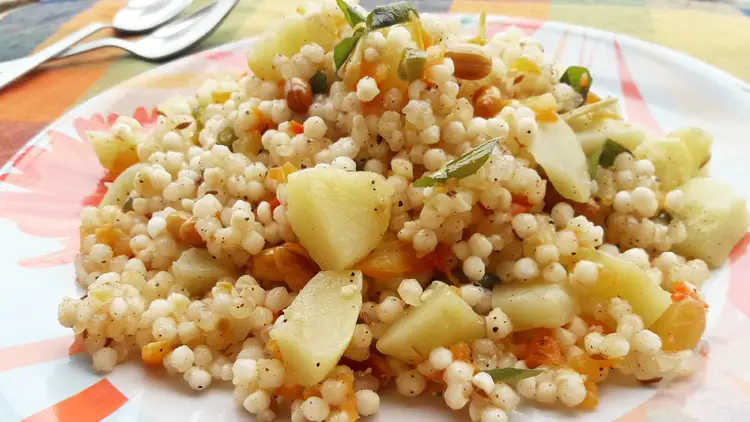 How to make sabudana khichdi instantly
There is no method to make it instantly or quickly. This recipe takes time the prepare. You have to soak sabudana for certain minutes or hours to make it soft. This takes time otherwise, the whole recipe does not take too much time.
How to make sabudana khichdi without peanuts
There are no additional steps to make sabudana khichdi without peanuts. I prefer it with peanuts as it adds crunch, taste and other essential nutrients to the dish. But if you don't like peanuts, then you can avoid them.
Variations of sabudana khichdi
You can make different variations of sabudana if you are not on a fast. Do not use these variations on fast.
Apart from aloo (potato), you can add some more vegetables, like peas, cauliflower, carrots, corn, onion, capsicum etc. in your sabudana ki khichdi. Adding these vegetable nutrients to the dish will increase.
Add some more spices like red chilli powder, garam masala, dhaniya powder etc. to make it more delicious.
Make the tadka of onion and garlic before adding vegetables. It will enhance its taste of it.
How to make sabudana khichdi non-sticky
To make sabudana khichdi non-sticky, it is important to soak it correctly. This is one of the main reasons why it turns so sticky and lumpy.
one of the main reasons to turn it mushy and lumpy is if you soak it in more water than required.
The solution to this problem is to soak into the right quantity of water. But, the quantity of water totally depends on the quality of the sabudana. If it is good quality sabudana then it will not dissolve in the water. So, purchase good quality of it.
I used good quality sabudana for making khichdi this time.
I washed it two times in the running water so that extra starch was removed from it. After removing extra water. I placed it in a drainer for half an hour. It turned soft. I checked it by pressing it between my fingers.
Always purchase good quality products.
But when I made sabudana vada I used a little different approach for soaking it. You can read it on my post of sabudana vada about it.
If you want to soak it in the water after washing it in running water. Then take the equal quantity of water of sabudana. So, that it does not turn up mushy.
I have made 15 recipes, especially for vrats at the time of writing this post. Some of them which are in article form are mentioned below.
Chaat recipes: Aloo chaat for vrats,
Vrat thali: Sabudana khichdi, Kuttu ki puri, Aloo tamatar sabji (Potato tomato curry) – Vrat special, Dhaniya pudina chutney – Vrat Special, Aloo raita, Samak ke chawal
Snacks: Sabudana Vada, paneer pakoda for vrat, Dhokla for Vrats – Upwas Dhokla
Sweet recipes for vrat: Sabudana kheer, Aloo ka halwa, Dry Coconut Burfi, Ghiya ki Kheer, 
and other recipes are currently on youtube. You can watch the complete playlist of vrats recipes.
Sabudana Khichi Recipe
Learn the step by steps of making sabudana khichdi with photos and video. 
Ingredients
1

cup

sabudana

tapioca pearls

2

Medium size

tomatoes

1/2

cup

Peanuts

1

inch

Ginger

1-2

Green chilies

2

boiled and diced potatoes

2

tablespoon

desi ghee or oil

10-12

Curry leave

Rock salt

Sendha namak according to your taste

1

teaspoon

cumin seeds Jeera

1

teaspoon

Black pepper powder

kali mirch powder

1/2

lemon juice
Instructions 
Steps to make sabudana khichdi
Heat the pan on the stove.

Add 1 or 2 tablespoons of desi ghee or any cooking oil for tadka. And heat it up.

Add peanuts in it and roast them.

Add jeera in it and fry it until its colour changes. 

Add chopped green chillies and ginger in it. And cook it until the raw flavour of them goes away.

Add curry leaves in it and stir it.

Add chopped tomatoes in it. 

Add sendha namak (rock salt) according to your taste.

Cover the lid so that tomatoes becomes soft.

Add black pepper powder


Add boiled potatoes in it. And mix it again. 

Add sabudana in it and mix it well.

Cover the lid for 1 minute to cook it.


Add lemon juice in it. And mix well.

This dish is ready. Serve it hot in the plate. 
Sabudana khichdi Video


If you want to ask about this recipe or give suggestions. Then you can tell us in a comment section. We would love to hear from you. And please give a star rating below.
If you like this post, then please consider retweeting it or sharing it on Facebook or Pinterest.