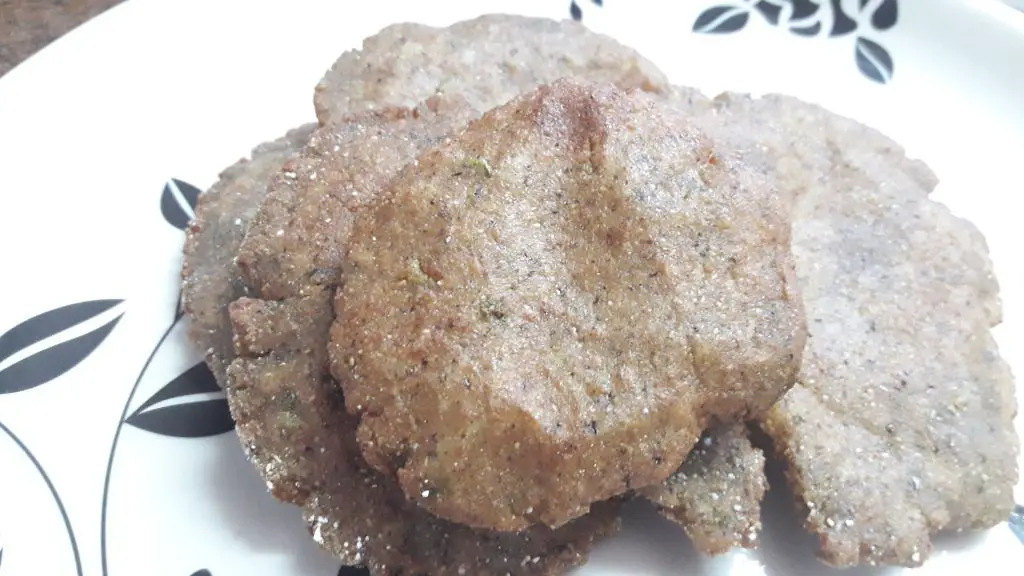 Kuttu ki puri is made in the fasting days. As it is one of the dish which can be had in fasts like navaratri fast, ekadashi fast, shivratri fast etc. English name of kuttu is buckwheat. There are some other flours which we can use in fasts like singhade ka atta(water chest nut flour), rajgira ka atta (amaranth flour).
I like to mix both kuttu ka atta and singhade ka atta with boiled potato for preparing pakodi and puri. But today i am sharing you the recipe of kuttu ki puri in which i have added the boiled mashed potato.
You can have kuttu ki puri with shahi paneer ( i made this recipe for vrat only in which i did not use onion, garlic and other spices but without all taste is very good), aloo ka raita, dry aloo ki sabzi, dhaniya pudina chutney specially for vrats.
To make a complete thali you can make samak ke chawal or sabutdana khichdi, in sweets you can make aloo ka halwa, nariyal ki barfi, ghiya ki burfi.

Kuttu Ki Puri
Ingredients
2

boiled potatoes

(roughly mash it )

1

cup

buckwheat flour (kuttu ka atta)

2

finally chopped green chilies

Rock salt (sendha namak)

according to your taste

1/4

tea spoon

black pepper powder

fresh coriander leaves finally chopped

Oil for frying puri
Instructions
Steps of making dough for kutta atta
Sift the kuttu atta in a big bowl.



Mix mashed potato, green chilies, finally chopped coriander leaves, 2 table spoon oil and rock salt according to you taste in kuttu ka atta.



Add slowly slowly water in it and knead it. And make it a soft dough.



Cover it with cloth and leave it for 10 minutes.


Rolling kuttu ki puri
Apply little cooking oil in your hands and make small balls of dough.



Flatten a ball gently and roll it slowly slowly.



Add little oil if required. And make small puris. Do not squeeze it too much.



Carefully lift the puri and keep aside in plate.



Repeat these steps with all the balls.


Frying kuttu ki puri
Heat oil in kadai or pan. We need to check the oil temperature before putting puri in it. For testing oil temperature, put a tiny puri piece in it. If it comes steadily and gradually on top, then oil is medium hot and it is ready for frying puris.



Slid puri one by one in the hot oil.



With the help of slotted spoon put little bit of oil on top of puri's.



Turn the puri to second side and fry it gently. If it is not fully golden brown then turn it again.



Remove puri with the help of slotted spoon.



Place all puris in kitchen towel for removing excess oil.



Serve these kuttu ki puri with any curry and vegetables which you made for vrats like paneer recipe, aloo tomato etc.


Recipe Notes
Serve it hot every time. It looks very tasty when served hot.
Use kitchen towel to remove excess oil and they soak too much oil in it.
Do not over fry it. It will look bitter in taste.