This post is also available in: हिन्दी
This post may contain affiliate links which won't change your price but will share some commission.
Rasmalai recipe is one of the delicious and popular sweet dishes in India. In this post, i will share with you the homemade rasmalai recipe.
This rasmalai recipe is very easy to make. You will know the rasmalai recipe step by step method of making it in the provided video.
The taste of this rasmalai will be exactly the same as the market one.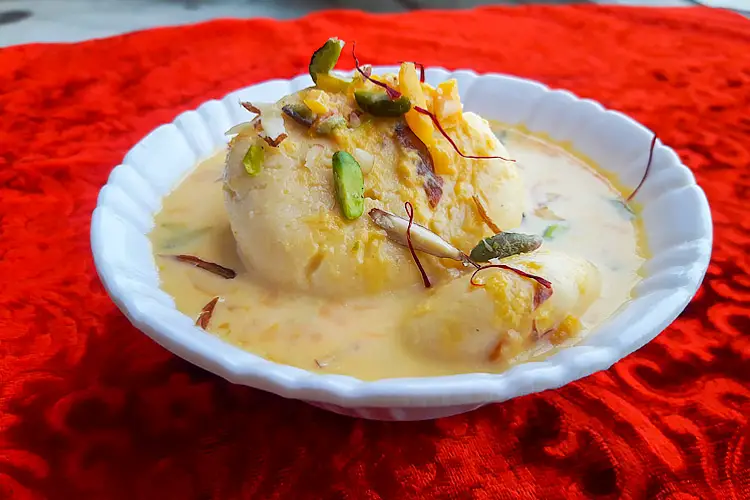 In this rasmalai recipe, we will make cheena first. Then we will prepare the milk for it.
This is a popular bengali sweet dish. The main part of this recipe is to make the chenna perfectly. Otherwise, this recipe is very easy.
We used to eat the rasmalai which is available in the sweets shop. But when i tried my prepared rasmalai recipe at home, It was very delicious. Then after i make it frequently.
I adjust its sweetness according to my taste. Try this rasmalai recipe at home. You will definitely love it.
You can also try my rabri recipe, aloo halwa and sabudana kheer.
Rasmalai Recipe | Rasmalai Recipe easy
Delicious soft paneer in the delicious milk. With flavour of dry fruit and kesar.
Ingredients
For chenna/paneer
1

litre

milk

2

tablespoon

lemon juice

water
For rabri
1

litre

milk

250-300

gram

sugar

10-12

strings

Saffron

kesar

cardamon powder

elaichi powder

8-10

chopped almonds

badam

10-12

chopped pistachios

pista
Instructions 
For making chenna
boil the milk on the gas.

Turn off the gas when it boil. Let it cool for few minutes.

add equal quantity of water in the lemon juice

slowly add a spoon of juice in the milk and mix it well.

Slowly again put a spoon of lemon juice in mix and stir it well.

After putting all the lemon juice, keep the milk aside.

After 5-7 minutes it will curdle

Take the clean cloth, and drain the curdled milk.

clean it with water so that the smell of lemon juice or vinegar goes away. Squeeze it with hand for removing excess water from it.

Put it in a plate.

mash it with hand and make a dough

After some time it will be soft.
for making milk for rasmalai
Boil the milk

simmer the gas when it boils.

add 10-12 strings of kesar and elaichi.

Add some chopped pistachios and almonds

Keep stir it after few minutes. Milk will reduce into half quantity.

Add 100 gram sugar in it.

When sugar melt , turn off the gas. And keep aside for cooling.
for giving chenna shapes
add 1 teaspoon corn flour or arrarot in chenna for making it more soft. Mix it well

Make small balls like you make for roti and press it between your hands to flatten it little bit.
Making sugar syrup
Take a bowl of water in pan (patila).

add 250 to 300 gram sugar for making syrup (chashni).

Boil the water .

Add few balls in the boiling water. Do not add all the balls at a time.

Cover it and boil it for 15-20 minutes on high flame. Keep stir it in 2-3 minutes.

After boiling the balls their size will increase.

Let it cool.

Squeeze with with spoons for removing excess syrup from it. And keep it in another bowl.
Steps for making rasmalai
Put rabri on top of chenna ball.

keep it aside for 3-4 hours so that they can absorb the milk .

Keep in fridge for 3-4 hours for cooling.

Serve it.
Rasmalai Recipe Video
If you want to ask about this recipe or give suggestions. Then you can tell us in a comment section. We would love to hear from you. And please give a star rating below.
If you like this post, then please consider retweeting it or sharing it on Facebook or Pinterest.