This is the list of famous sabudana vrat recipes. Sabudana recipes are specially made in fasting or vrat like navratri, shivratri, ekadshi, duadshi, janmashtmi, etc.
इस रेसिपी को हिंदी में पढ़े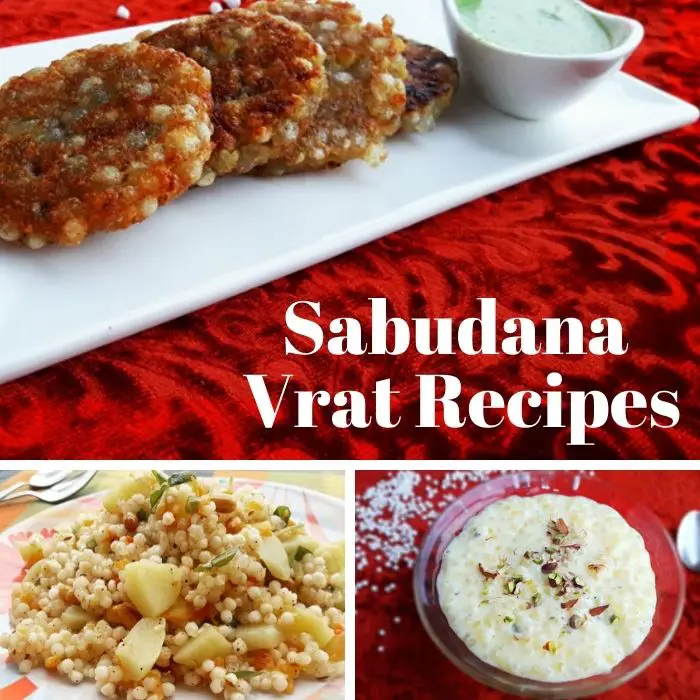 Sabudana is also called as sago. In english it is called as tapioca pearls.
In India it is made in various vrats. I also used to have dishes of sabudand in vrats.
Collection of sabudana recipes for vrat
Sabudana Vada
This is the crispy vada made specially in vrats. It tastes delicious due to the crispyness outside and soft from inside. You can have this with mint coriander chutney made specially for vrats.

Sabudana Khichdi
This sabudana khichdi is cooked with potatoes, peanuts, and tomatoes. It taste soft and crunchy due to the peanuts in it. It is one of the most cooked recipe apart from kuttu ki puri, potato tomato curry and raita.
Sabudana Khichi Recipe
Learn the step by steps of making sabudana khichdi with photos and video. 
Check out this recipe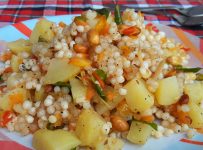 Sabudana Kheer
This sweet dish is made with sabudana and milk. This is creamy, smooth and easy to make. And lots of dry fruits added in it. There are few more sweet dish recipes like aloo ka halwa, makhana kheer etc. which you can enjoy in vrats.
Sabudana Kheer Recipe
Find the ingredients and step by step method of making this sweet dish made with sabudana and milk.
Check out this recipe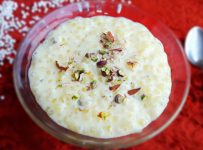 Sabudana Thalipeeth
It is made in specially in Maharastra. This recipe has been taken from the Spice of Curry
Sabudana Thalipeeth – Spice Up The Curry
Sabudana thalipeeth – all the delicious flavors of sabudana vada shaped into the thalipeeth (flatbread) form.
Check out this recipe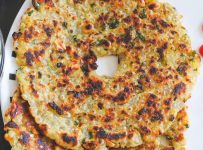 Sabudana Khatti Meethi Namkeen Recipe
One of the very unique recipe with sabudana. Try this namkeen wihch is made with sabudana.
Sabudana Khatti Meethi Namkeen Recipe
Sabudana Khatti Meethi Namkeen Recipe is a delicious crunchy snack made with nylon tapioca pearls and can be eaten during fasting. It Is especially made for Navratri and because it is made for fasting there is no onion and no garlic in this recipe.
Check out this recipe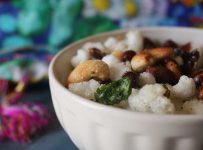 Sabudana Kheer With Mangoes
Different kind of sabudana kheer with mangoes.
Mango Sago Kheer Recipe – Sabudana Kheer With Mangoes
Mango Sago Kheer, a sabudana Kheer where we have added mango to add some extra flavour and taste. As the mango is in season, you can make this kheer and enjoy with your weekend meals.
Check out this recipe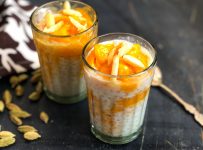 If you want to make complete thali for vrat then you can check my vrat recipe collection.
If you want to ask anything related to this post or give any suggestion. Then you can tell us in a comment section. We would love to hear from you. And please give a star rating below.
If you like this post, then please consider retweeting it or sharing it on Facebook or Pinterest.
Never miss a recipe.
Subscribe to our newsletter and get yummy recipes and kitchen tips to your email inbox.