How to make Sabudana Vada
This post is also available in: हिन्दी
This post may contain affiliate links which won't change your price but will share some commission.
Today, we will learn step by step method of making sabudana vada at home with photos and video. It is made with mashed potato and sabudana (tapioca pearls) and peanuts.
Sabudana vada has been eaten especially in vrats or upvaas (fasts) in India. It has been eaten in different vrats like Navratri, Ekadashi, Shivratri, Janmashtami and many other fasts.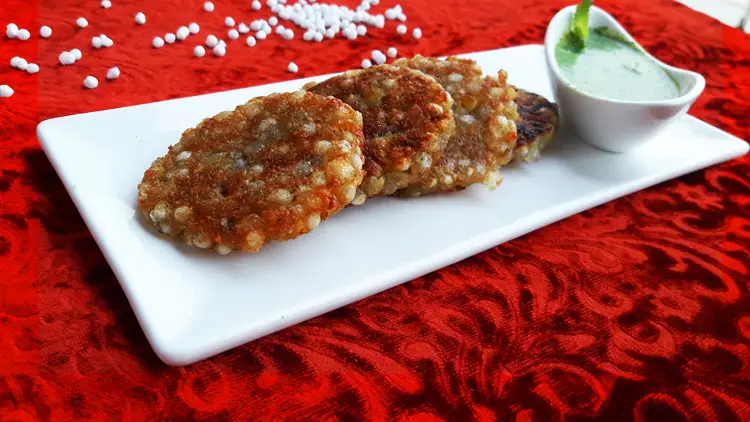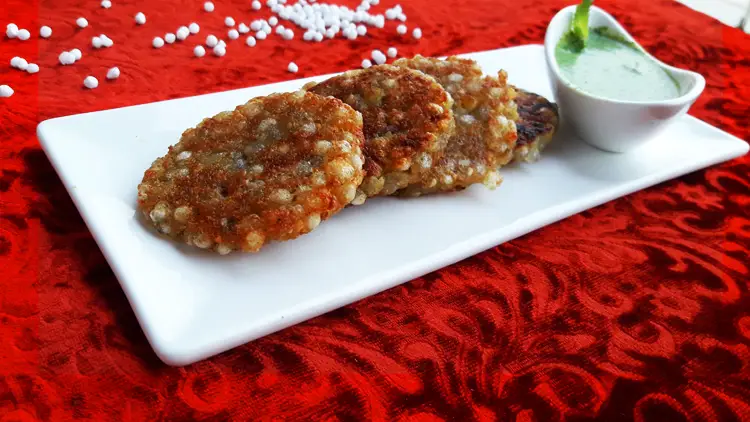 As Navratri fasts are about to begin so, I am sharing this recipe with you.  As you all know that in fasting we don't eat onions, garlic, wheat products, or lentils (dals). So, this would be a good recipe for this fasting season.
Apart from fasting, you can have this on any other day. It is very delicious and full of nutrients.  And also it is crispy from the outside and soft from the inside.
It is prepared in the many states of India like Maharashtra, Karnataka, Uttar Pradesh, Madhya Pradesh, Rajasthan, Delhi and Gujarat.
I also prepare sabudana khichdi which is one of my favourites in the vrats. You can make other fasting recipes like
Chaat recipes: Aloo chaat for vrats,
Vrat thali: Sabudana khichdi, Kuttu ki puri, Aloo tamatar sabji (Potato tomato curry) – Vrat special, Dhaniya pudina chutney – Vrat Special, Aloo raita, Samak ke chawal
Snacks: Sabudana Vada, paneer pakoda for vrat, Dhokla for Vrats – Upwas Dhokla
Sweet recipes for vrat: Sabudana kheer, Aloo ka halwa, Dry Coconut Burfi, Ghiya ki Kheer, 
What is Sabudana in English called?
Sabudana is called tapioca pearls in the English language. In some parts of India, it called Sago.
How is Sabudana made up of?
Sabudana is made of cassava root. This plant is very common in whole India, Southeast Asian countries, South America,  Portugal, Spain, etc. Starch is extracted from tapioca roots, after the processing of it, spherical pearls created. The pearls are produced by passing the moist starch through a sieve under pressure and then dried. Source from the article.
Is Sabudana Vada healthy?
Sabudana is a rich source of carbohydrates. It gives you instant energy.
It has no fat, very fewer vitamins and minerals. And has a little bit of iron in it.
You can increase the nutrients in the dish by adding vegetables like potatoes, tomatoes, peanuts, etc. If you have sabudana in the fasts then the options for adding in it are limited. Otherwise, you can add, carrots, capsicum, peas, etc.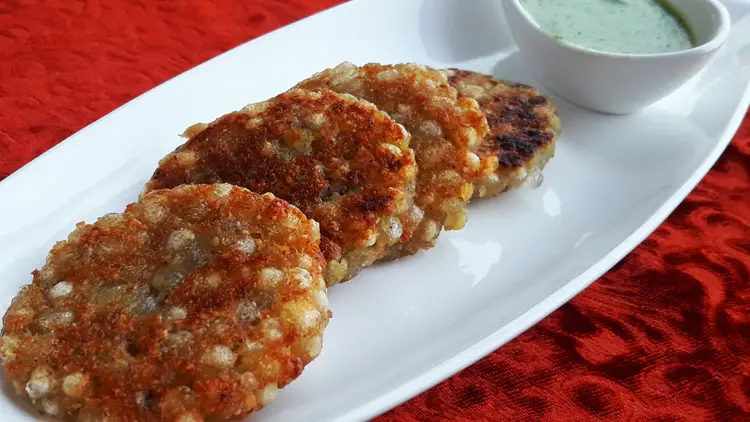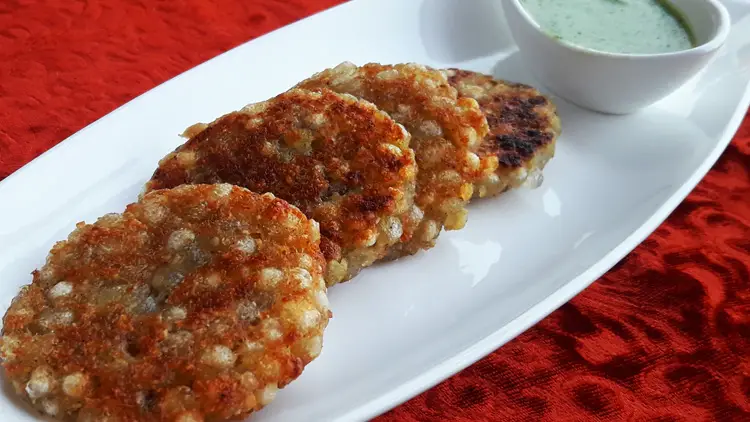 How long soak Sabudana before cooking?
It completely depends on the quality of the sabudana you are using. I have noticed that the inferior quality sabudana dissolves in the water and becomes gummy. And it takes more time to be soft. You have to test the time with your sabudana.
I soaked sabudana for around 30 minutes and then removed the water and placed it in the stainless steel drainer for at least 1 hour. The excess water of the sabudana is removed and it becomes soft. If your sabudana is not soft after soaking for 30 minutes then soak it for some more time.
How to store soaked sabudana?
Ideally, you should not store soaked sabudana. It will get messy. I haven't tried it. I soaked them at that time when I have to make it.
How to make sabudana vada without soaking?
Soaking is one of the essential steps in making sabudana vada or khichdi of it. If we will not soak it. And try to make it without soaking, then we have to add water at the time of cooking it. I have tried this way also, it gets messy and all the small balls stick together and it becomes gummy.  I will not suggest you make it without soaking.
How to make sabudana vada without peanuts?
There are no additional steps for making it without peanuts. We add peanuts for adding a little crunch to it. It tastes very good with peanuts. If you do not like it or you do not have that time just avoid it.
If you make it without peanuts then let me know how it tastes in the comments section.
Sabudana Vada
Step by steps to make sabudana vada with pictures and video.

Ingredients
1

cup

sabudana

2

cup

water

2

medium size boiled potatoes

1/2

cup

roasted peanuts powder

Ginger

Green chilies paste

Sendha namak (rock salt)

according to your taste

Black pepper powder

Coriander Leaves optional

Desi ghee or any cooking oil.
Instructions 
Steps for making sabudana vada mixture
Grate the potatores with the help of grater. It help in the binding of the sabudana and others ingredients.

Add ginger and green chili paste

Add soaked sabudana in it

Add peanuts powder.

Add 1/2 teaspoon sendha namak and black pepper powder.

Mix all with the help of spoon or with hand.
Steps for shaping and preparing sabudana vada for frying
Apply desi ghee on your hand

Take small amount of mixture and roll in between your hands

Press between your hands and give it shape like tikki's shape

Repeat this step with all the mixture and prepare the sabudana tikkis
Steps for shallow frying of sabudana vada
Heat the pan on the stove.

Add 1 or 2 big spoon of desi ghee or any cooking oil for frying. And heat it up.

Place all tikkis in the pan and make sure the gas flame is on medium temperature.

Place the lid on pan for 7 to 10 minutes so that it can cook

Turn over tikkis one by one. From one side it will be golden brown.

Now again Place the lid on pan for 7 to 10 minutes so that it can cook

Take out all the tikkis on the plate.

Repeat this process with all the vadas.
Sabudana Vada Recipe Video
How to make sabudana vada chutney
For making sabudana vada chutney you can watch the above video. In the end, I have mentioned the steps where I have used curd in it. But if you want to learn the chutney recipe without the curd. Then you can watch this video of dhaniya and pudina chutney for vrats.
How to make sabudana vada without frying
You can make sabudana vada without frying by baking it in a microwave oven or air frying them in the air fryer. These are the only two ways that you can make it without frying. I have mentioned below the steps of baking and air frying it.
How to make sabudana vada in microwave oven /oven
For making sabudana vada in the oven. You have to follow the above steps before frying. Now your sabudana vada tikkis are ready to go in the oven. But before that, grease the baking tray with little cooking oil or desi ghee. and till that time pre heat the oven to 220-degree Celsius.
Now, place the vada on a baking tray and grease a little bit of oil on top of it. Bake these vadas for around 15 minutes first and then turn them with the help of a spatula or spoon. Their colour will become start golden brown from the top side. Now, bake another 5-10 minutes. If required you can grease a little bit more oil.
If you require more golden brown colour then leave it for another 5 minutes. The time of baking totally depends on the thickness of your vada. You should experiment with the first batch first.
How to make sabudana vada in airfryer
It is also easy to make sabudana vada in the air fryer. They will become less oily and the taste will be great.
For making sabudana vada in the air fryer, first of all, preheat the air fryer for 200-degree celsius for 5 minutes. Apply oil with the help of a brush or spray cooking oil on vadas.  And put these on a tray of it. Air fry them for around 20 minutes total and flip these after 10 minutes. If you want more golden brown colour then air fry them for another 2-3 minutes.
How to make sabudana vada less oily
You can make sabudana vada less oily by making them in the oven or air frying them. But if you don't have an oven or air fryer. Then make it on the non-stick pan. And use very little oil while frying it. Use around one or two spoons of oil at a time or less.
And even after cooking them, place it on the kitchen towel first to remove the excess oil from it. In this way, you can remove the excess oil from it.
What to do if sabudana becomes sticky
As per my knowledge, we cannot do anything if sabudana becomes sticky. There is no going back after that. The best way to avoid it becomes sticky is to use good quality sabudana and soak it in the correct way. If you know anything about it then let me know in the comments section.
If you want to ask about this recipe or give suggestions. Then you can tell us in a comment section. We would love to hear from you. And please give a star rating below.
If you like this post, then please consider retweeting it or sharing it on Facebook or Pinterest.