This post is also available in: हिन्दी
This post may contain affiliate links which won't change your price but will share some commission.
Bajre ki khichdi is a traditional food of Rajasthan and Haryana regions of India. It is one of the most had food in the winter season.
It is delicious and provides warmth on cold winter days.
It is made with bajra, rice, moong dal and salt only. It does not include any spices. If we add spices then we cannot have it with the milk.
Let's learn how to make a delicious bajre ki khichdi recipe in the winter.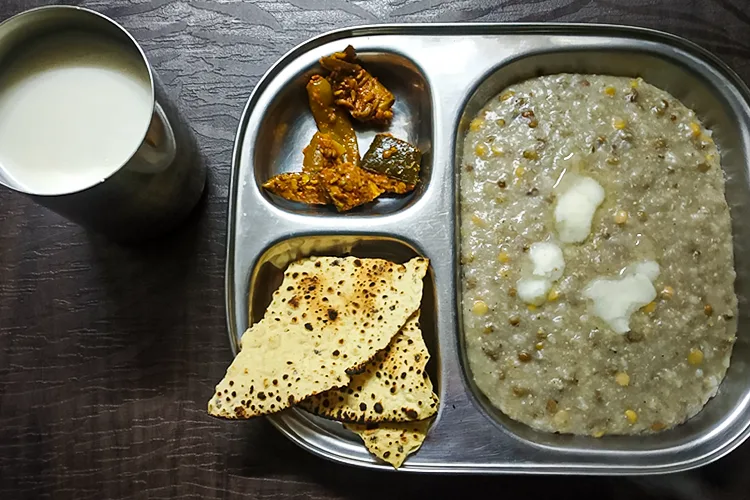 In Rajasthan they call it bajre ka khichda as well.
I have shown the traditional method of making it with the help of the imam dasta (mortar and pestel).
These days people do not know the traditional way of making it. And they use a mixer grinder for removing the outer skin of the bajra. It does not taste as good as made with traditional methods.
It is also a nutritious food. It has various health benefits also.
I would highly suggest that use the imam dasta for pounding bajra. If you donot have imam dasta then buy that from the below link.
What to have with bajre ki khichdi
Bajre ki khichdi tastes delicious with the desi ghee on top. Papad, milk or buttermilk (lassi) things go well with it.
I usually take desi ghee, papad and milk with it. I first have it with papad and then I add 1 glass of milk to it. And after mixing it I enjoy it with milk.
Kadhi tastes delicious with bajre ki khichdi also. Sometimes I make kadhi with it also.
In place of desi ghee, you can have it with homemade makhan.
Bajre ki Khichi Recipe Video
Bajre ki Khichdi Recipe
Delicious and traditional bajre ki khichdi recipe made with bajra, lentils and rice.
Ingredients
700-750

gram

bajra

Pearl Millet

1.5

cup

rice

1

cup

channa dal

1

cup

moong dal

3

spoon salt

water
Instructions 
Soaking Lentils and Rice
Soak the chana dal and moong dal in water for a few hours in the hot water.

Soak the rice for a few hours in the water.
Pounding Bajra
Put half of the bajra into the Imam dasta (Mortar and Pestle )

Add a sip of water to it. So that, bajra does not jump from the pressure of the pestle (moosli).

We have to crush the bajra top layer with the help of moosli .

Now remove the bajra from imam dasta to the plate.

Use the plate and make the jump the bajra by moving the plate up and down from one side (bajra pathkana in hindi)

Remove the top layer (rali in hindi) from the finger.

Keep it aside in another utensil.

Do all the steps for the rest of the bajra.

Now put the crushed bajra into the imam dasta and crush it a little more for the khichdi
Cooking Khichdi
Put a big patila on the gas and add water and soaked dal to it.

cover it with a plate and cook it for a few minutes on low flame.

Add 1 to 2 litres of hot water to it.

Add soaked rice to it.

Mix it well

Once it boils add 3 spoons of salt to it.

Mix it well

Add water when required so that it does not overflow from the patila.

Once the dal and rice are cooked and we will add bajra to it.

Add hot water to the bajra. And mix it well. And remove all the lumps from it before adding it to the patila.

Put the bajra mixture in the patila and mix it well.

Add 1 litre of hot water to it. And mix it well.

Cover it with a plate and cook it on low flame.

Add 1 litre more hot water to make the desired consistency.

Mix it well.

Cover it with the plate and leave it aside for a few more minutes.

Meanwhile, mix it well. And check if the bajra is cooked nicely then it is ready.
If you want to ask about this recipe or give suggestions. Then you can tell us in a comment section. We would love to hear from you. And please give a star rating below.
If you like this post, then please consider retweeting it or sharing it on Facebook or Pinterest.