This post is also available in: हिन्दी
This post may contain affiliate links which won't change your price but will share some commission.
Pav bhaji is one of the most have street food in Mumbai. We will make the Mumbai style pav bhaji recipe at home.
It is delicious and easy to make. And the taste is similar to Mumbai's pav bhaji.
I will show you step by steps photos and videos of pav bhaji recipe. You will also know how to make it properly.
What is pav bhaji recipe?
Pav bhaji is street food in India. It originated in Mumbai. And one of the best street food there.
Pav means bread. And a bhaji is a mashed and mix of many vegetables with lots of spices and butter in it. In this, both pav and bhaji are served with coriander chutney and chopped onions. That's why it is called pav bhaji.
Who invented Pav Bhaji?
It is originated in the 1850s in Mumbai. It was a fast lunchtime dish for the textile mill workers. You can read more about it.
But after a few years, it becomes popular in the whole of Mumbai. And slowly it is served in restaurants and on street as street food.
But it is not only popular in Mumbai. It is popular in other states of India as well. It is also a very popular street food there also.
Street vendors and restaurants made pav bhaji on big flat tawa. But at home, you can make it on a fry pan or kadhai. I have also made this in a kadhai.
Pav bhaji taste is very good due to its unique pav bhaji masala. You can use the readymade pav bhaji masala or use your homemade masala. I use MDH pav bhaji masala. You can use other brands like Everest, Catch, etc. All taste good.
Generally, street food vendors add onion, potatoes, tomato, peas, capsicum to their bhaji. But you can also add cauliflower, beans, carrots etc. to it.
They do not add these because of the cost constraint. But you can add these to your homemade bhaji.
The taste of bhaji is depended on the vegetables you used. And the spices quantity and quality. One more factor in the taste is butter. If it is more buttery then it will taste good.
In-home you can adjust the spices according to your taste. If you do not prefer the spicy version then add fewer chillies.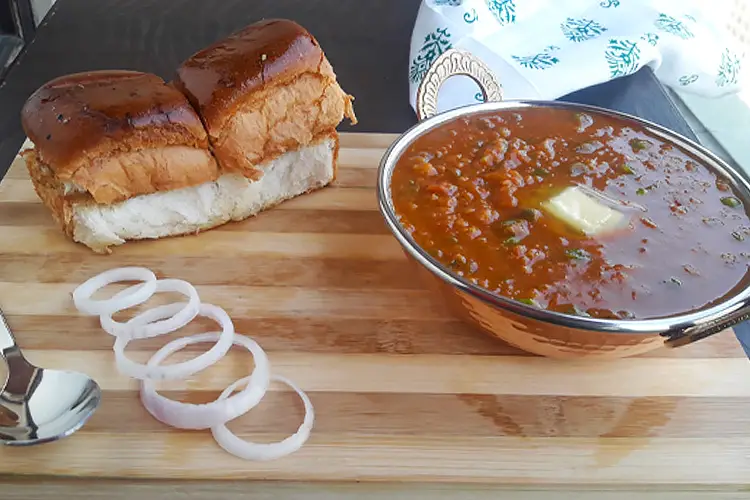 How to serve pav bhaji?
Pav bhaji is served with pav bhaji buns which are roasted in butter. It is served along with coriander chutney and chopped onions and cauliflower.
Butter and chaat masala sprinkled with a squeeze of lime on the bhaji. It enhances its taste.
You can see my street food recipe collection in which I have mentioned various street food recipes. Samosa recipe, aloo chaat recipe, momos , momos chutney recipe, chowmein roll recipe, spring roll recipe, pav bhaji, white sauce pasta, Aloo tikki, veg spring roll, moong dal cheela.
Tell me in the comments which chaat do you eat when you go outside?
Pav Bhaji Recipe
Delicious mumbai style pav bhaji recipe. Made with lots of vegetables, spcies and butter.
Ingredients
1

big size

onion

2

tomatoes

1

small size

grated cauliflower

1-2

capsicum

2-3

grated carrot

1

small bowl

finely chopped bean

3

finely chopped green chillies

1

inch

ginger chopped in small pieces

1

bowl

boiled peas

4-5

mashed boiled potatoes

2

teaspoon

salt or according to your taste

1

teaspoon

red chilli powder

2

teaspoon

coriander powder

½

teaspoon

turmeric

2

teaspoon

pav bhaji masala

butter

1

teaspoon

oil
Instructions 
heat the oil in kadhai or big tawa and add 1 teaspoon oil in it.

Now add 3 cubes of butter in it.

Add onions and cook it for 1 to 2 minutes

Add green chilli and ginger in it . And let it soft little bit.

add tomatoes in it and mix it. Let it saute for few minutes.

Add capsicum, beans, carrots and cauliflower, and cook on medium high flame and cook it little bit.

Add peas in it

add ½ teaspoon turmeric powder, 1 teaspoon red chilli powder, 2 teaspoon coriander powder and 2 teaspoon pav bhaji masala. Mix it well and cook it until its raw flavour goes away.

now add mashed boiled potatoes and mix it.

now add 2 teaspoon salt ( or according to taste)

Now mash the vegetables through potatoes masher for 7-10 minutes.

Add water in it and mix it with masher.

Add more water if the consistency is thick.

Now cook it on low flame for 10 minutes.

Add 1-2 cubes of butter in it for more flavour.

Take 6 pav and cut from middle

heat the tawa and apply butter on it.

sprikle little pav bhaji masala on top of it.

Now put the pav on tawa and roast it from one side.

Apply butter on top of it and flip it .

One they are roasted from both sides, serve it with pav bhaji.
Pav Bhaji Recipe Video
Please pin this recipe on Pinterest if you like it.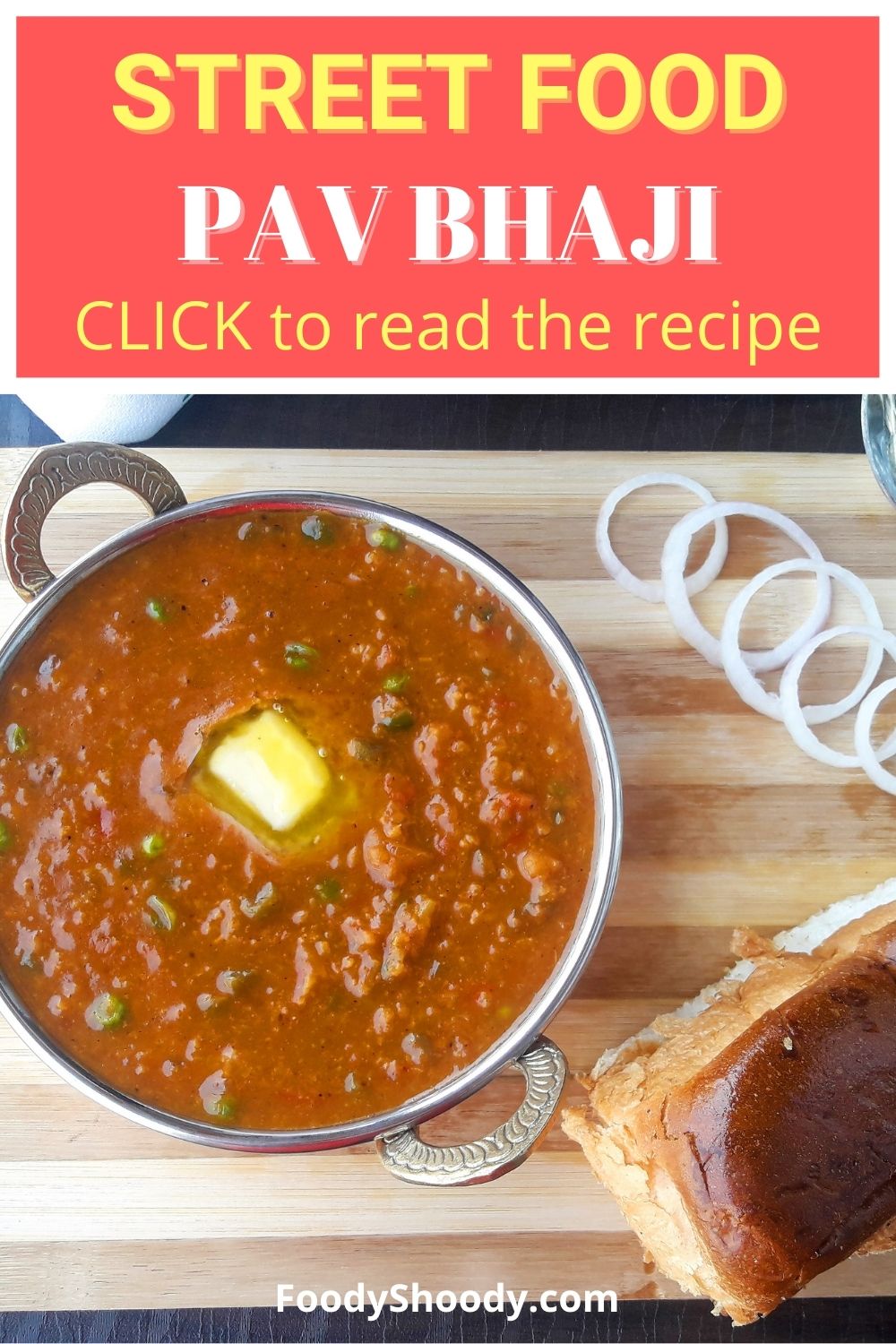 If you want to ask about this recipe or give suggestions. Then you can tell us in a comment section. We would love to hear from you. And please give a star rating below.
If you like this post, then please consider retweeting it or sharing it on Facebook or Pinterest.