Without momos chutney, momos are incomplete. Momos taste comes with the momos chutney.
I have made detailed photo and video recipe of momos chutney.
This momos chutney served with different kind of momos, like steam momos, fried momos, afghani momos etc.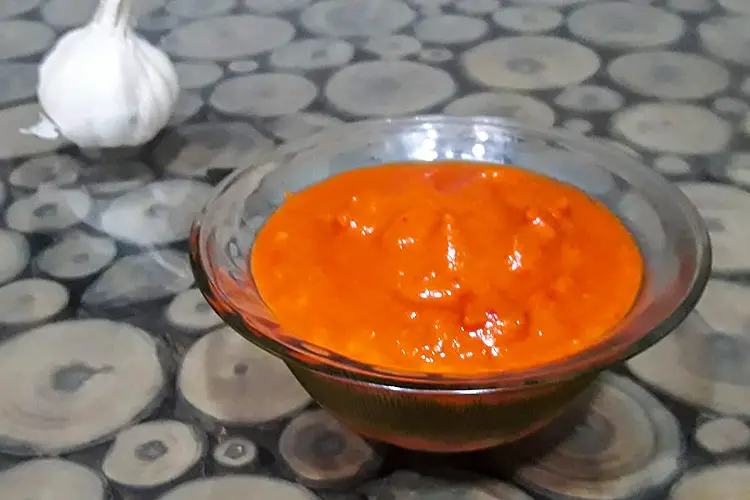 It is spicy and tangy in flavour. Without it i cannot imagine momos. In fact many people eat momos because of momos chutney.
Even if the the taste of momos are good, but if the taste of momos chutney is not good, then dish will fail. So, the tasty momos chutney is essential for a good momos.
Few months back i shared a recipe of momos, this time i am sharing recipe of momos chutney.
You can adjust the spiciness according to your taste. You can add less or more chilies in the chutney according to your choice. For more bright colour you can use kashmiri red chilie which is also less spicy.
The colour of chutney depends on the red chilies used in it. You can have any pakora with it also.
You can checkout my delicious street food recipes collection. In this i have made momos recipe, aloo chaat recipe, spring roll recipe, samosa recipe etc.
Momos Chutney Recipe
Delicious spicy and tangy chutney for momos. Made with tomatoes, chilies and garlic.
Ingredients
2

Tomatoes

7-8

dried red chilies

salt

1

inch

ginger

6-7

garlic

1/2

teaspoon

vinegar

1

tablespoon

sugar

1

tablespoon

sesame seeds
Instructions
Boil the water in a small pot.

make a cross shape cut on the top of the tomato and put in boiling water

put red chilies in the boiling water.

When the tomatoes boiled remove it from pot and put in in cold water.

Peel the tomato

Roughly chop the tomatoes and put in a blending jar.

Put red chilies in blending jar.

Heat 1 tablespoon oil in a kadhai.

Put ginger and garlic in oil. Cook it a little bit.

Now turn off the gas flame and put sesame seeds in the kadhai and roast it.

Let the tadka cool and put tadka in a blending jar.

Add sugar, salt, and vinegar in blending jar.

Blend it until it becomes a smooth paste.

Momos chutney is ready to serve
Momos Chutney Recipe Video

If you want to ask anything related to this recipe or give any suggestion. Then you can tell us in a comment section. We would love to hear from you. And please give a star rating below.
If you like this post, then please consider retweeting it or sharing it on Facebook or Pinterest.
Never miss a recipe.
Subscribe to our newsletter and get yummy recipes and kitchen tips to your email inbox.