This post may contain affiliate links which won't change your price but will share some commission.
Gobi paratha is filled with grated gobi (cauliflower) stuffing mixed with spices.
This gobhi paratha is taste so delicious that you will make it again and again in the gobhi season. Also, it is easy to make like any other stuffed paratha.
I have made a detailed video of the gobhi ka paratha recipe. Let's prepare this gobhi paratha.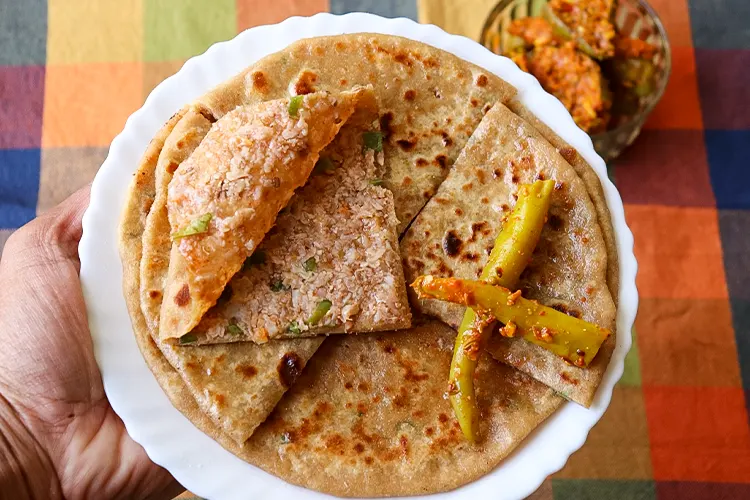 Gobi paratha is also known as cauliflower paratha or stuffed gobi paratha. Sometimes people write it as gobhi paratha as well.
For the stuffing, we will grate cauliflower and add different spices to it. Then this stuffing is filled in the paratha.
You can serve it in breakfast, lunch, dinner and also in the lunch box.
A quick tip: Make sure that the outer part of the paratha is crispy and golden brown in colour. It will taste best this way.
And also serve it with curd or lassi or chach, butter, pickles, mint and coriander chutney etc. You can check out my homemade butter recipe, mango pickle, hari mirch ka achar and homemade curd recipe.
In the winter you can serve tea with it. But sometimes in the summer I also take tea with it.
Finally, I request you to visit my paratha recipes. In this list, you will learn the aloo paratha recipe, mooli paratha, onion paratha, methi paratha, chini ka paratha. etc.
Gobi Paratha Recipe Video
Gobhi ka Paratha
Ingredients
½

Cauliflower

grated

2

green chillies

finely chopped

1

inch

ginger

finely chopped

curry leaves

finely chopped

Asafoetida

hing

coriander leaves

½

tsp

Salt

¼

tsp

red chilli powder

½

tsp

coriander powder

½

tsp

amchur powder

dry mango powder

Wheat flour dough
Instructions 
Preparing Stuffing for paratha
Wash and rinse the cauliflower

Grate the cauliflower with the grater.

Add 2 finely chopped green chillies and little bit of ginger to it.

Add finely chopped curry leaves to tit.

Add little bit of hing to it.

Add chopped coriander leaves to it.

Now, add ½ tsp Salt, ¼ tsp red chilli powder, ½ tsp coriander powder, ½ tsp amchur powder and mix them well with the hands.

Stuffing is ready for paratha.
Rolling and Filling Stuffing in Paratha
Pinch a medium size ball of dough. roll it between your hands.

Dip it into flour on both sides.

Put it on a rolling board (chakla). Spread it a little with the help of your fingers.

Roll it slowly with the help of a rolling pin (belan). Roll it until its size become 6-7 inches.

Put gobhi stuffing between the centre of it. And make sure the 3 inches space is left from the corners.

Now carefully seal all the corners. homemade sealing of the corners brings all the edges together and pinch to seal the edges. Remove the excess dough from it, if required.

Sealing should be done properly otherwise there will be gaps while rolling and the filling comes out of it.

Spread the dough with the help of your fingers.

Dip it into flour on both sides or sprinkle it with flour.

Roll it slowly and make the paratha until its size becomes 6 inches approx. It's size around chapati or roti's size.
Making Gobhi Paratha
Once the Tawa is heated then put the paratha on tawa.

Tawa should not be at a low temperature. Otherwise, paratha will become hard.

Place the rolled gobhi paratha on it.

Flip the paratha, when the base is partially cooked.

Then cook the paratha and apply oil or desi ghee on the partly cooked part.

Flip it again. And this time the other side should be more cooked than the previous made. You will see little brown spots on the paratha

Spread some oil (or ghee) on this side also.

Flip again once or twice until it is cooked from both sides.

Press the edges of the paratha with the spoon to cook it properly from all sides.

It should be golden brown from both sides.

Now, delicious Gobhi ka Paratha is ready to serve. Apply butter on top of it.

Serve it with achar, curd, tea etc.
Notes
Tip
Prepare stuffing for only 2-3 paratha at a time. Because of the salt cauliflower can leave water from it.
If your stuffing is little wet then sprinkle little bit wheat flour in the stuffing. It will absorb the water.
If you want to ask about this recipe or give suggestions. Then you can tell us in a comment section. We would love to hear from you. And please give a star rating below.
If you like this post, then please consider retweeting it or sharing it on Facebook or Pinterest.