Namkeen Lassi Recipe | Meethi Lassi Recipe
This post is also available in: हिन्दी
This post may contain affiliate links which won't change your price but will share some commission.
Lassi is a cooling, refreshing and one of the best Indian drinks to beat the heat of the summers. It is very popular in the Punjab and North India regions.
It is made with yoghurt (curd). This refreshing drink gives you instant energy and cools down your body temperature in the summers.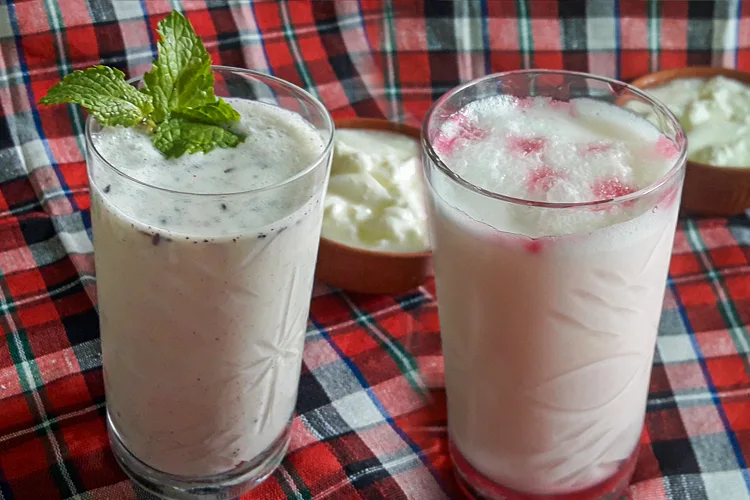 What is lassi?
Lassi is a traditional Indian drink made with yoghurt, water and various seasonings. This lassi can be salty or sweet.
Traditionally, we make lassi with a wooden churner or wooden beater (ravai). We called mathani in the Hindi language. Nowadays people make it with a blender. But you can make it this with a wooden churner. I have demonstrated the blender method. But try it with the wooden beater.
Now, these days various versions of the lassi are available in the market like kesar lassi, dry fruit lassi, gulkand lassi etc.
But the traditional namkeen lassi and meethi lassi are the most have among them. In this post, I shared the meethi lassi recipe and namkeen lassi recipe.
Type of Lassi
Meethi Lassi (Sweet Lassi)
Meethi lassi or sweet lassi, as the name suggests is sweet in taste. We add sugar, to the curd and prepare it. And cardamom seeds powder was also added for the flavour. There are other things which you can add for the flavour like rose water, rooh afza, kesar (saffron) etc.
In the sweet lassi, many people put malai on top of it for additional taste. And street vendors also put malai on top of it. But I do not prefer malai with lassi so I don't put it on lassi.
Many vendors put dry fruits, tutti fruity, ice cream, rooh afza etc. on top of it.
My version is a very simple one that I make at home. It has only sugar, cardamom seeds, and rose water only.
Namkeen Lassi (Salty Lassi)
Namkeen lassi is prepared by adding roasted cumin seeds powder, kala namak. This is the healthiest version of the lassi. In this, we do not add sugar.
This helps in digestion and people used to have it with breakfast in the summers.
Sometimes I add a little red chilli powder and chaat masala in it for extra flavour.
Lassi Recipe Video
Lassi Recipe | Namkeen lassi recipe and Sweet lassi recipe
Prepare this cooling, creamy and refreshing summer drink made with yoghurt. I have prepared namkeen lassi and meethi lassi recipe.
Ingredients
Namkeen Lassi Ingredients
250

ml

curd dahi

kala namak

salt

dried pudina

roasted jeera

ice cubes

½

glass

water
Meethi Lassi Ingredients
250

ml

curd dahi

2

elaichi seeds crushed

3

tbsp

sugar

gulab syrup or rooh afza

ice cubes

½

glass

water
Instructions 
Steps for making namkeen lassi
In a blending, jar add curd and put 1/2 tsp salt 1/2 tsp kala namak, 1/4 tsp pudina powder and blend it.

Add a few ice cubes, 1/2 glass of water and roasted jeera powder and blend it again.

Serve it in a glass. Garnish with fresh pudina leaves.
Steps for making meethi lassi
in the inner side of the glass put a little rose syrup for decoration.

In a blending, jar add curd, sugar, ice cubes and crushed elaichi seeds and blend it.

Add 1/2 glass of water and blend it again.

Serve in a glass and add a few drops of rose syrup.
FAQ
Can we drink lassi every day?
Yes, you can drink lassi every day. It has various health benefits to drinking daily. In the summers always drink at least one glass of lassi.
Why do we feel sleepy after lassi?
What lassi is called in English?
Lassi is called buttermilk in English. The salted version is called lassi in Hindi.
Are buttermilk and lassi the same?
Buttermilk and lassi are not the same. Buttermilk is the leftover liquid that is churned out of cream in the process of extracting butter from it. Lassi is made by churning out yoghurt.
Which is better lassi or chaas?
Chaas contains fewer calories and fat compared to lassi. If you want fewer calories and fat then drink chaas.
If you want to ask about this recipe or give suggestions. Then you can tell us in a comment section. We would love to hear from you. And please give a star rating below.
If you like this post, then please consider retweeting it or sharing it on Facebook or Pinterest.