This post is also available in: हिन्दी
This post may contain affiliate links which won't change your price but will share some commission.
Paneer paratha is a paratha filled with paneer stuffing. Paneer paratha is an Indian flattened bread made with wheat flour and paneer stuffing is filled inside it.
In this post, you will learn how to make the paneer paratha recipe in an easy way.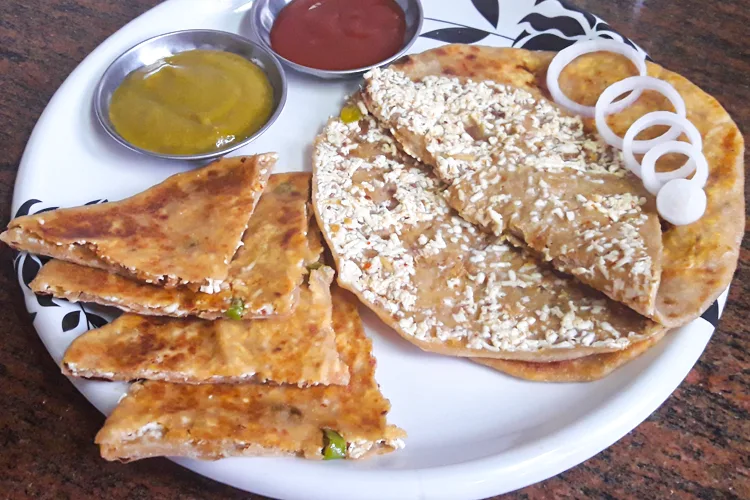 About Paneer Paratha
Paneer paratha is one of the most famous parathas of the Punjab region in North India.
It is usually made in the breakfasts. It is so loved that people use to have this in breakfast very often. And they have it for lunch and dinner also.
In the paneer paratha recipe, the paneer is mashed and some spices are added to it. Then this stuffing is filled in the dough and then paratha cooked.
You can give this paratha to kids in the lunch box also.
This paratha can be made in any shape like a triangle, square or any other shape. Kids love different shapes paratha.
This paratha is generally served with pickle, plain curd or raita, mint and coriander chutney, lassi or chach etc.
I personally prefer it with a pickle (mango paratha, lemon pickle, chilli pickle etc.) and tea in the winters and pickle and curd in the summers. I also take mint and coriander chutney in the summers.
Finally, I request you to visit my paratha recipes. In this list, you will learn the aloo paratha recipe, mooli paratha, gobhi paratha, onion paratha, methi paratha, cheeni paratha. etc.
Ingredients for Paneer Paratha Recipe
Wheat Flour Dough: the dough should neither be very soft nor very hard.
Soft Paneer: I prefer the homemade paneer. If you do not have homemade paneer then always use freshly bought soft paneer for paratha.
Paneer Paratha Recipe Video
Paneer Paratha Recipe | Punjabi Paneer Paratha Recipe
Prepare this punjabi paneer paratha recipe in which paneer stuffing is filled in it.
Ingredients
Wheat flour Dough

200

gm

Paneer

Ginger

Grated

3

finely chopped green chilly

Cooking oil

½

tsp

ajwain

Salt

Red chilli powder

Dhaniya Powder

Garam masala

1

Lemon juice
Instructions 
Preparing stuffing of paneer
Grate the paneer in a bowl.

Add chopped green chilly to the bowl

Now, add grated ginger to it.

Now, Add ½ tsp dhania powder to it.

Put ½ tsp red chilli Powder.

Add 1 tsp salt or according to your taste.

Add ¼ tsp garam masala powder to it.

Now, Put 1 full Lemon juice in it.

The delicious Paneer stuffing is ready
Steps for rolling and filling stuffing in paratha
Pinch a medium size ball of dough. Dip it into flour on both sides.

Put it on a rolling board (chakla). Spread it a little with the help of your fingers.

Roll it slowly with the help of a rolling pin (belan). Roll it until its size become 6-7 inches.

Put paneer stuffing between the centre of it. And make sure the 3 inches space is left from the corners.

Now carefully seal all the corners. homemade sealing of the corners brings all the edges together and pinch to seal the edges.

Sealing should be done properly otherwise there will be gaps while rolling and the filling comes out of it.

Spread the dough with the help of your fingers.

Dip it into flour on both sides or sprinkle it with flour.

Roll it slowly and make the paratha until its size becomes 6 inches approx. It's size around chapati or roti's size.
Making Paneer Paratha
Once the Tawa is heated then put the paratha on tawa.

Tawa should not be at a low temperature. Otherwise, paratha will become hard.

Place the rolled paratha on it.

Flip the paratha, when the base is partially cooked.

Then cook the paratha and apply oil or desi ghee on the partly cooked part.

Flip it again. And this time the other side should be more cooked than the previous homemade. You will see little brown spots on the paratha

Spread some oil (or ghee) on this side also.

Flip again once or twice until it is cooked from both sides.

Press the edges of the paratha with the spoon to cook it properly from all sides.

It should be golden brown from both sides.

Now, delicious Paneer Paratha is ready to serve