This post is also available in: हिन्दी
This post may contain affiliate links which won't change your price but will share some commission.
Hari mirch ka achar is a delicious pickle that most people love to have. In this post, I will tell you the steps of making green chilli pickles at home.
Making green chilli pickles is very easy compared to other pickles. It is also prepared in a few days as compared to raw mango pickles, lemon pickles etc.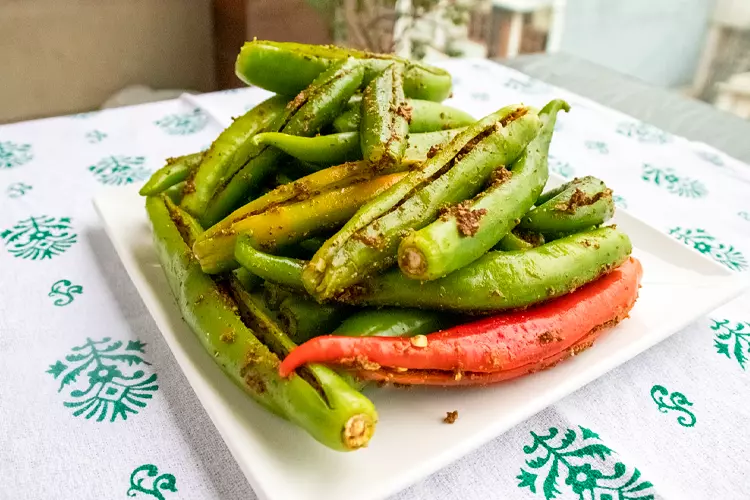 In this chilli pickle recipe, I have used mustard seeds, fenugreek seeds, fennel seeds, turmeric, garam masala, and hing for giving lots of great flavours.
Green chillies will absorb the flavour of these spices and the taste of it will be great.
Green chilli pickle goes well with any Indian meal like dal, vegetable sabzi, rice, curd etc.
When I prepare this pickle then I take it almost daily with my meal.
I have used very less oil for making it. You can add more mustard oil to the pickle. You need to heat the mustard oil first, and use it when it is cool down.
In this recipe, I have taken those chillies which are not hot. You can take any chillies which you like. If your chillies are small then cut them into pieces.
If they are too hot, then add lemon juice for controlling the hotness of the chilli.
You can further read my more pickle recipe:
Mango pickle
Lemon pickle
Amla Pickle
Some other different pickled type recipe: Karonda Green Chilli Recipe, Aam ki launji
Hari Mirch ka Achar Recipe Video
Hari Mirch Achar | Green Chili Pickle | Chilli Pickle Recipe
Hot and sour green chilli pickle made with Indian spices.
Ingredients
150

grams

green chillies

1

tbsp

mustard seeds

1

tsp

cumin seeds

1

tsp

fennel seeds

1

tsp

fenugreek seeds

1

tbsp

salt

½

tsp

turmeric powder

1

tsp

garam masala

2

tbsp

mustard oil

Pinch

asafoetida

1

tbsp

vinegar
Instructions 
Slit the green chillies vertically from one side.

Heat a pan on low flame, add 1 tbsp mustard seeds, 1 tsp cumin seeds, 1 tsp fennel seeds and 1 tsp fenugreek seeds to it. Roast them for 1-2 minutes on low flame.

Turn off the gas flame and let the spices cool down.

Grind them into a coarse (semi-fine) mixture. Transfer the powder into a bowl.

Add 1 tbsp salt, ½ tsp turmeric powder and 1 tsp garam masala into the powder and mix well.

Further, add 2 tbsp mustard oil (cooked and cooled down) with a pinch of asafoetida (hing) to it.

Add 1 tbsp vinegar to the mixture to it and mix it well.

Now fill the mixture into the green chillies one by one with the help of a spoon or your hands.

Keep the chillies in an airtight container for 2-3 days, shuffle occasionally so that the mixture is absorbed well.

The green chilli pickle is ready.
Notes
For making it quickly: You can cut chillies into pieces and mix that mixture in them. And store in an airtight container.