Mango Pickle Recipe – Homemade
This post is also available in: हिन्दी
This post may contain affiliate links which won't change your price but will share some commission.
Mango pickle is a traditional pickle made with raw mango, spices and mustard oil.
This mango pickle or aam ka achar is accompanied by any Indian meal like dal rice, roti, paratha etc.
There are many ways to make mango pickles. Its taste changes from state to state. Some like sourer some like moderate sour.
I am sharing one of the easiest recipes for the mango pickle. Let's learn how to make a mango pickle at home that tastes exactly the same as that our grandmothers made.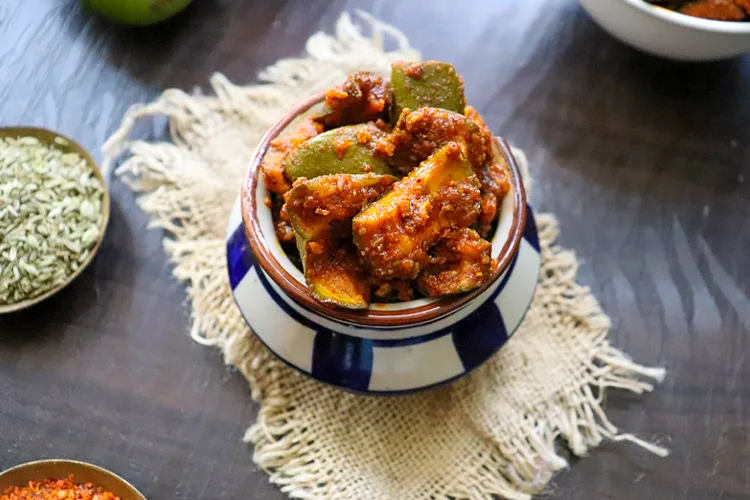 The market one mango pickle does not taste good as compared to the one which our mother and grandmother used to make.
I do not buy any pickles from the market. Instead of that I make my own homemade pickle or get it made from someone else.
There are different types of achars which we can make like lemon pickle, carrot pickle, cauliflower pickle, radish pickle, lasoda pickle, tit pickle etc.
Mango Pickle Recipe Video
Mango Pickle Recipe
Ingredients
1

kg

raw mango kacha aam

50

gm soaf roughly grind

50

gm methi dana roughly grind

25

gm rai

50

gm kashmiri lal mirch

100

gm salt

25

gm haldi

200

ml

raw mustard oil sarso oil

50

ml

mastard oil sarso oil

1/2

tbsp

hing
Instructions 
wash it in the running water and wipe it with a cloth.

cut the mango into a medium size. I removed the seed of the mango from the pulp.

Place them on the cloth and cover them with another cloth.

dry it in the sun for 3-4 hours for 2 days.

In a bowl add soaf, methi dana, rai, kashmiri lal mirch, salt, haldi.

Add a little bit of raw sarso oil and mix it well.

Add the rest of the raw oil and mix it well. For mixing oil in the masala we will use 200 ml of raw mustard oil.

In a frying pan add 50 ml mustard oil and heat it.

turns off the gas and let it cool down a little bit.

Now, add 1/2 tbsp hing and mix it well.

Now let it cool down completely.

In a big bowl or patila add dry raw chopped mangoes.

Add the prepared masala to it and mix it well.

Mix the heated mustard oil to the achar after cooling down.

In an achar pot/barni add the achar to it.

Daily mix it well with a spoon once for the next 3-4 days. After that you can have it.
Notes
Do not use a wet spoon, bowl or achar pot. Otherwise, your achar will spoil.