This post is also available in: हिन्दी
This post may contain affiliate links which won't change your price but will share some commission.
Mooli paratha is a whole wheat paratha stuffed with mooli. Stuffing is made with grated radish and spices. Mooli is a Hindi name for white radish.
In this post, you will learn how to make mooli paratha quickly.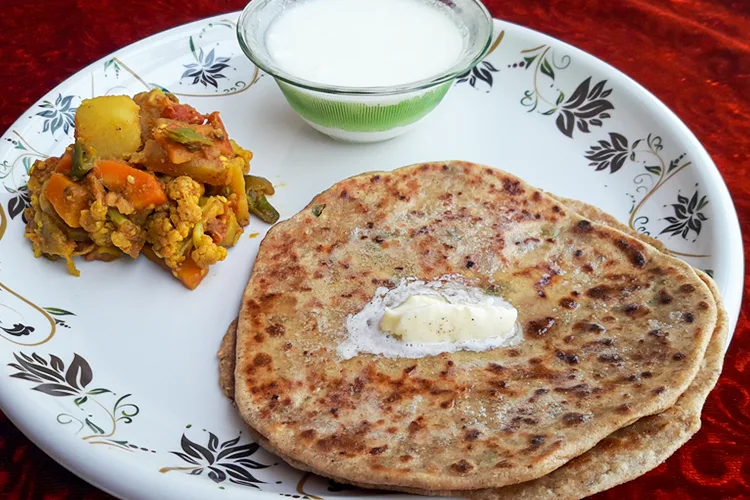 It is usually served in the breakfast, but you can have it in lunch and dinner also.
In the winters, we love to have fried food like parathas, which include aloo paratha, mooli paratha, gobhi paratha, carrot paratha, lachha paratha, paneer paratha, onion paratha, puris, chole bhature, samosa, bread pakora, paneer bread pakora and various pakora like aloo pakora, gobhi pakora, paneer pakora, palak pakora, mirchi pakora (green chillies pakora), onion pakora (pyaz pakora) etc.
These things taste amazing with a hot cup of tea.
Mooli paratha recipe video
Mooli Paratha Recipe
In this winter enjoy mooli paratha with hot tea served with butter on top and pickle.
Ingredients
3

medium size

mooli

grated

atta dough

1

inch

chopped ginger

2

green chillies

cooking oil

¼

teaspoon

carom seeds ajwain

1

teaspoon

chaat masala

½

teaspoon

red chilli powder

lal mirch powder

1½

teaspoon

coriander powder

dhaniya powder

1

teaspoon

dried mango powder

amchur masala (optional)
Instructions 
Steps for making the mixture for mooli paratha
Grate the radish and squeeze the liquid into it by pressing in between hands.

take a bowl and put grated mooli in it.

add chopped green chillies and grated ginger

add 1/4 teaspoon ajwain and salt

1 teaspoon chaat masala, 1½ teaspoon dhania powder and ½ teaspoon red chilli powder
Steps for rolling paratha
Pinch a medium size ball of dough. Dip it into flour on both sides. .

Put it on a rolling board (chakla). Spread it little with the help of fingers.

Roll it slowly with the help of a rolling pin (belan). Roll it until its size become 6-7 inches.

Put radish stuffing between the centre of it. And make sure the 3 inches space is left from the corners.

Seal the corner carefully. For sealing corners, bring all the edges together and pinch to seal the edges.

Dip it in flour and spread the dough a little bit.

Roll the paratha and make it size around 6 inches.
Steps for making mooli paratha recipe
heat the tawa on gas stove.

place the rolled paratha on it.

Flip the paratha When it is partially cooked

spread the oil or desi ghee on the partially cooked sized

flip it again, the other side will be more cooked than the earlier one.

spread some oil or ghee on the cooked side also.

flip it once or twice until it is cooked from both the sides.

Press the edges of the paratha with the spoon to cook it properly from all the sides.

Remove it from tawa when its colour changes to a golden brown.

Serve it hot
FAQ
What is mooli paratha made of?

Mooli paratha is a very famous recipe from the Punjab region in India. Because it is from the Punjab region so we called it punjbai mooli paratha. It is an Indian flatbread filled with grated radish mixed with spices. Wheat flour is used for making dough for paratha.

Can we eat curd with mooli paratha?

Yes, you can eat curd with mooli paratha. It is one of the good combinations. Paratha tastes delicious with curd.

How do you get water out of radishes?

First, grate the radishes. After that take the grated radish between both hands and squeeze the water from it.
Squeeze it tightly so that all the water is removed from it.
If you have gloves then wear them. So that you do not get itching after squeezing it.

Do you peel Mooli?

Yes, I peel mooli before grating for mooli paratha. And before peeling I wash it in running water to remove dust from it.

What's Mooli in English?

Mooli is called radish in the English language. We write mooli or muli.

What to have with mooli paratha?

Mooli paratha served with butter on top, curd, pickle, tea. And if you are having it with curies, then the taste will be amazing.
Take either curd or tea with it. Do not take both things simultaneously. It is not good for digestion.
If you want to ask about this recipe or give suggestions. Then you can tell us in a comment section. We would love to hear from you. And please give a star rating below.
If you like this post, then please consider retweeting it or sharing it on Facebook or Pinterest.