How to Make Curd | Curd Recipe
This post is also available in: हिन्दी
This post may contain affiliate links which won't change your price but will share some commission.
How to make curd or dahi at home easily with just 2 ingredients.
If you are facing problems like curd is not set, the curd is sour etc. Then in this post, I will address all the issues and the solutions of it.
Making curd at home is not a difficult task. Everyone can make it at home. It is an easy process. People in India make curd at home almost daily in the summers.
In this post, we will learn how to make curd at home with no special equipment. The step by step instructions and video help you understand the process.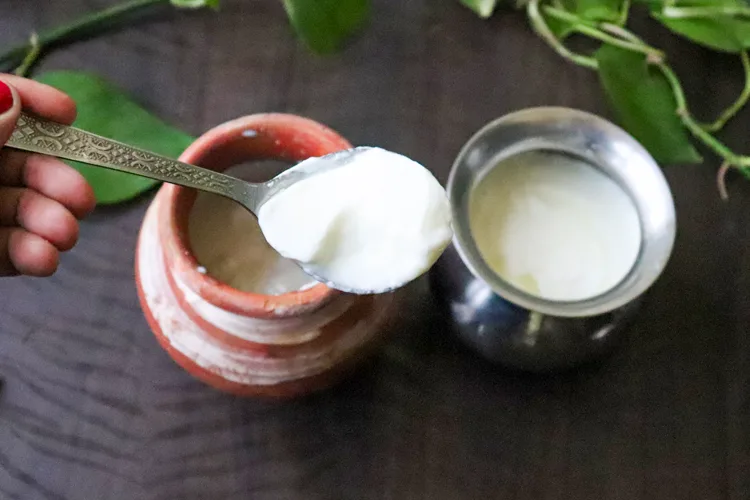 About Curd or Dahi
Curd is a dairy product that originated in India. And it is made with warm milk and a few spoons of curd. Then it is left for fermentation for a few hours. Then the milk is converted to curd.
In India curd is used almost daily in some form. In the summers it is consumed because of its cooling nature.
It tastes best when it is thick, creamy and not sour.
It is used in many ways like making lassi and chaaz, raita, dahi vada/bhalla, papdi chaat, aloo tikki etc.
It is used in making various dishes like kadhi pakora, marinate base for tikka recipes like paneer tikka etc. And various times curd is added to the Indian vegetable sabzis to increase the flavour.
I have grown up having curd almost daily in the summers. My mom used to make curd at home. She makes it daily at the night. So that in the morning we get the fresh curd for the day.
How to make curd or dahi video
How to make Curd Recipe | Dahi Recipe
Learn how to make curd or dahi at home. Indian curd is delicious and easy to make at home.
Ingredients
1

litre

full cream Milk

buffalo milk

2

tbsp

curd
Instructions 
Take a patila (pot) and add 1 litre full cream milk to it.

Warm it a little bit. If you are boiling milk the first time then boil it for 10-15 minutes.

Milk should not be too hot or too cold for making curd. Put 1-2 drops of milk on the backside of your hand to check the milk temperature. If milk is not too hot and not too cold, it indicates milk is ready for making dahi (curd). Or you can put your finger in the milk to check the temperature.

Turn off the gas.

Put 2 tbsp curd into the milk and mix it with the spoon.

Whisk it a little bit or do taidana ( in the Hindi language)

Take a lota or earthenware for making curd, and put the curd in the lota or earthenware.

Cover with the plate and set it aside for a few hours. Keep it in a warm place.

It will take 2 hours in the stainless steel utensil and 4 hours in the earthenware in the summers.
Notes
If the milk temperature is right then it will not be sour.
How to make curd in the winter?
For making curd in the winters. You need to keep these things in mind:
The temperature of the milk should be a little high. 
Add a little bit more curd to the milk. 
Take a warm shawl or thin blanket. Fold it in 4 times. Keep your lota or utensil, and cover it with the plate. Place it in the centre of the shawl and cover it with it. And leave it aside for the rest of the night. In this way, it will get warmth and it helps to start the fermentation process.
What are the reasons for sour curd?
Milk was too hot at the time of making curd.
The curd you used for making the curd is already sour. In that case, the curd will be sour.
If it is left in the hot place for a long time. In that case, the curd will become sour. For preventing this, always keep the curd in the fridge once it is set. Do not leave curd outside the fridge in the summer.
Tips for making thick curd
Always take full cream milk for making curd. If you can take buffalo milk then it is the best.
You can make thick milk by boiling it for minutes and reducing its quantity. In this way, your curd will be made thick.
Once the curd is set. Then put it in the fridge.
If you can use earthenware then it is the best utensil for making curd. Traditionally, earthenware is used for making curd. In earthenware, the curd will be thick because it will absorb the excess water from it. I do not have earthenware but I use this lota shape earthenware for making curd.
In the summers, if you are making it in the night. Then keep your utensil of milk in the room where you sleep. The curd will be set till the morning and it will not sour because the room will be cool due to the cooler or AC.
If you are taking ready-made curd which comes in the packing, then your curd will not be set perfectly. It will be slimy and the taste will not be good.
If you do not have curd for making it. Then buy curd from the sweet shop or the dairy shop because they make their own curd.
FAQ
Can curd set in 2 hours?
Yes, curd can be set in 2 hours. Curd set in 2 hours in the summers. But it is difficult to set curd in 2 hours in the winter.
Can we make curd from milk powder?
Yes, you can make curd from the milk powder. For that, you need to mix water with the milk powder. Then boil it and lower its temperature to the lukewarm. Then add the curd and mix it well. Now, set it aside for setting curd.
How can I thicken curd at home?
If you already have a thin curd. Then you can thicken it. You need to take a muslin cloth, then put your curd into it. And make a potli and squeeze the excess water by rotating it from the upper side. In this way, your curd will become thick.