Aloo paratha recipe | Aalu ka paratha
This post is also available in: हिन्दी
This post may contain affiliate links which won't change your price but will share some commission.
Aloo paratha recipe is very easy to make. It is basically a flattened bread filled with stuffed potatoes and other spices. You will learn how to make aloo paratha recipe with step by step photos and video instructions.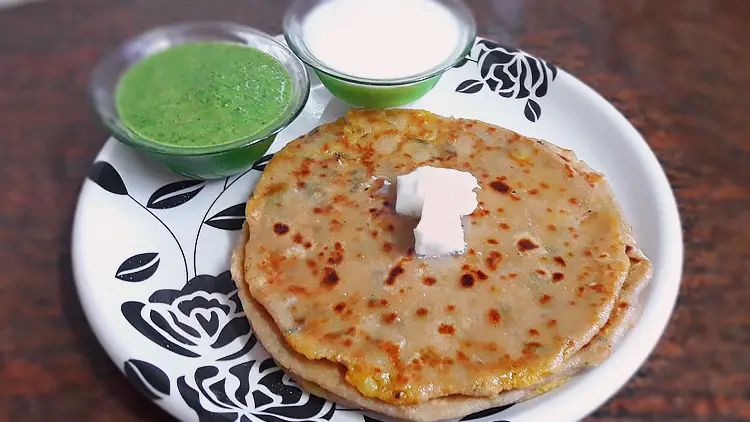 It is basically from the Punjab state in India. Their people love to have this in the breakfast. This aloo paratha is not limited to breakfast. People have it in lunch as well as in dinner.
It is one of the best tiffin recipes for kids and elders. All love these parathas in their lunch.
In Punjab, mothers make it with very love and affection for their families. It is also very famous in the whole North India and some other states as well. We all love to have it.
We love to have aloo ka paratha in winters. It looks so tasty when it served hot with butter on top of it and accompanied with hot tea. It is a perfect meal in the winters. But it does not mean we do not have it in the summers. We have its whole year.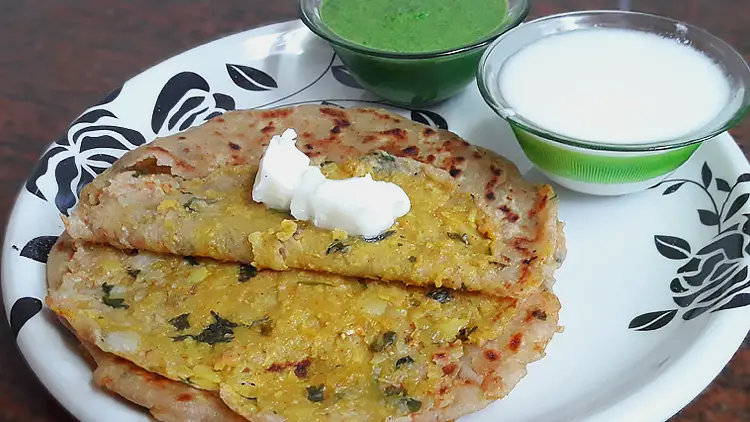 Different varieties of paratha
There are other varieties of paratha also we make in our home. We can make mix aloo (potato) with chopped onion and make paratha of it. There are completely different versions of paratha also you can try.
You can try radish (mooli) paratha, gobhi (cauliflower) paratha, onion paratha, cheeni (sugar) paratha, paneer paratha (Indian cheese paratha), meethi (Fenugreek) paratha etc.
There are some creative ways of making paratha like potatoes and cheese, onion and cheese etc.
Aloo paratha is accompanied with the plain curd, mango pickle (or any other pickle like a lemon pickle, chillies pickle etc), raitas, dhaniya pudina chutney, butter or ghee, hot tea, lassi etc.
You can read more about aloo raita and onion raita recipe on my blog.
When you make recipes that create smoke-like parathas, frying vegetables or puris, etc., makes your kitchen chimney dirty. Regular cleaning of chimney filters is required. You can read my post in which I have mentioned steps for cleaning chimney filters at home without spending any money at all.

Tips of making aloo paratha
Put a little bit of ghee or oil while making dough for paratha. This makes paratha or roti soft.
I have put salt in the dough. So, add salt to the potato according.
Mash potatoes properly, if big pieces of potatoes are left then the paratha will break while making it.
You can also read other recipes for aloo (potatoes)
Stuffed shimla mirch (bharwa shimla mirch)
Dum aloo recipe
Masala aloo recipe
Brinjal (Eggplant) and Potato Recipe (Aloo Baingan ki Sabzi Recipe)
Aloo (potato) Gobhi ki Sabzi Recipe | Dhaba Style Aloo Gobhi Recipe
Potato (Aloo) and cabbage (Patta  Gobhi ) ki Sabzi
Amritsari Aloo kulcha
Samosa Recipe
Aloo paratha recipe video
Aloo Paratha Recipe – 2 ways to make it
I have made 2 types of stuffing for aloo paratha. First one is very simple without tadka. And the second one is tadka method. Without tadka method is very simple and easy to make. It is good if you want to make paratha quickly. Use this method for making paratha for tiffin because we have very limited time for preparing lunch and breakfast in the morning. 
Ingredients
Atta dough

3-4

big size

boiled potatoes

3-4

finely chopped green chilies

4

tablespoon

chopped coriander leaves

2

inch piece of

grated ginger

½

lemon juice

optional

Cooking oil for making tadka and roasting paratha

Salt

according to taste

½

teaspoon

haldi (turmeric) powder

1½

teaspoon

coriander (dhaniya) powder

1

teaspoon

red chilli powder

1

teaspoon

chaat masala

(optional)

1

teaspoon

dried mango powder (amchur masala )

(optional)
Instructions 
Stuffing of without tadka
Grate the boiled potatoes or mash it with hands.

Put half chopped green chilies in potatoes

Add half of the grated ginger

Add half of chopped coriander leaves

Add salt in it

Add 1 teaspoon coriander powder

Add ½ teaspoon red chili powder

Add amchur powder (dry mango powder) in it.

Mix all the with the help of spoon or hands. This potato mixture is ready.
Steps for making potato masala with tadka
Heat the pan in the gas stove

Add 2 tablespoon cooking oil on the pan and heat it.

Add green chilies and grated ginger. And saute it until the raw aroma of ginger and garlic goes away.

Add ½ teaspoon haldi powder, coriander powder and red chili powder

cook all spices in it until it releases oil from it

Add grated potatoes and mix it well

Add chopped coriander leaves on top of it and mix it well.

Squeeze lemon juice on top of it for a tangy flavor. It is an optional ingredient. You can avoid it also. 
Rolling and stuffing paratha
Pinch a medium size ball of dough. Dip it into flour on both sides. 

Put it on rolling board (chakla). Spread it little with the help of fingers.

Roll it slowly with the help of rolling pin (belan). Roll it until its size become 6-7 inches.

Put potato stuffing between the center of it. And make sure the 3 inches space is left from the corners.

Now carefully seal all the corners. homemade sealing the corners bring all the edges together and pinch to seal the edges. You can watch the video of mine for checking how to seal the edges of paratha.

Sealing should be done properly otherwise there will be gaps while rolling and the filling comes out of it.

Spread the dough with the help of fingers.

Dip it into flour on both sides or sprinkle it with flour.

Roll it slowly and make the paratha until its size becomes 6 inches approx. It's size around of chapati or roti's size.
Steps for making aloo paratha recipe
Heat the tawa (skillet or griddle or tava) on the stove.

Tawa should not be at low temperature. Otherwise, paratha will become hard.

Place the rolled paratha on it.

Flip the paratha, when base is partially cooked.

Spread some oil (or ghee) with the help of spoon on partly cooked part.

Flip it again. And this time the other side should be more cooked than the previous homemade. You will see little brown spots on the paratha

Spread some oil (or ghee) on this side also.

Flip again once or twice until it cooked from both sides.

Press the edges of the paratha with the spoon to cook it properly from all the sides.

It should be golden brown from both of the sides. 

Serve it directly on the plate. Put some homemade butter on top of it. And serve it the other things which I mentioned earlier in this post.
Notes
You can put other things in the stuffing of it like chopped onion, peas, paneer etc. to enhance its taste and make it full of nutrients.

You can add amchur powder for adding a tangy flavor on it. If you don't have amchur powder then you can add anardana powder as well.

Always finely chop the onion, chilies, coriander leaves etc. while making paratha so that it cannot break.

You can increase or decrease the spiciness of it by increasing or decreasing the quantity of red chili and green chili in it.

You can add cumin seeds in the potato mixture adding more flavor to it.
Aloo Paratha Web Story
Pin this image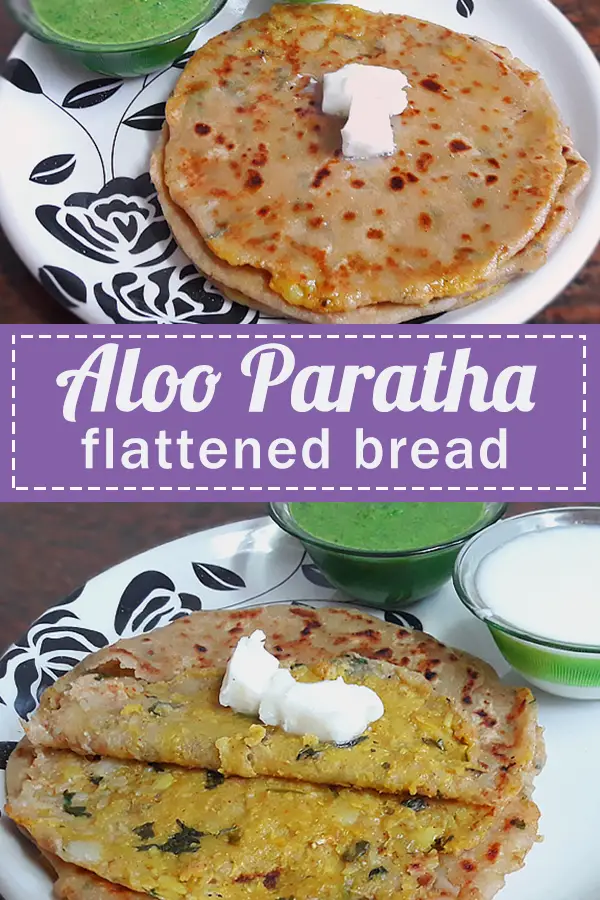 If you want to ask anything related to this recipe or give any suggestion. Then you can tell us in a comment section. We would love to hear from you. And please give a star rating below.
If you like this post, then please consider retweeting it or sharing it on Facebook or Pinterest.