This post is also available in: हिन्दी
This post may contain affiliate links which won't change your price but will share some commission.
Palak paneer is one of the best paneer recipes. It is also one of the popular Indian vegetarian dishes.
Today you will learn how you can made delicious palak paneer at home with step by steps photos and videos. In this recipe, we will not add too many spices. Even without adding lots of spices, it will taste amazing.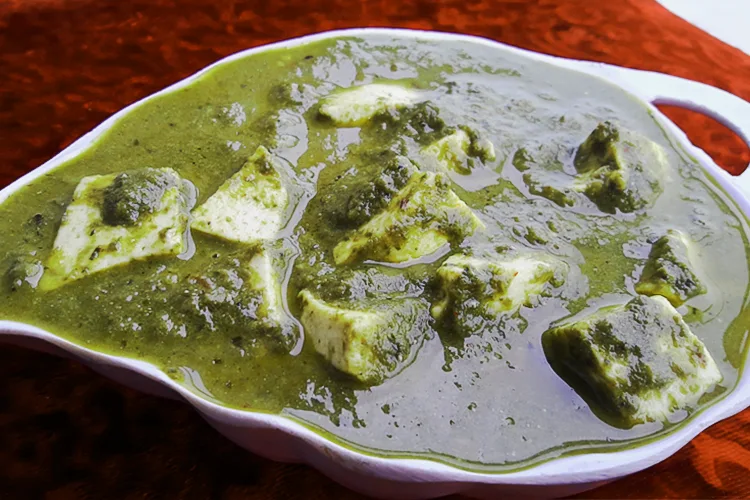 Our recipe will just taste like the restaurant palak paneer recipe. Palak paneer is basically from North India's Punjab region, that's why it is called as punjabi palak paneer recipe.
About Palak Paneer
Palak paneer is a curry recipe from North Indian cuisine. It is made with fresh spinach (palak), paneer (Indian cottage cheese), onion, tomatoes and spices. Spinach is called "palak" in the Hindi language and Indian cottage cheese is called paneer.
In this recipe, we will cook onion, tomatoes and spices first and then make a puree of it. After that, we will make a puree of palak (spinach).
This spinach puree is later cooked with the puree we made earlier. After that, we will add paneer and cook it for a few minutes. Then we will add curry to give it a restaurant-style flavour and look.
Palak Paneer vs Saag Paneer
Palak paneer is made with palak and panner. But saag is a combination of 2-3 vegetables like mustard greens, palak, fenugreek leaves (methi leaves) and few others. So, saag is made with all of these green leafy vegetables or some of that. That's why saag is very different from palak paneer.
Palak paneer is an authentic Indian dish whereas saag paneer is invented outside India by chefs in the restaurant. You will not see saag paneer on the Indian restaurant's menu, but palak paneer is easily available on the menu.
In India people make palak paneer at home, we don't make saag panner. Instead of it, we make only saag.
The taste of palak paneer and saag paneer is very different because of the different green leafy vegetables used in it.
Palak Paneer Tips and Variations
Blanched vs unblanched spinach (palak): I would recommending the blanched spinach. f you are blanching spinach prior to making puree, then it will preserve the green colour of spinach.
The taste of blanched one and unblanched spinach will be different. In this recipe, i did not blanch spinach. You can try and see the difference yourself.
Right kind of palak: Always use the fresh, tender spinach leaves. I would suggest always remove the stems of palak if they are big. You can use the tender stems. Don't buy spinach which is matured, dark colour and has big leaves.
Paneer: Always choose the soft and fresh paneer. As it is the main ingredient of the recipe. You can use homemade paneer also.
If you are using the paneer which comes in packet then soak it in hot water for 15 to 20 minutes for making it soft. Remove the water and use it.
Vegan options: If you are vegan then in place of paneer use the tofu it will also taste good.
Instead of adding cream, you can add cashew paste or coconut cream. If these are not available then skip the cream from the recipe.
Preserving the colour of spinach: For preserving the colour do not overcook dish.
Smooth creamy texture: For giving smooth texture to the dish, i add cream in it. Instead of cream you can add cashew paste in it or both.
What to serve with palak paneer
Palak paneer is served with roti, paratha, naan, garlic naan, tandoori roti, missi roti, amritsari kulcha, puri, peas puri (matar ki puri), steamed rice, jeera rice, fried rice etc. You can have it with anyone.
FAQ
Why does my palak paneer taste bitter?
If you have used old, matured, large green leaves of spinach then it will taste bitter because of oxalic acid present in it. To prevent palak paneer from bitter taste, always use fresh, tender spinach for the recipe. And also do not overcook the spinach, it makes spinach bitter in taste. We have to cook it for few minutes only.
How do you get the bitter taste out of spinach?
How can I fix sour Palak paneer?
You can add a little bit of cream to it for reducing the sour taste.
Can i freeze palak paneer?
Yes, you can freeze palak paneer. But I would suggest always make fresh dishes for consumption.
What can I use in place of cream?
You can use a paste of cashew or coconut in place of cream in the palak paneer recipe.
Video of Palak Paneer Recipe
I would suggest you check my other recipes like dal makhani, pav bhaji, kadhai paneer, matar paneer, shahi paneer, khoya paneer, paneer lababdar.
Palak Paneer Recipe
Delicious palak paneer recipe made with fresh palak and paneer. It is an Indian authentic recipe that is rich and creamy also.
Ingredients
250

gram

spinach

palak

200

gram

paneer

cut in cubes

1

big size

onion

roughly chopped

2

green chillies

1

big size

tomato

roughly chopped

2

tablespoon

malai or cream

1

tablespoon

desi ghee

3

tablespoon

curd

dahi

few leaves of chopped coriander leaves

1

Bay leaf

tej patta

1

Large Cardamom

badi elaichi

2-3

cloves

laung

12

black pepper

kali mirchi

½

teaspoon

red chilli powder

1

teaspoon

coriander powder

1

teaspoon

cumin seeds

jeera

salt

as per taste

¼

teaspoon

turmeric powder

haldi
Instructions 
heat the pan and put desi ghee on it.

Add cumin seeds (jeera) to it.

Add bay leave (tej patta), large cardamom (badi elaichi), 3 cloves (laung), 12 black pepper (kali mirchi) in it and roast it.

Add roughly chopped onions and 2 green chillies. And let them soften.

Now add roughly chopped tomatoes to it.

Add salt for cooking it faster and mix it well. Cook it for 1-2 minutes

Turn off the gas and put 3 tablespoons of curd (dahi) in the pan. And mix it well

Now turn on the gas stove again and lower the flame.

Add 1/4 teaspoon turmeric powder (haldi powder) and 1/2 teaspoon red chilli powder. And mix it well.

Add chopped coriander. And mix it well.

Turn off the gas and let cool the mixture.

Make a smooth paste of the mixture in the mixer grinder.

Turn on the gas and heat the pan again.

Add the paste of the mixture in it.

Now add the spinach paste to it. And mix it well

Add 1 teaspoon coriander powder to it and mix it well. Let it cook for 1 minute.

Add fresh cream or malai to it and mix it well.

Cover it with a lid and cook for 1 minute.

Turn off the gas stove, your palak paneer recipe is ready to serve.