Vegetable Macaroni Recipe Indian Style
This post is also available in: हिन्दी
This post may contain affiliate links which won't change your price but will share some commission.
Vegetable macaroni recipe indian style, with step by step video instructions. Today we will learn how to make vegetable macaroni recipe in indian style.
It is an Indian version of pasta where we will use lots of vegetables and indian spices.
Traditionally pasta is an Italian dish where it is served with parmesan cheese. But it adapted and improvised by many cuisines. And there are many other different versions available of it.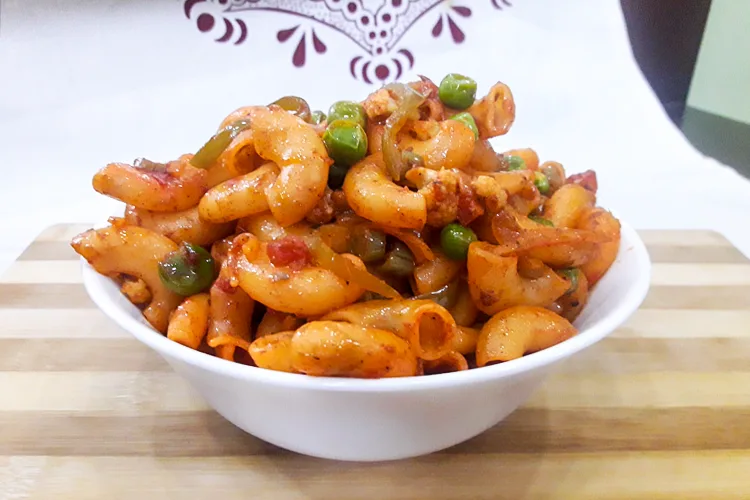 In this recipe, we will cook lots of vegetables like onion, tomatoes, peas, cauliflower, capsicum, beans etc. And cook these with macaroni and indian spices.
Due to that, it adds lots of nutrients to the food and it will become a whole meal.
This is one of the best ways to feed vegetables to the kids. Kids love macaroni and pasta and in that, they easily eat vegetables.
I have cooked the vegetables while making the dish. But you can boil or steam it before as per your convenience.
I do not prefer cheese or cream in the Indian style vegetable macaroni. But it is up to you, you can add it if you want.
This recipe is so simple to make that's why we call it a simple macaroni recipe indian style.
You can further read White Sauce Pasta Recipe, Crispy Macaroni Snack
I request you to read more snacks recipes.
Vegetable Macaroni Recipe Indian Style Video
Vegetable Macaroni Recipe Indian Style
This is simple and tasty vegetable macaroni recipe which we made in the Indian style.
Ingredients
1½

cup

macaroni

1

big carrot finely chopped

Handful chopped beans

Little chopped cauliflower

1

finely chopped capsicum

Handful peas

2

finely chopped tomatoes

1

diced onion

1

green chilli chopped

1

inch

ginger chopped

Cooking oil

Cumin seeds or Jeera

½

tsp

red chilli powder

Black pepper powder

Salt

2

tsp

chaat masala

½

tsp

garam masala

1

tsp

red chilli paste

2

tsp

tomato sauce
Instructions 
Boiling Macaroni
In a pot, add 3 cups of water and boil it.

As soon as the water starts boiling, add ½ teaspoon salt and 1 tsp cooking oil to it so that the macaroni doesn't stick to each other.

Add macaroni to the water and boil it for 10-12 minutes. Stir casually in between.

Check the macaroni is cooked or not. You can check either by eating a piece or pressing one macaroni between your finger and thumb. If it takes its shape back, it is ready for further use.

Use a strainer to strain the water and leave the macaroni to cool down. As an alternate, you can also run it through cold water.
Cooking Vegetables and Making Vegetable Macaroni
Heat the 3-4 tsp oil in a kadhai. And add ½ teaspoon cumin seeds.

Add chopped green chilli and ginger to the oil.

Now add finely chopped onion to it. Let it cook for 1-2 minutes till the onion become transparent.

Now add finely chopped tomatoes. And cook it.

Put 1½ tsp salt in it.

Now add red chilli paste to it. (optional).

On low flame, add all the chopped veggies to the wok. You can add or avoid veggies as per your taste buds.

Add ½ tsp red chilli powder, 2 tsp chaat masala, ½ tsp garam masala and mix them well.

Now add 2 tsp tomato sauce to the mixture.

Add the boiled macaroni to the kadhai and mix it well. Let it absorb masala flavour.

Garnish it with coriander leaves and serve it hot.
Notes
Tip
You can add other vegetables like cabbage, broccoli, sweet corn

Do not add red chilli paste and green chilli, if you are making macaroni for children.

You can add oregano on top of it at the time of serving for additional flavour.
FAQ
Do you boil water before adding macaroni?
Yes, i boil water before adding macaroni. Otherwise, it will stick together. Thats why boiling of water is necessary before adding pasta or macaroni.
How long should you cook macaroni?
You should cook it around 7-10 minutes. After 7 minutes check it is cooked or not. It it is not cooked then cooked it 1-2 minute.
Should you pour cold water on pasta?
No, we should not pour cold water on pasta for preventing it overcooking. It will rinse away the starch from pasta.
How much water do I put in elbow macaroni?
I add double the water as compare to macaroni. If i have 1 cup macaroni, then i add 2 cup water for cooking it.
How much does 1 cup of dry macaroni make cooked?
1 cup of dry macaroni make cooked for for 2 people.