This post is also available in: हिन्दी
This post may contain affiliate links which won't change your price but will share some commission.
Pyaz pakora is a famous Indian pakora in Indian cuisine. It is one of the famous street food in India.
This snack is very easy to prepare and everyone can make this easier.
In this post, you will learn how to make onion fritters at home. I have made a video of this recipe. You can watch and learn the exact step by step method of preparing it.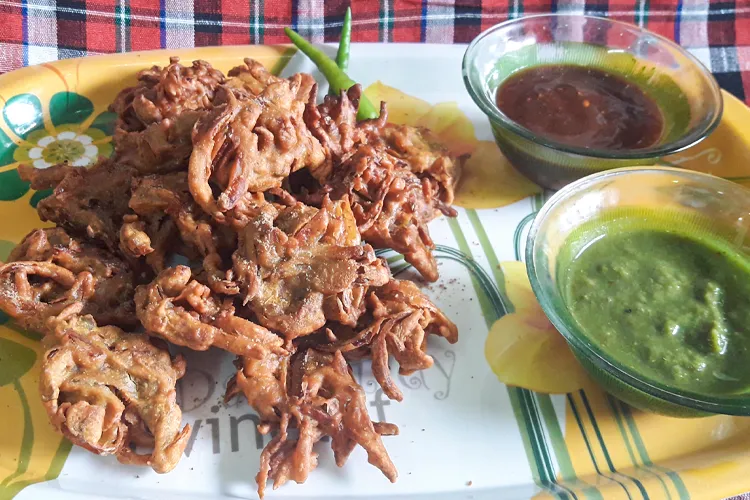 What is Pyaz Pakora/Onion Pakora?
Pyaz pakora is also called onion pakora or onion fritters. This recipe of pakora is a North Indian style recipe.
This onion pakora is made with onion, gram flour(besan), and some spices. Then the mixture is fried in the oil.
These crispy onion pakoras are tasted delicious when it is served hot.
They are sold by street vendors or small food shops along with the tea. They taste delicious in the rainy season and winter season. But in India, it is available throughout the year.
People use to make different pakora in rainy season very often like aloo pakora, paneer pakora, palak pakora, baingan pakora, gobhi pakora. These vendors also sell the paneer bread pakora, simple bread pakora, samosa etc.
Like the other Indian recipes, this onion pakora also has different variations.
Onion Pakoda Ingredients
Onions: You can use any onion you have but the red onion tastes good.
Gram flour(Besan): Fine grounded gram flour is best for the pakoras.
Spices: These spices ajwain, haldi, dhaniya powder, red chilli powder, chaat masala, roasted jeera powder, and salt are enough for a good taste.
Additional Spices: You can use hing for the amazing flavour of it.
Additional Ingredients: You can use coriander leaves, mint leaves, ginger garlic paste, and green chillies to add additional flavour to it. I haven't added these but you can add them.
Onion Pakoda Recipe Video
Pyaz ke Pakode | Onion Pakoda Recipe
Make the delicious crispy onion pakora for having with the tea.
Ingredients
5-6

medium size onions

Chopped

2

cup

Besan/Gram flour

200 gm

3-4

Finely chopped Green chilly

Salt

Ajwain

Haldi

Dhaniya Powder

Red chilli Powder

Chaat masala

roasted Jeera powder

water

Oil for frying
Instructions 
Making Pakora Batter
Take a Bowl, Add chopped onions to it

Add green chilly to it.

Add 1/4 tsp haldi powder to it.

Now, add 2 tsp dhania powder (coriander powder)

Add 1 tsp roasted Jeera powder to it

Add 1 tsp red chilli powder or as per taste

Now add 1 tsp ajwain to it

Add 2 tsp chaat masala to it.

And add salt as per taste

Mix the spices with the onion.

Now add half of the besan to the same bowl and mix it well with your hands.

Add little water and mix it well. You need to make a slightly thick batter of it.

If required again, add a little bit of water and mix it.

Now, the batter is ready for frying.
Making/Frying Pakora
Take a Kadhai, add oil for frying pakode

Heat oil on a high flame to reach its desired temperature for frying.

Take a pinch of besan mixture and put it in the oil to check the temperature. If it comes to the upward immediately it means the oil is sufficiently hot.

Now turn the gas on medium-high flame for frying.

Take a little mixture on your hands and drop it carefully into the oil. Fill the kadhai with the pakora batter. The shape of the pakora should not be too small or too big for frying.

Flip each pakora when they are partially fried.

Partially fry them from both sides.

Now, remove the partially fried pakode from the kadhai to the plate.

Once they cool down press them with the spoon for refrying. It is an optional step.

Now, heat the oil for the refrying of the pakora

Put the partially fried pakora carefully in the hot oil for refrying.

Once they are fried from both sides remove them from the kadhai to the plate.

Sprinkle a few pinches of chaat masala on the pakora.

Serve it with mint and coriander chutney and imli chatni.
Notes
What to Serve with Onion Pakora?
Mint coriander chutney and imli chutney taste best with pakora. Or you can serve it with tomato sauce if you do not have it.
Tips
Crispy Pakora: For crispy pakora always slice the onions thin. It should not be thick otherwise it will not be crispy.
Add oil to the batter: If you want to make crispy pakora then add 1 or 2 teaspoons of oil while preparing the batter of pakora. In this way, pakora will absorb less oil.
2 Times frying: I have used the 2 times frying of pakora. In this way, it will become more crispy. And you can prepare it a few minutes before serving. Then refry for serving. I sometimes follow this method. Otherwise, I fry it only once before serving.
Baking Soda: Some chefs add baking soda to the pakora for extra fluffiness. I do not prefer baking soda in the pakora that's why I did not add it to the recipe. You can try at least once for the little fluffy and soft pakora.
FAQ
How can I make onion pakoras crispy for a long time?
Use the cold water for making crispy onion pakoras. Make thin slices of onion. And use the refry method for making it crispy.
Why my pakoda is not crispy?
Pakoda is not crispy due to these reasons like you may have sliced thick pieces of onion. You are making it at very low and very high temperatures. The right temperature is required for making crispy pakora.
Why are my pakoras oily?
Pakora absorbs oil because you are frying it at a low temperature. Too much pakora is put in the oil for frying. Due to that frying time increased and pakora absorbs too much oil.
Can I use baking powder in pakora?
Yes, you can use baking powder in pakora. After adding baking powder, pakora will be soft.
Is onion pakora the same as onion bhaji?
Yes, onion pakora and onion bhaji are the same things. They are just the different names of the same dish. Onion bhaji is called in Maharashtra whereas onion pakora is called in the rest of India.
What do we say pakora in English?
Pakora is called onion fritters in the English language. Whereas in Hindi we called it pakora.
Why are my pakoras hard?
Reason for pakoras hardening because of the thick batter of the gram flour. And you fry them at low temperature for a long time. In both of the situations, they turn hard.
What do we call pakora in English?
Pyaz pakora is called onion fritters in English. And pakora is called fritters.
Why is pakora bitter?
The reason for pakora bitter is that the taste of gram flour changes to bitter. So, always taste the gram flour before making pakoras.
Why are my pakoras flat?
Pakora is flat due to the less oil at the time of frying in a kadhai. If you do not add sufficient oil to the kadhai, then they will not expand.
Which flour is used to make Pakoda?
Gram flour is used for making pakora. In Hindi we call it besan.
What is the meaning of onion fritters?
Onion fritters are called pyaz pakora in the Hindi language. Onion fritters are made by adding spices to the sliced onions and then gram flour is mixed in it. Then the pakora is made with this batter.