This post is also available in: हिन्दी
This post may contain affiliate links which won't change your price but will share some commission.
Today we will learn how to make sambar recipe. Sambar is a south Indian dish. But it has been eaten all over India. The sambar recipe which we are using it here is very easy to make.
I have mentioned all the steps in the video and detailed steps in this post.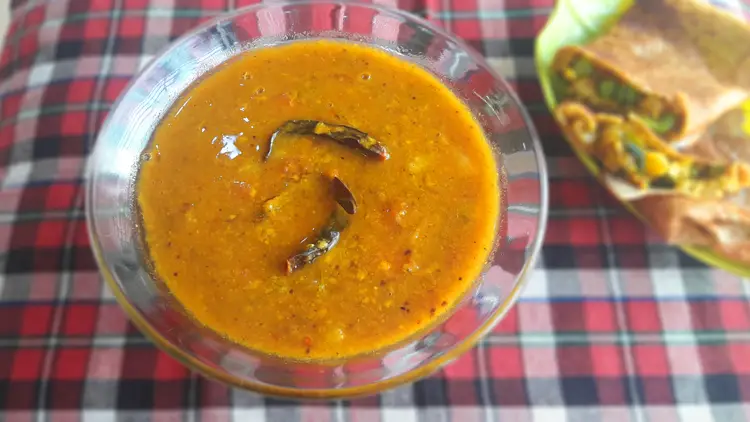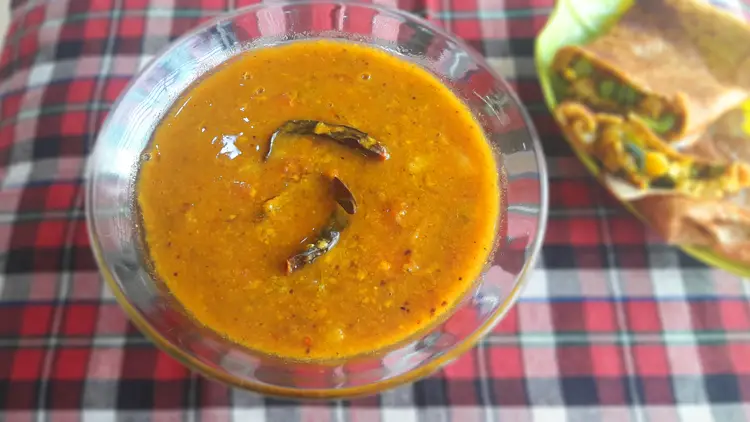 How i learned to make sambar
I am not from South India. I am from North India. My mother did not make sambar at home. We used to eat in the restaurant.
My mother in law used to make. And they have it with rice.
I used to start making it in my in-laws' house. I initially learned to make sambar from my mother in law.
After making her sambar version many times. I tried to make it restaurant style. After some attempts, I learned how to prepare restaurant style sambar.
What is sambar?

Sambar is a South Indian dish made with lentils (pulse or dal), vegetables, tamarind and special masala called sambar masala. Apart from sambar masala, we add some other spices to it.

Which kind of dal is used in preparing sambar

It can be made with a single dal or a combination of two or more dal. I have used tuvar dal or arhar dal(pigeon peas lentils) in this recipe.

Below is the list of some dals which are used in making sambar.

1. Moong dal (Yellow moong lentils) or masoor dal (red/orange lentils) can be used to make sambar.

2. You can mix tuvar dal and masoor dal. Combining these two dals you will get a very different taste.

3. Combination of moong and masoor also tastes good.

You can make different variations of sambar by using different dals and combinations of different vegetables. This is the beauty of this dish.

Sambar will taste different due to its ingredients changes. You will not get bored with this dish.

What do you eat with sambar?

Sambar is served with idli, dosa, steamed rice, vada, uttapam. These are the best dishes you can have with it.

Other than that you can have it with chapati or roti. It tastes good with roti also. Just make a little thick consistency of it.

Read the complete recipe of masala dosa and plain dosa. I have posted idli recipe on my youtube channel.

Nariyal ki chutney is served with the dosa and idli.
Which vegetables are used in sambar
Its taste will be different every time because of the different combinations of vegetables in it. You can add the below-mentioned vegetables in different combinations. I have mentioned their Hindi names as well.
| English | Hindi |
| --- | --- |
| Potato | Aloo |
| Tomato | Tamatar |
| Lady finder or okra | Bhindi |
| Brinjal (eggplant) | Baingan |
| Bottle gourd | Lauki or ghiya |
| Green beans | Beans |
| Yellow pumpkin | Kaddu |
| Ash Gourd (green pumpkin) | Petha |
| Drumstick (Moringa Oleifera) | Sahjan |
| Peas | Matar |
| Onions | Pyaz |
| Spring onion (green onion) | Hare pyaz |
| Spinach | Palak |
| Raw banana | Kacha kela |
| Ivy gourd | Kunduru or parwal |
If you know any other vegetable which you add to your sambar recipe then let me know in the comments. I would love to know your version of sambar also.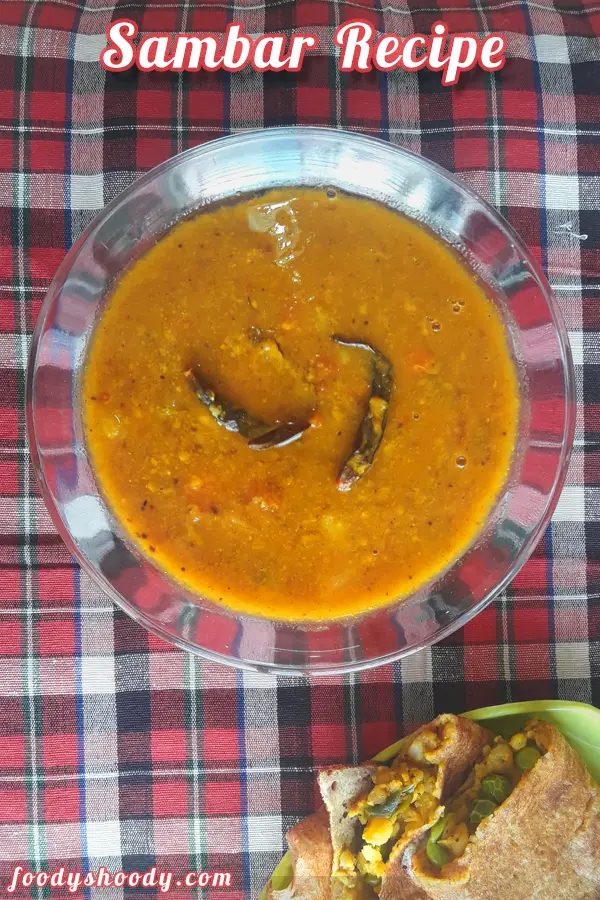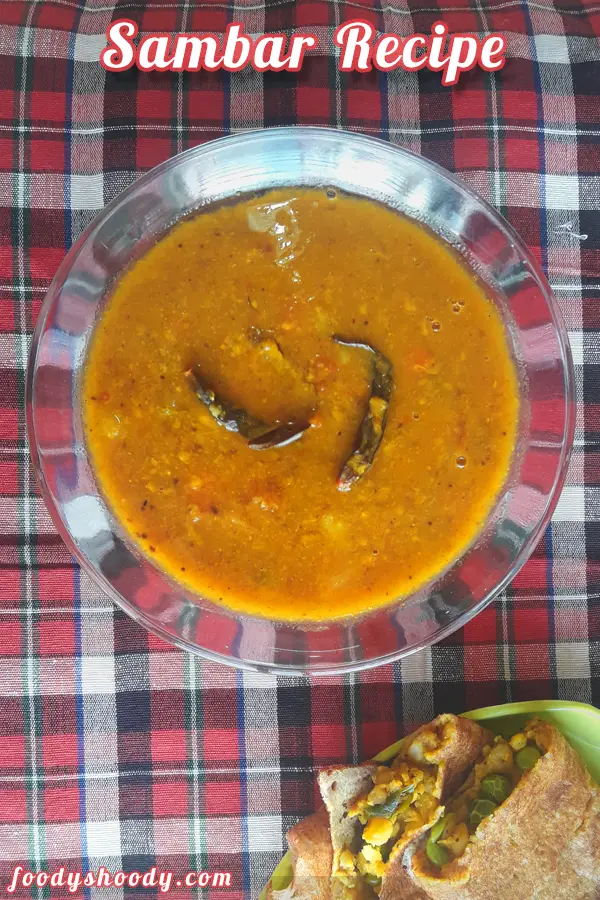 Health benefits of sambar
Protein-rich food: Sambar is made of pulses(dal). Dal is a very high source of protein. It is one of the best sources of protein-rich food.
Full of fibres: Fibres are found in the pulses and vegetables. Luckily we are using different pulses and vegetables for making sambar. It makes sambar full of fibre-rich food. So having a sambar is good for health and cholesterol.
Full of nutrients: It is made of pulses and different vegetables. It makes it full of nutrient-filled diet.
Not too spicy: It is beneficial for your stomach as it is not too spicy and have enough vegetables and water rather than masalas.
Complete meal: Sambar is a complete meal. As it is filled with lots of vegetables like pumpkin, onion, tomatoes, carrots and other seasonal vegetables. If you want to have a light meal in the night. It is one of the best options you have.
Helps in weight loss: If you want to reduce your weight then it is a must-have recipe for reducing weight. For reducing weight fast you can increase the vegetable quantities and decrease the salt. Also, add little more water in it.
Easy to digest: There is lots of water and fibre present in it. Due to that, it is easy to digest.
Different variations of sambar you can make
It is made in hundreds of variations. Even in India, the taste of it is different in every state. Taste is different because they use some different ingredients and methods which are mentioned below.
In some parts of Kerala and coastal areas of Tamilnadu and Karnataka, they put fresh coconut paste and grated and roasted coconut and spices, instead of sambar powder.
In Andhra Pradesh, they use very few vegetables in it. Source Wikipedia.
different cooking oil is used for preparing it. In TamilNadu, sesame oil is used whereas in Kerala coconut oil is used.
Jaggery is used in preparing sambar in Karnataka for adding a little sweet flavour.
As I mentioned earlier different pulses used in making it. Some prefer it with tuvar dal, some with the combination of moong dal. Some combine all two with masoor dal.
Pin this image on Pinterest on South Indian Recipe or Indian recipes board.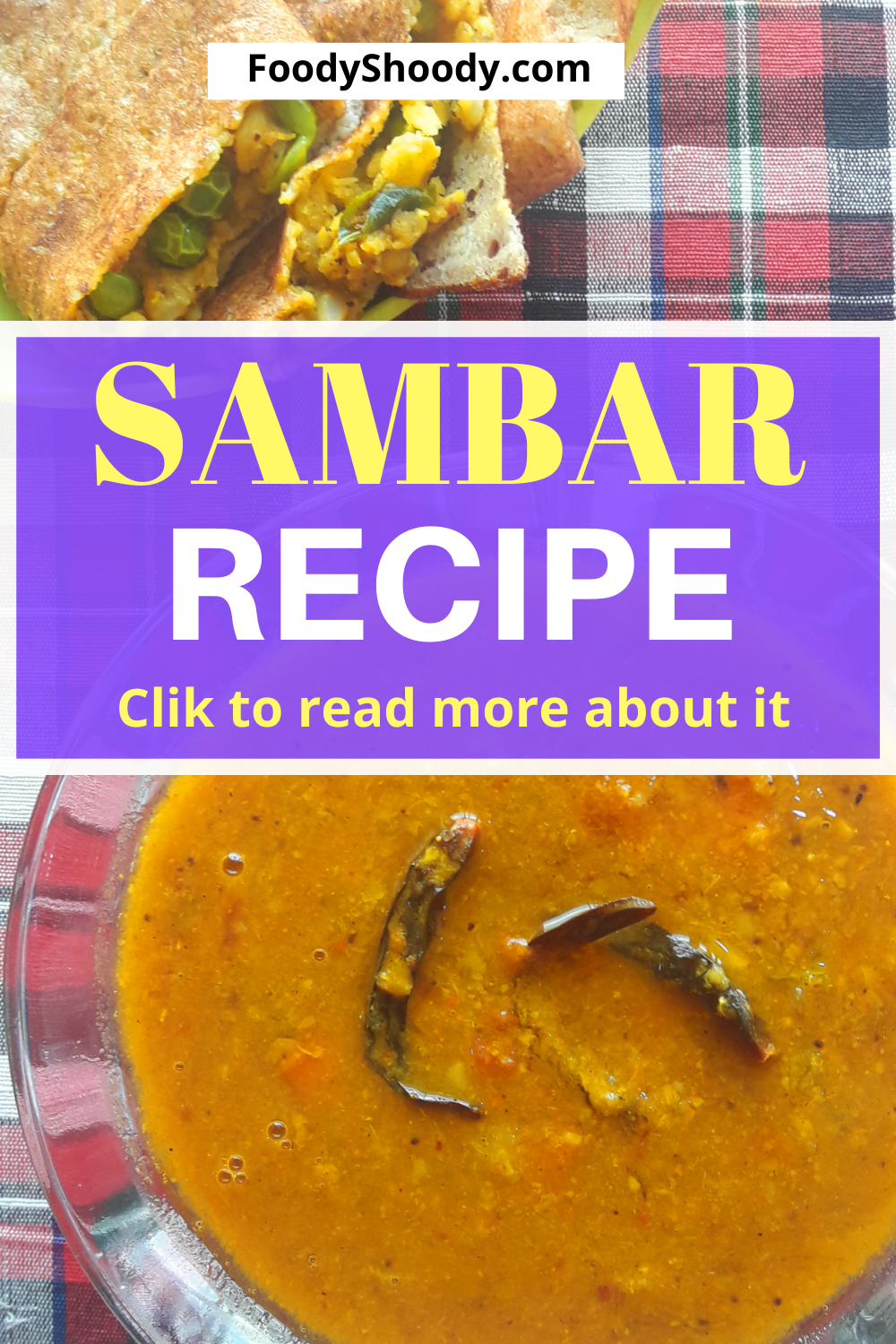 Sambar Recipe Video
I have this video to show you how I make sambar for me. You can watch this video and learn the recipe for it. It is easy to learn the recipe by watching the video.
One of the main ingredients of this recipe is sambar powder. In many South Indian families, sambar powder is made at the home.
But it is also available in the market. You can buy this one for making it. Its taste will be awesome with it. Buy the sambar powder from amazon for making it tasty.
Sambar Recipe
My variation of making sambar. It will taste good. 
Ingredients
for tamarind pulp
3-4

spoon

tamarind pulp

(imli)

1/2

small bowl

hot water
vegetables for it
1

medium size

chopped carrot

(gazar)

2

medium size

chopped potatoes

(aloo)

1/4

size

chopped Bottle gourd (or one small bowl)

(ghiya)

1

big

chopped onion

(pyaz)

1

medium size

Capsicum

(shimal mirchi)

2

medium size

Chopped Tomatoes

(tamatar)
lentil or pulses for it
2

cup

Arhar Dal or Tuvar dal
spices and other ingredients
1/2

teaspoon

red chilies powder

(lal mirch powder)

1

teaspoon

turmeric powder

(haldi powder)

15-16

leaves

curry leaves

3

dried chilies

1/4

teaspoon

asafoetida

(hing)

2

teaspoon

black mustard seeds

(rai)

2

teaspoon

cumin seeds

(jeera)

2

teaspoon

fenugreek

(methi dana)

2

teaspoon

salt

or according to your taste

2-3

tablespoon

cooking oil

(you can use any cooking oil or use sesame oil, coconut oil, ghee etc.)

4

glasses

water

or add as required
very important ingredient for sambar
2

tablespoon

sambar masala
Instructions 
Steps for making tamarind pulp
soak 1.5 tablespoons of tamarind in 1/2 cup of hot water for 30 minutes.

After soaking tamarind will get soft. Squeeze it in the same water and discard the strained tamarind after squeezing.

Steive the pulp with a tea strainer to remove tamarind seeds and another left over of it.

Steps of cooking dal and vegetables
Soak dal in water half an hour before making it. After soaking it drain the water.


add dal and all the vegetables in the pressure cooker for boiling. I have already peeled and cut the vegetables into dices. 


Add 1/2 teaspoon turmeric powder and 1/2 teaspoon of salt.


add 2.5 glass of water. Mix it will.


Cover the pressure cooker and cook it for 7-8 whistles.


When the pressure settles down, open the lid. And mix it well to mash it. Dal and vegetables will be cooked well. 

Making sambar after completing above steps
add 2-3 tablespoon of oil in kadai and heat it up


add mustard seeds meethi dana in oil and let is sputter


add fenugreek (rai ) in it and let it sputter too.


add cumin seeds (jeera) and fry it until its color changes to golden brown.


add 1/4 teaspoon asafoetida (hing) 


add 3 dried red chilies and cook it little.


add 15-16 curry leaves 


add 1/2 teaspoon turmeric powder


add 1/2 teaspoon red chili powder


add 2 tablespoons of sambar powder


add 1.5 teaspoon salt or according to your taste.


cook all spices in it until it releases oil from it.


add all cooked mixture of dal and vegetables in it. and mix it well.


if its consistency is too thick then add water according to your choice.


add 3-4 tablespoons of tamarind pulp and mix it.


boil it for 4 to 6 minutes so that all the spices get infused in dal and vegetables.


Serve sambar with dosa, idli, vada, steamed rice, or plain chapati.

Notes
You can add a little bit of jaggery (gud) for adding a little sweet taste.
As I earlier mentioned you can add different vegetables to it. If you use a vegetable like a pumpkin which gets mushy when you pressure cook it. Then, add this is kadhai with dal so that it will cook and not get mushy.
Add tamarind at the end of the recipe not at the starting at the time of boiling vegetables.
This recipe is made in a prestige cooker which I am using for the last 4 years. I regularly use it on a daily basis. It is a very good quality cooker. I recommend this cooker to you. You should also buy this cooker for your kitchen.
If you want to ask about this recipe or give suggestions. Then you can tell us in a comment section. We would love to hear from you. And please give a star rating below.
If you like this post, then please consider retweeting it or sharing it on Facebook or Pinterest.