This post is also available in: हिन्दी
This post may contain affiliate links which won't change your price but will share some commission.
Bhindi do pyaza is an Indian vegetarian curry which is made of fresh ladyfinger or bhindi (in Hindi) or okra, onion (pyaz) and spices.
Generally, kids and adults love bhindi (ladyfinger) alot. They love to have the dishes made with bhindi.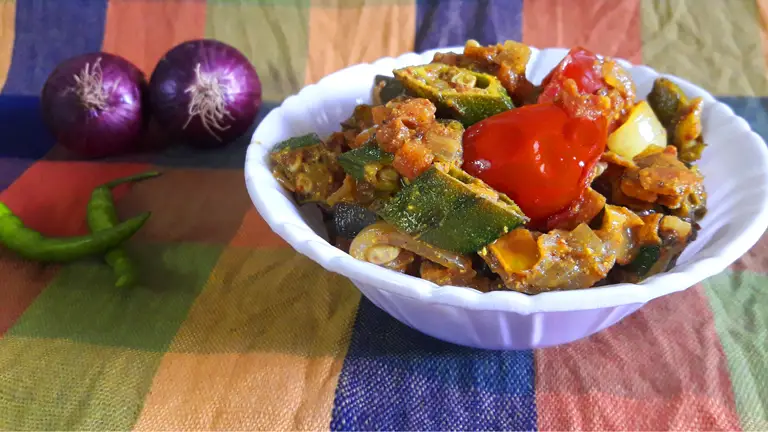 It is basically a North Indian dish.
It served with Indian bread like roti, paratha, puri, naan etc.
People who loves onion (pyaz) also love bhindi do pyaza.
If you want to prepare this recipe then you do not have to spend lots of time in kitchen.
It is very easy to prepare. And the preparation time is also not much.
There are various recipes you can make with ladyfinger or okra (bhindi) like simple bhindi, bhindi with onion, masala bhindi, bharwa bhindi, fried bhindi, tawa bhindi etc.
But if you want to try little different taste then you must try bhindi do pyaza.
What does Do pyaza means?
You were thinking about the meaning of "Do Pyaza"?
Do pyaza means double the amount of onions (pyaz) in the recipe.
Do means twice the quantity and pyaz means onion in the Hindi language.
What is bhindi do pyaza?
Bhindi do pyaza is an Indian curry recipe which is made with fresh bhindi (okra or ladyfinger), onions, tomatoes, and cooked in lots of Indian spices.
In bhindi do pyaza we will use okra (ladyfinger or bhindi) and onion (pyaz) in the ratio of 1:2 in the recipe.
What can you serve with Bhindi Do Pyaza?
As I mentioned earlier we can have any Indian bread with it. Generally, it goes best with roti or chapati, paratha, puris, naan etc.
Read more about the recipe of amritsari aloo kulcha on tawa.
If you have any type of raita or curd with it. Then it will become an awesome combination. Try it with curd or any raita.
You can read more about the recipe of onion raita and aloo raita.
But if you do not have any of it. Then you can have it with any bread. Just roast any bread and make the sandwich of it. It will taste good.
How to prevent Bhindi from turning slimy?
I am mentioning some of the tips below which would prevent bhindi from turning slimy:
First, always wash and rinse the bhindi. After that clean and dry it with a kitchen towel. Then you can cut it into pieces.
Never cover cooking vessel for too long while making bhindi recipe. If you will cover it for a long time then it will turn slimy.
Always clean knife after chopping few ladyfingers.
For reducing the sliminess of bhindi always add sour ingredients like lemon juice, dry mango powder (amchur), tomatoes, and tamarind paste.
In which shape we need to chop okra and onion?
You can chop bhindi and onion in any shape you like.
I have cut bhindi in slight diagonally in around half-inch piece and roughly chopped the onions.
I would suggest chopping the vegetables in the way so that the dish looks good after preparing.
For faster chopping, dicing and slicing work. Use the below chopper. I also use this chopper. You will get free peeler with a grater with this.
Is Bhindi good for health?
Yes, definitely Bhindi is a very healthy food. You will get potassium, vitamin B6, vitamin C, vitamin A, vitamin K, folic acid and calcium from it.
It helps in managing the blood sugar level. It is also high in fibre and protein.
Bhindi do Pyaza Recipe Video
Check out this awesome bhindi do pyaza recipe in the video. All the steps with the ingredients are shown in this video.
Please subscribe to my youtube channel for more awesome recipe videos.
Bhindi do pyaza recipe
We will learn how to make a bhindi do pyaza recipe. In this i have added double the quantity of onions as compare than ladyfinger (bhindi).
Ingredients
250

gm Ladyfinger or okra or bhindi

3-4

tablespoon

cooking oil

1

bowl

curd or yogurt

3

medium size

onion finely chopped

3

medium size

tomato roughly chopped

1

medium size

tomato chopped in big pieces

1

inch

ginger finely chopped

1

tablespoon

cumin seeds

jeera

1

pinch

of asafoetida

hing

½

tablespoon

garam masala

salt as per taste

½

tea spoon

haldi powder

½

tea spoon

red chili powder

½

tablespoon

coriander powder

dhaniya powder
Instructions 
Bhindi do pyaza recipe
Wash and rinse the bhindi and chop according to your preference.

Add little oil in pan or kadhai and heat it.

Add bhindi in it and cook it until it is 80% cooked.

Remove it in plate after 2-3 minutes or cooked 80%

Now again add 2 tablespoon cooking oil in a pan and heat it.

Now add cumin seeds (jeera) and hing in it and cook it until it crackle

Add ginger in it and cook it for a few seconds.

Add chopped onions and saute it until it turns light pink.

Now add finely chopped tomatoes and cook it until it softens.

Add coriander powder, red chili powder, haldi powder, garam masala, salat in it. And cook it until oil releases from sides.

Add curd in it and mix it well.

Add onion which is cut in big size. And cook it until it becomes little soft.

Add cooked bhindi and roughly chopped tomatoes in it. And mix it well.

Cover the pan with lid. Cook it for 1 minute. After than mix it well and turn off the gas stove.

Serve the dish in the serving bowl.
If you want to ask anything related to this recipe or give any suggestions. Then you can tell us in a comment section. We would love to hear from you. And please give a star rating below.
If you like this post, then please consider retweeting it or sharing it on Facebook or Pinterest.