You have heard of the mint and coriander chutney, coconut chutney(nariyal chutney) and many more other types of chutney. But you haven't heard of the guava chutney. It is also called as "Amrud ki chatni" in hindi language.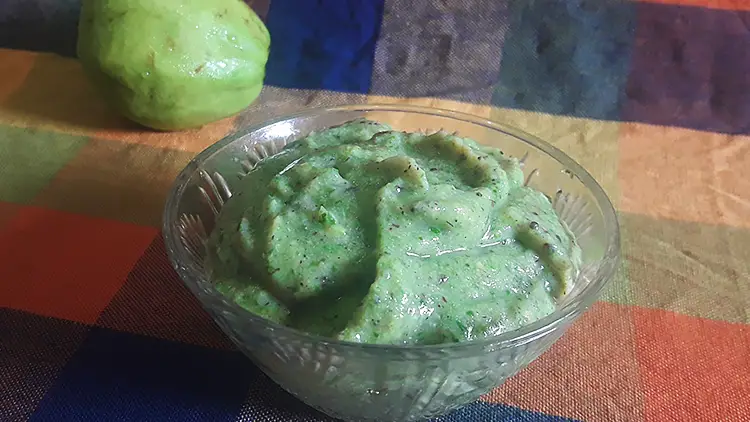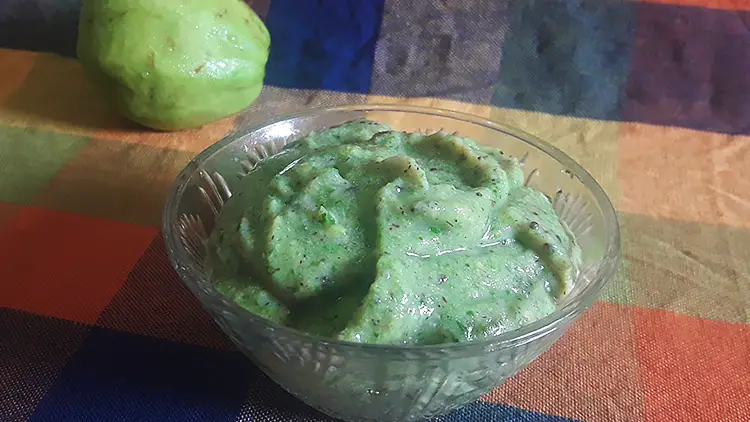 This version of amrud ki chatni is my own discovered recipe. I was aware of the guava chutney but haven't tasted it.
I love to have raw guava (amrud). Once I thought I should try it with coriander. This thought is the discovery of this recipe.
Guava chutney is a little sweet, sour and spicy. It is prepared in very less time. Most of the ingredients are available at home. So, do not let keep your guava in the kitchen. Use it and make this delicious chutney with it.
It adds the raw flavors to your meal. One of the specialty is that you can increase or decrease the number of ingredients and add a few more ingredients also.
Guava or amrud is very famous fruit in India as well as other Asian countries and western countries. It is easily available in all the seasons.
It is also used in guava jam, guava ice cream and many other puddings and pie.
Tips for making guava chutney or Amrud ki chatni
Use the little raw guava (amrud) for it. It will add a little sour taste to it.
Do not over grind the chutney otherwise, it will become a very thin paste. And due to the heating, it caused by moving of blade. It will cook the guava and coriander. And the taste will not be as good.
Guava Chutney or Amrud Ki Chatni Video


Guava and Coriander Chutney
Make this guava chutney with refreshing coriander and enjoy it.
Ingredients
1

medium size guava or amrud

coriander leaves

1/2

lemon juice

2

finely chopped green chilies

2

teaspoon

roasted cumin seeds

Salt according to taste

2

teaspoon

Black pepper powder

2

teaspoon

Indian black salt kala namak

1

inch

ginger optional
Instructions
Remove all the seeds from guava and cut into pieces

Put guava into blending jar.

Add coriander leaves in it

Add green chilies and lemon juice in it

Add all the spices in it like salt roasted cumin seeds, black pepper powder, indian black salt.

Close the lid of jar and blend it.

Serve in the serving dish. Now, your amrud ki chutney is ready to eat.
Notes
You can add the ginger in. I have already mentioned in the ingredients list.  Add in your recipe and let me know the taste of  it.
Health benefits of guava (amrud)
It is good for lowering blood pressure, decreasing bad cholesterol and increasing good cholesterol.
It is full of fiber.
Rich source of vitamin C.
Help to lower the blood sugar level.
It boosts the vision as it contains vitamin A also.
A delicious recipe made with guava and coriander. Full of health benefits and easy to make.
Other ingredients you can add in it to enhance the taste
As I already mentioned ginger. Ginger will enhance its taste. Add little bit in starting to check the taste of it.
You can add fennel (Saunf in the Hindi language) in it. Try to add 2-3 teaspoon of saunf in it. Fennel has very different and good taste. If you haven't tried it in other chutney's then try it in this recipe. I am sure you will like it.
Mint (pudina in the Hindi language) is another cool and refreshing herb. If you add this in this recipe. You will get additional fragrance and flavor of it. One of the must-try ingredient.
You can have it with aloo ka paratha or any other paratha or roti. Just apply this chutni on bread just like the jam and enjoy it.
Other types of chutney you can try also
Mint and coriander chutney (Dhaniya Pudina ki Chutney recipe)
Coconut chutney (Nariyal ki chutni)
Sweet And Sour Raw Mango Chutney (Aam ki launji)
I have used philips mixer grinder  and the knife set in this recipe
Use this knife set. It is good in looks and work.

If you want to ask anything related to this recipe or give any suggestion. Then you can tell us in a comment section. We would love to hear from you. And Please give a star rating below ★ .

Share this post on your social media accounts
Never miss a recipe.
Subscribe to our newsletter and get yummy recipes and kitchen tips to your email inbox.