This post is also available in: हिन्दी
This post may contain affiliate links which won't change your price but will share some commission.
Have you ever thought that with simple tools you can do so much work in your kitchen? You know about these tools but you do not use it.
You have seen these tools on cooking TV shows, info commercials, kitchen shops or some e-commerce website. But you simply ignored it. I have tested these tools myself and found these are very useful in the kitchen.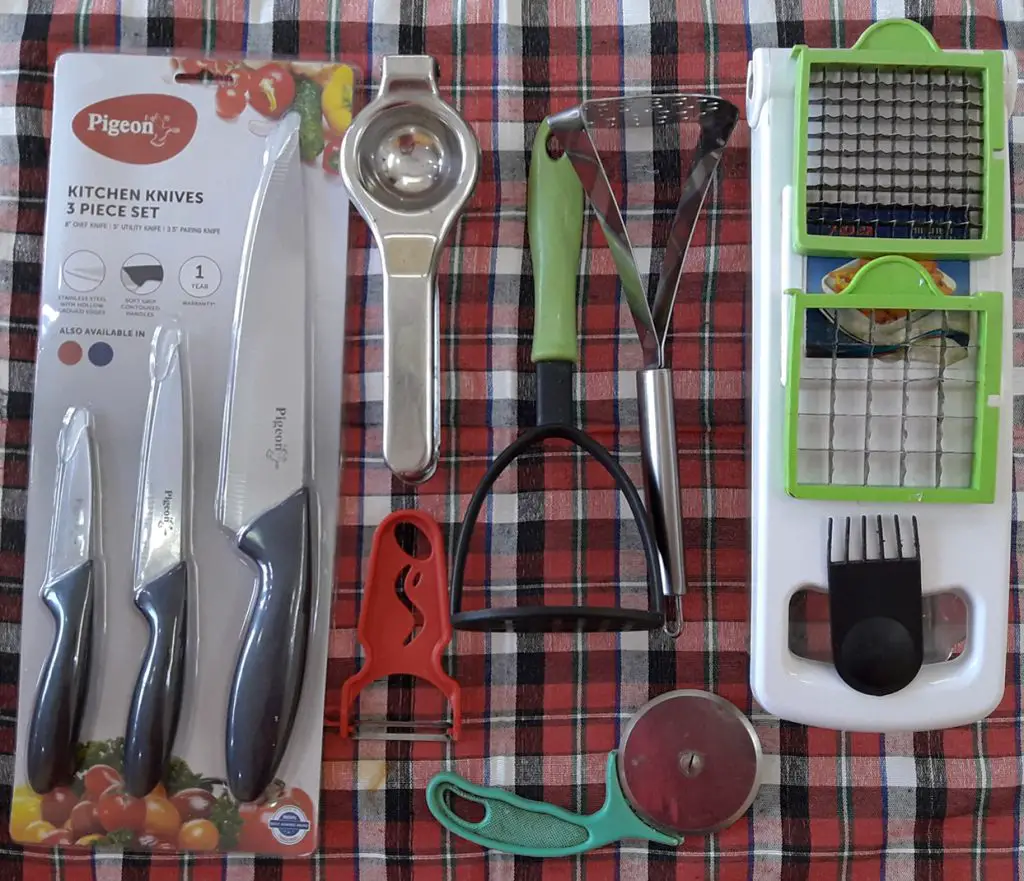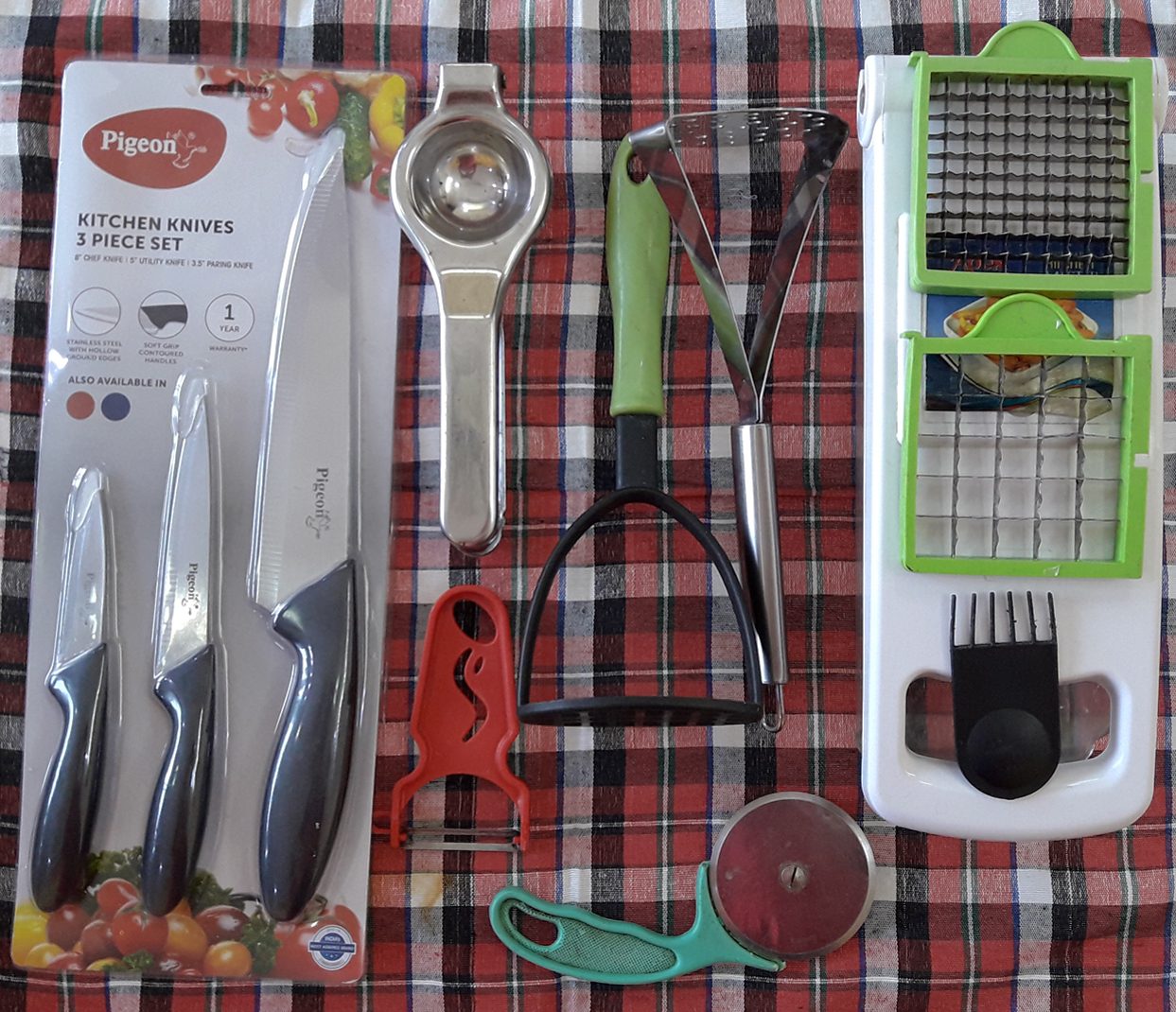 So, I am sharing some of these tools which I am using from last few years. With the help of these tools, you can do work in the kitchen very fast. With the help of these tools, I saved so much time on my kitchen.
I will share these 7 kitchen tools list which I am using on regular basis. I strongly recommend these tools to you as it will increase the efficiency of yours also. Check the tool no. 7 which helps a lot me.
List of my kitchen tools
1. Knife: You are thinking, we are all using a knife in the kitchen so why I mentioned this in my kitchen tool list. Mostly ladies use this type of knife in her kitchen. or the knife which has a wooden handle which is easily available very cheap in the market.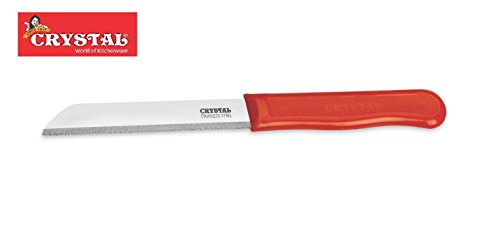 But you all know they have some problems in its design.
They are not sharp enough to cut all kind of fruits and vegetables. Because of it cutting an onion is a little difficult. For example, we cannot cut pineapple and pumpkin. Pineapple skin is hard and pumpkin is a little hard and big.
Size of this kind of knife is very small. We face difficulty in cutting big items like watermelon, pumpkin etc.
The handle is not in good shape. Due to that grip of this kind of knives is not good.
Some of the knifes quality is not good, they get rust after some time of using it.
Earlier I was using a knife which has a wooden handle and steel blade. It had a few problems which I mentioned above. After searching online about the knife. I found pigeon 3 knife set which I am using it from last 1 year.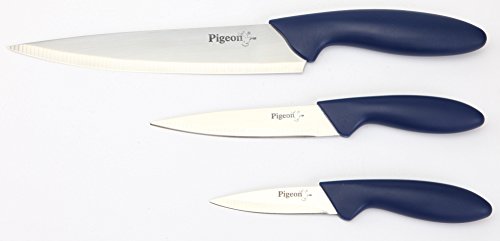 I found these good qualities because of that I chose these knives.
The grip of this knife is very good. These are comfortably fit in my hands. And after using it the overall cutting experience is very good.
These are made of stainless steel blades and it did not get rust also. It is one of the best features in it.
You can cut any kind of fruits and vegetables with it as they are sharp from one side.
These are suitable for cutting meat, fish, and chicken. Well, I am vegetarian but because of its sharpness, I know these can cut the non-veg also.
They are very economical to purchase.
You will get 3 knives in this set, chef knife, utility knife, and paring knife.
Chef knife is the biggest knife in this set. You can easily cut big fruits and vegetables with it like pineapple, watermelon, pumpkin etc. This is suitable for cutting non-veg also. You can cut green leafy vegetables also like spinach, coriander leaves, leaves of radish etc.
A utility knife is used for cutting vegetables. You can cut almost all the vegetables with it. If you are using chopping board then it is very easy to cut all the items with it.
A paring knife is used to cut small items and peeling small fruits and vegetables.
The sharpness of these knives is enough for daily use. Most of the females do not prefer a very sharp knife. If you want a very sharp knife then you have to explore other options. They are the premium knives and have very sharp edges.

Me working with these kitchen tools


2. Cutting board: This is one of the very basic tools in the kitchen. But most of the Indian women do not use in her kitchen. With the help of cutting board, you can cut fruits and vegetables easily and your thumb and fingers will not be cut. It is one of the safest ways to cut fruits and vegetables. If you have a good pair of knife and chopping board, you can cut vegetables very fast.
You can see how I used a chopping board in my kitchen for cutting fruits and vegetables.
There are two types of cutting boards available in the market wooden and plastic one. I use a wooden board in my kitchen.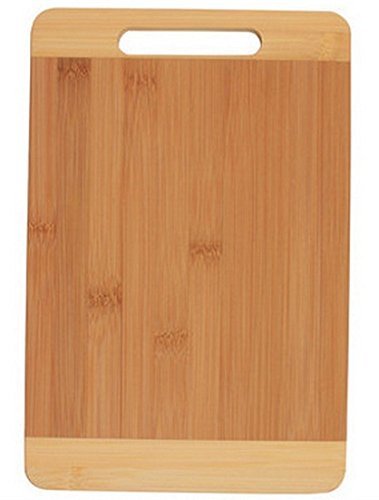 Wooden cutting board vs plastic cutting board
It totally depends on personal preferences. But I am mentioning some of the points which differentiate it from each other.
Plastic boards are dishwasher safe whereas manufacturers don't recommend wooden boards to clean in a dishwasher.
Plastic boards are cheap in the price whereas wooden boards are a little higher price as compare to plastic boards.
Scratches look very bad on a plastic board. Whereas on wooden board scratches do not look too bad.
Looks of a wooden cutting board are very good as compare than a plastic board.

3. Peeler: A peeler can speed up your peeling task. With the help of peeler, you can peel fruits and vegetables very easily and fastly.
With the help of peeler, you will not get cut marks on your thumb and fingers. I will highly recommend it using a good peeler for your daily work.
There are two kinds of peeler available in the market.  I have this kind of peeler. This one is premium quality peeler. I will recommend this kind of peeler.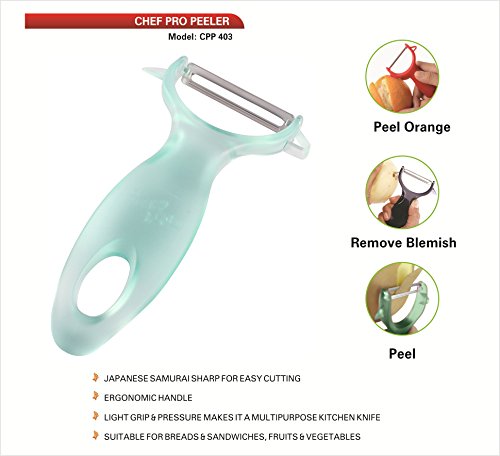 Some people use this kind of peeler. But I personally don't prefer this kind of peeler. Holding and working experience is not good with these as per my experience.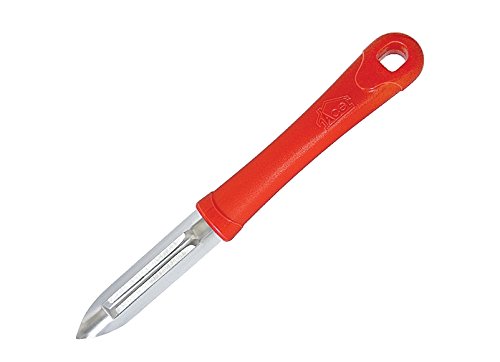 4. Lemon squeezer: It is one of the very basic products which no one generally uses in the kitchen. With the help of this, you can squeeze lemon juice very fast. All the seeds to lemon will be separated from the juice.
There are stainless steel one available in the market. I have the stainless steel one lemon squeezer. It totally depends on you to go for plastic lemon squeezer or stainless steel lemon squeezer.
I would suggest don't buy wooden squeezer as they soak little lemon juice.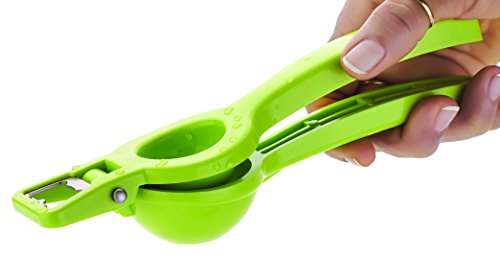 5. Masher: I use potato masher very ofter. As this is good for preparing pao bhaji, baingan ka bharta, mashing potatoes for paranthas and dosa etc.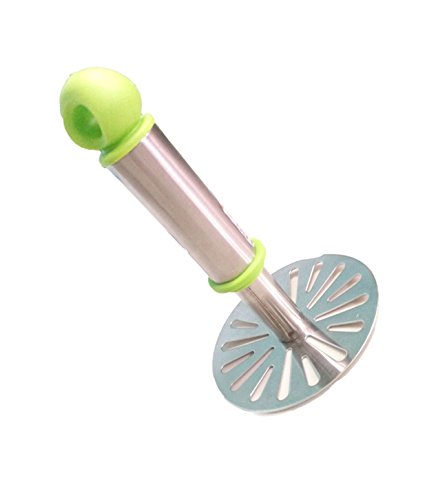 6. Pizza cutter: It is required to cut pizza when you make it at home. But not the only pizza you can cut sandwiches, bread, paranthas etc. with it.
Whenever you make stuff paranthas cut you parantha in a pizza like a shape. And give it to your kids. They will love it. As kids attract to same food when the shape is little attractive.
There is a different kind of cutters available in the market wheel type, wheel type with handle, etc.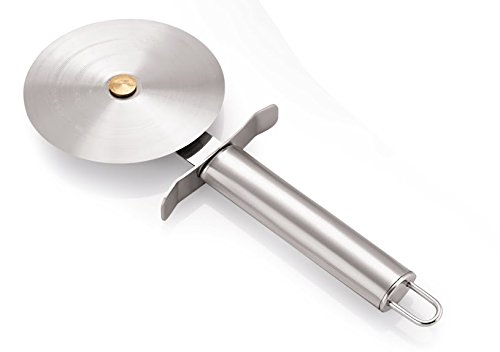 I have a pizza cutter which has a handle on the wheel. You can see this is in my video as well. It totally depends on you which type of cutter is good for you. For the home purpose, you can use any of the cutters I mentioned.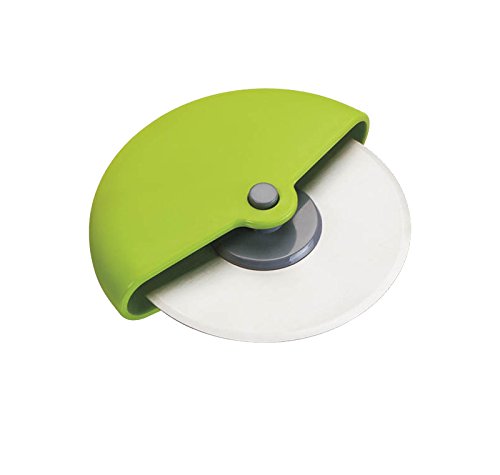 7. Fruits and vegetable Dicer / Chopper:  If you want to chop and dice fruits and vegetables easily and quickly then this is a must tool for you. You have already seen this in my video. How fast I can chop fruits and vegetables? This one is my favorite tool.
Some of the advantages of dicer are mentioned below:
Easy to use. It is very easy to use. You have to just change the blade, place vegetable on it and press the lid. You vegetable chopped.
Easy to clean as it has very few parts you have to clean. You can clean it on running tap water. Or you can use this on dishwasher also.
Affordable price. Price of these choppers are very reasonable as compare to its features and working.
They are very durable. I am using my chopper for the last 4 years and it is still working. None of the parts broken. I use it on daily basis.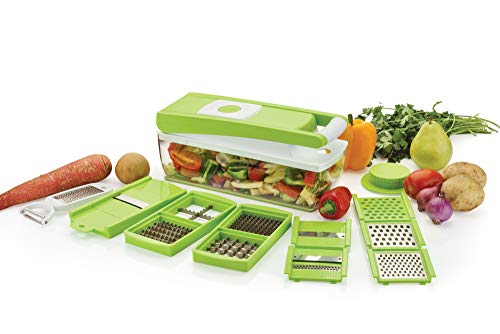 These come with 10 blades. 4 blades are used for chopping. You can select how much big or small size shape you want. These are perfect for chopping onion, tomatoes, potatoes for french fries etc. I chop fruits for fruit salad and raitas also.
You will not get tears in your eyes after chopping onions if you use this.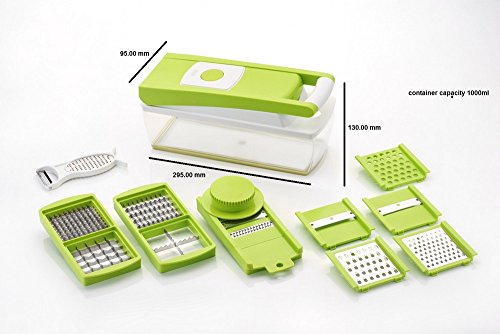 There is an attachment for slicing also. You can slice tomatoes, cucumber, potatoes for chips etc. There are other blades available for the grating purpose also. You can grate carrot, radish, apple etc.
The biggest plus point is that all the items drop in the unbreakable container after processing. So no need to carry another utensil for this task.
I will strongly recommend buying this product. It is a must have product for every kitchen.
If you have any other tool which speeds up your work or make it easier then mention in comments. I will try it.
If you want to ask anything related to this post or give any suggestion. Then you can tell us in the comment section. We would love to hear from you.