Sirka Pyaz Recipe | Sirka Onion Recipe
This post is also available in: हिन्दी
This post may contain affiliate links which won't change your price but will share some commission.
Sirka pyaz recipe or sirka onion you have had many times in the restaurants. It is usually served in the restaurants with the meal.
It is very famous in North India. And almost all the restaurants serve it with Punjabi food.
But do you know how to make sirka onion? If not.
Then you are in right place. Today we will learn the sirka onion recipe.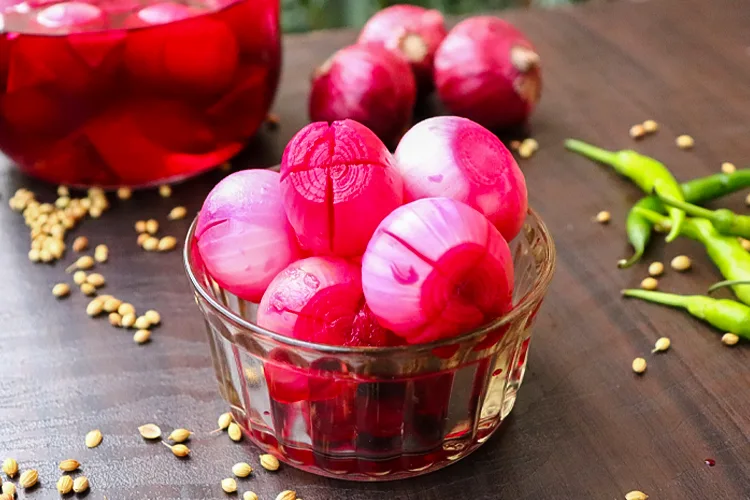 About Sirka Pyaz
Sirka pyaz or sirka onion is basically a pickled onion. And this pickle is made with salt and vinegar.
This sirka onion is an essential part of our cuisine. And people often love to have it.
Well, technically sirka onion is not a pickle as per Indian standard as there are no spices in it. But vinegar and salt are used to preserve the onions and it absorbs their flavour of it. This salty and sour taste of sirka pyaz is the flavour which we like.
Tips
Use small red onions for this recipe. Do not use white onions.
If the onions get finished you can reuse this mixture by adding some more onions to it.
If possible always use beat root to give red colour to this dish.
You can also add green chilli, ginger or turnip (shalgam) to this.
You can further read my vegetable salad recipe, broccoli salad recipe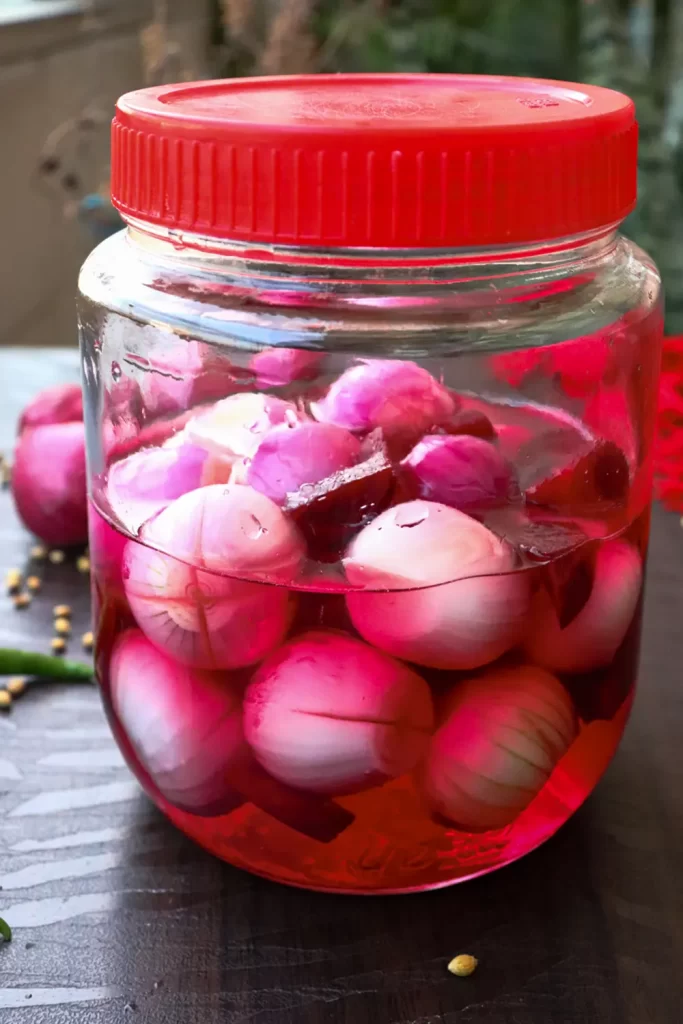 Sirka Pyaz Recipe Video
Sirka Pyaz Recipe | Sirka Onion Recipe
Learn the sirka pyaz recipe which has salty and sour flavour of vinegar.
Ingredients
15-20

Small onion

1

Cup

Vinegar

½

cup

Water

3

tbsp

Sugar

1

tbsp

Salt

Half Diced Beetroot

Glass Jar
Instructions 
Take small size onions. (If small onions are not available, then use big onions. Make small pieces of it).

Peel them and make a plus cut on the onions using a knife.

Take a big bowl and add 1 cup of vinegar

then, add ½ cup of water to it

add 3 tbsp of sugar into it

Stir the water until the salt and sugar get dissolved into it.

Once the mixture is ready, Add the onions into it and mix it properly.

Take a Glass Jar to store the mixture.

Pour all the liquid and onions into it, close the lid and keep it for 1 whole day.

After a day of storage, the sirka pyaz is ready.

Enjoy Sirka pyaaz with your Lunch, Dinner.

If the onions get finished you can reuse this mixture by adding some more onions.
Notes
You can also add green chilli, ginger or turnip (shalgam) if you like.
FAQ
What does vinegar do to onions?
Vinegar preserves the onions. the onions absorb the salty and sour flavour of it.
How long can you keep onions in vinegar?
You can keep onions in vinegar for up to 10-15 days. But you need to keep them in the fridge for that.
Can vinegar onion water be reused?
Yes, you can use vinegar onion left out water for preparing sirka onion again. The same water can be reused for making it again. You need to add a little salt as per onion quantity.
How long do onions in vinegar last?
Onions can last for up to 10-15 days in vinegar. But I would advise that prepare the onions that are sufficient for 2-3 days only. Then again reuse the same vinegar water and prepare the next batch.