Bhature Recipe with Yeast
This post is also available in: हिन्दी
This post may contain affiliate links which won't change your price but will share some commission.
Are you looking for the steps to make a perfectly fluffy and spongy bhature? In this post, you will learn how to make perfect bhature that are soft and fluffy from the inside and crunchy from the outside.
I will show you the bhature recipe steps in the video. Let's learn how to make soft, spongy and fluffy bhature that exactly tastes like the market one.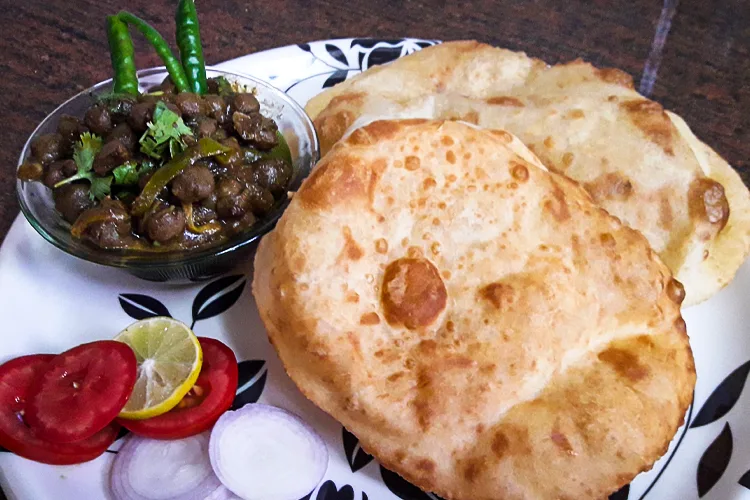 What is bhature?
Bhature is an Indian flatbread that is made with all-purpose flour(maida) and then deep-fried in the oil.
This dish originated from Punjab. And most have in the Punjab and other northern Indian regions.
It is usually served with the chole dish accompanied by mint coriander chutney, diced onions, green chilli pickle, and carrot pickle.
I have made pindi chole with it. Pindi Chole also tastes good with it. You can try at least once.
Bhature is usually had in the morning and lunch. And easily available in the street shop in the Northern Indian region.
Bhature Recipe Ingredients
The ingredients required for making bhature are easily available at home. You need all-purpose flour, sugar, salt, curd, yeast, baking soda.
Do not use flour(atta) in place of all-purpose flour(maida) otherwise, it will be poori not bhature.
This bhature recipe is made with yeast. If we will use yeast then bhature will be soft and fluffy. And taste like the market one.
I have used yeast for the fermentation process. And added sugar for increasing fermentation speed.
2 Methods of Making Bhature with Yeast or Without Yeast
You can make bhature with two methods. In these methods, the only difference is the ingredients used in it.
Bhature recipe with yeast
In this method, we will use yeast for the fermentation process. if we will use yeast then we get the best result. That's why I have used yeast for making bhature.
Bhature recipe with baking soda (without yeast)
In this method, we will not use yeast for fermentation, instead of yeast we will use baking soda for the fermentation. I do not prefer this method, because the bhature will not be fluffy.
Bhature Recipe Video
Bhature Recipe | How to make Bhatura | Bhature Recipe with Yeast
Learn how to make fluffy and soft bhature. This indian flat bread is a delicous dish usually have in breakfast and lunch.
Ingredients
100

gram

All-purpose flour

Maida

1

Glass

Lukewarm water

1

tbsp

cooking oil

1

cup

curd

salt

as per to taste

1

tbsp

sugar

½

tsp

Yeast

Baking soda

suji

option if you do not have yeast
Instructions 
Steps for preparing yeast
In a bowl, add sugar into it

Add some lukewarm water.

Mix it well, till the sugar gets dissolved

Then add ½ tsp Yeast in it

Stir it well and keep aside for 6-7 minutes
Steps for preparing dough of bhatura
Take Maida ( All purpose flour) in a big bowl and add yeast liquid which we prepared earlier.

Now, add ½ tsp salt, add ½ tsp baking soda, add ⅓ cup curd to it.

Mix it well in maida using a spoon

Add cooking oil and knead the dough

Now, try to form a dough adding lukewarm water as per the requirement. Knead the dough for a few minutes.

dough is ready

Apply some oil to the dough.

and cover the dough with a wet cloth (or cover the bowl with the kitchen plastic wrapper). And keep it aside for 3-4 hrs in a warm place for fermenting.

After 3-4 hrs, the dough is fermented nicely. Slightly kneed the dough. The dough is ready for making bhature.
Steps for rolling and frying of bhatura
Take a pinch of dough and give it a round shape.

You can roll it by applying oil to the dough ball or applying little maida on it.

Put it on a rolling board (chakla). Spread it little with the help of fingers.

Roll it slowly with the help of a rolling pin (belan). And give oval or round shape as you like.

Heat the oil in a kadhai on a high flame. And make sure that the oil is very hot.

Check the oil temperature before putting puri in it. Put a tiny dough piece in oil, if it comes steadily and gradually on top.

Gently slide the rolled bhatura in the kadhai. Keep the gas flame on high.

Once it cooks from one side, then flip it.

Fry it from both sides.

Crispy from outside and spongy from inside bhature is ready for serving the chole.
FAQ
Can I use Eno instead of baking soda in Bhatura?
Yes, you can add ENO instead of baking soda in bhatura. Actually, ENO contains sodium bicarbonate and baking soda is also defined as sodium bicarbonate. Both of them work fine.
How do you reheat bhatura?
You can reheat bhatura on the tawa. In this way, it will taste good. And if you have a microwave oven, then you can reheat it for 30 seconds to 1 minute.
Can we use baking powder instead of baking soda in Bhatura?
Yes, you can use baking powder instead of baking soda in bhatura. As baking powder also contains sodium bicarbonate with acidic acid. So, it will work exactly the same as baking soda.
Why my Bhatura dough is not rising?
If your bhatura dough is not rising then you can add more yeast dissolved in warm water and sugar in it. And add a little bit of all-purpose flour and kneed it again. Second, place the dough in a warm place and cover it with a wet cloth, so that the fermentation process started.
How do you fix sticky Bhatura dough?
For fixing sticky bhatura dough, you need to add more all-purpose flour to it. And kneed it again. Add a little bit of flour to your hands and work surface. Kneed it until your dough becomes soft for bhatura.
How to make bhatura less oily?
For making bhatura less oily, first, add the suji to the bhatura dough so that it will not soak too much oil. And secondly, fry them on a high flame, so that it does not absorb the oil.
What can be made from leftover Bhatura dough?
You can make pizza, naan from leftover bhatura dough. You can try making bread with it but will be a little more salt as compared to normal bread. Use this bread for sandwiches, bread pakora etc.