How to Clean Copper Utensils – 6 Methods
This post is also available in: हिन्दी
This post may contain affiliate links which won't change your price but will share some commission.
Very beautiful utensils, decoration items, idols, etc. are made from copper. They look even more beautiful due to their shine.
Do you want to keep their shine intact? Are you thinking, how to clean copper at home?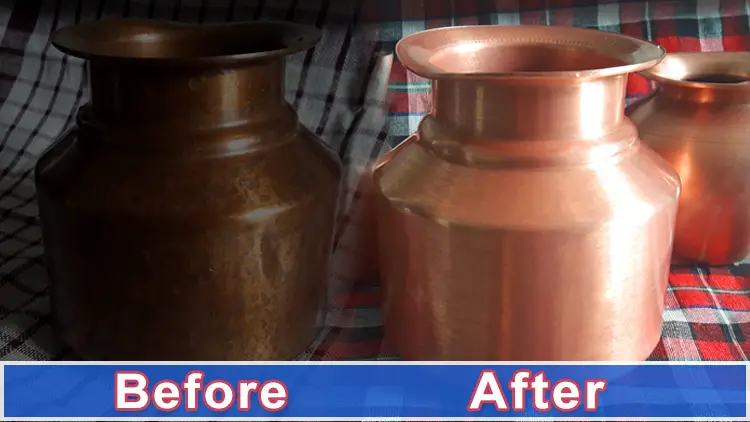 Due to time black layer builds up over them. And their shine decreases.
And they do not look good, as they were earlier. Below in this post i have mentioned 6 methods to clean copper.
There are many kitchens in India where they use copper utensils.
Eating food in copper utensils cures many diseases.
Drinking water in a copper vessel on an empty stomach in the morning is very beneficial for the body.
I like copper utensils very much. Do you like copper utensils? If yes, then please tell me in the comments.
Shining copper utensils even they are old or new looks very good. And they enhance the beauty of your kitchen.
When every i pass from near the utensils shop, they attract my attention.
Today i will explain to you how to clean copper utensils at home? All the ingredients are available at your home already.
6 ways to clean copper utensils or decoration items or copper idols etc.
It is the best product available in the market that can shine brass, aluminum, iron, silver, and stainless steel along with copper. This single product will clean all of your metal items.
It also cleans greasiness and other stains. It quickly cleans the utensils.
It keeps them shining as well as keeps their shine.
It has a very seductive scent of sandalwood.
Buy Pitambari Powder from below Amazon Link.
2. Vinegar and Salt: In this method we will use vinegar with salt. Below are the steps to clean copper with this method.
First of all apply vinegar with the help of scrub pad on the utensil.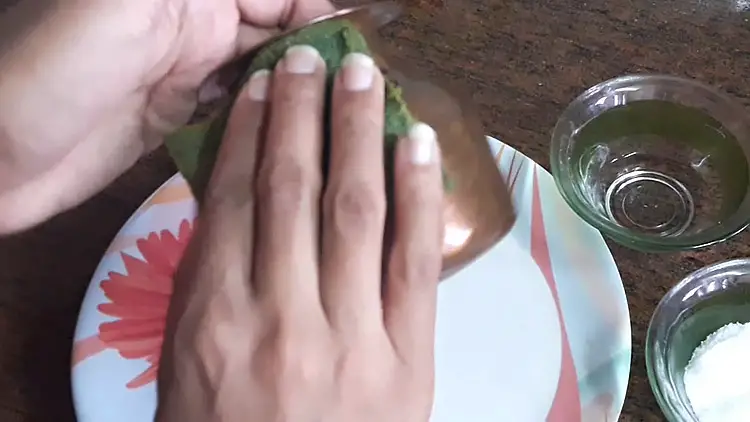 Now, apply salt on whole surface and rub with scrub pad.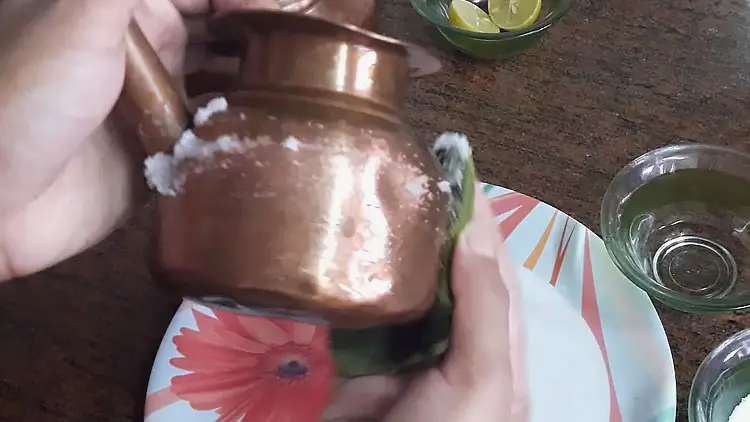 You will see that after coming contact salt with vinegar surface will clean itself. Rub it gently on the surface.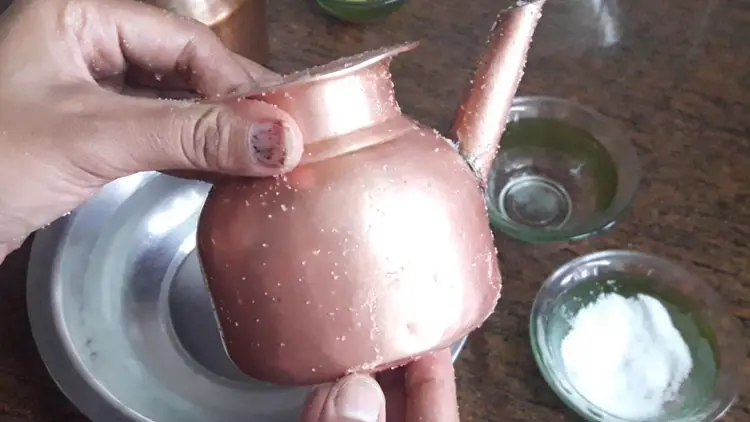 When whole surface cleans. Wash it with water and wipe it with dry cloth.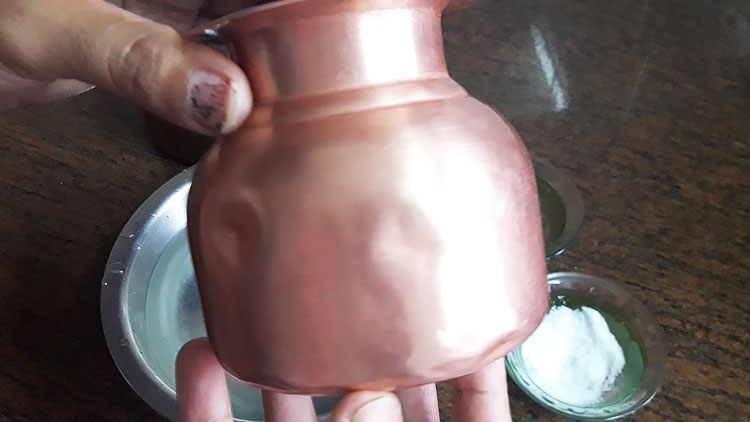 This process is very easy and very less efforts involved in it. And within few minutes copper surface is shinning again like new.
3. Lemon and Salt: In this method we will use lemon slice with salt. Below are the steps to clean copper with this method.
Apply salt on half slice of lemon and rub gently on the surface of utensil.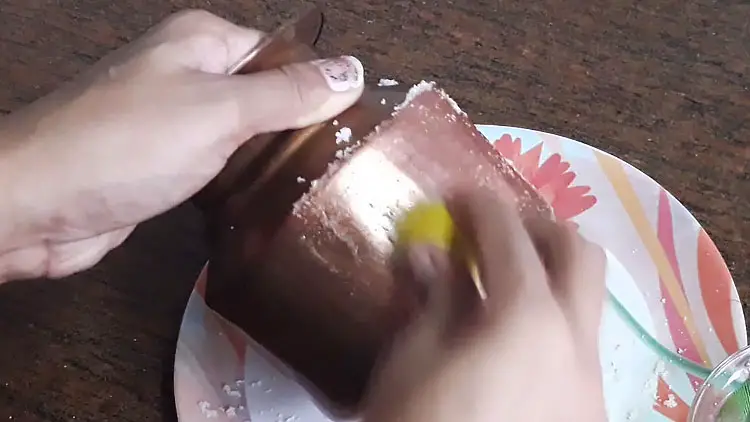 When the surface is come in contact with salty lime. The pot will be started to be cleaned.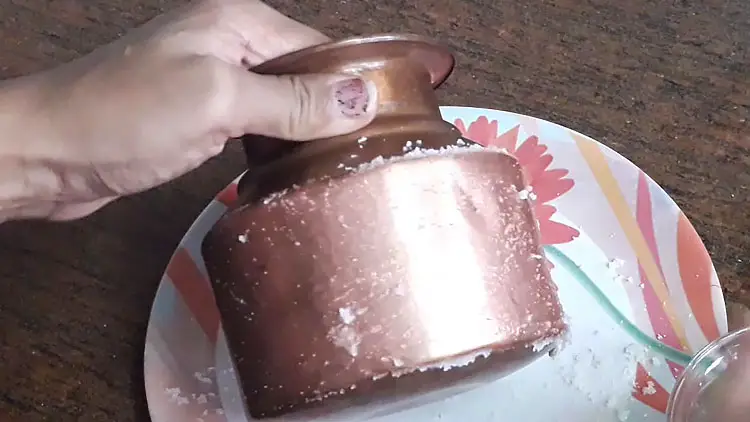 When entire surface is clean. Then wash it with water. And wipe it with dry cloth.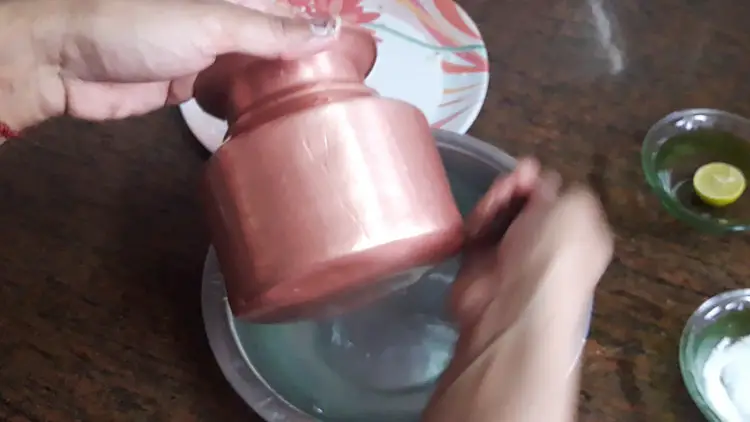 This method takes no time and surface shines like new.
Copper utensil cleaning video
In this video, i have cleaned copper utensil with method 2nd and 3rd. First method is vinegar and salt and second method is lemon and salt.
4. Vinegar, Salt and Flour
First of all take salt and vinegar in one bowl and mix it well.
Add little flour and make a paste.
Apply this mixture on utensil surface and wash it after 15 minutes with hot water.
5. Tamarind Paste
Take 50 gram tamarind (imli in hindi) and soak in water for half hour. Crush it with your hands.
Apply tamarind paste on copper surface and wait for 2-3 minutes.
Gently rub with scrubber. Wash it with water and wipe it with dry cloth.
6. Tomato ketchup
Apply a little tomato ketchup to the pot of copper.
Then leave it for 15-20 minutes. The acid of chutney will start its work.
Then rub it with a scrubber. And wash it with water. Wipe with cloth.
How to take care of copper?
Never wash copper utensils in dishwasher.
Never keep it empty on flames. Always add some food or oil in copper utensil and then turn on the flames of gas stove.
And you want to clean it at home. Then read our kitchen chimney cleaning post.
If you want to ask anything related to this post or give any suggestions. Then you can tell us in a comment section. We would love to hear from you. And please give a star rating below.
If you like this post, then please consider retweeting it or sharing it on Facebook or Pinterest.